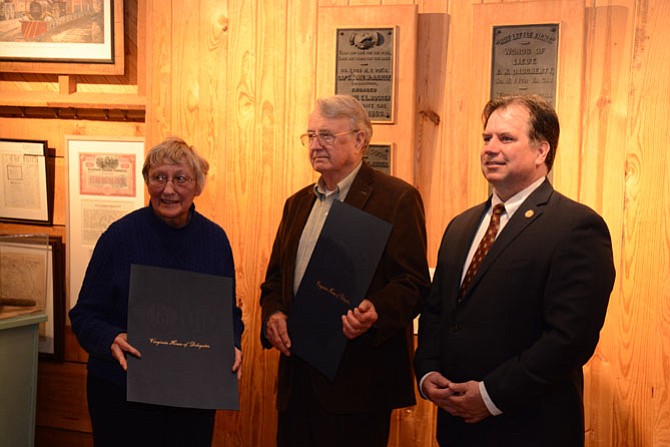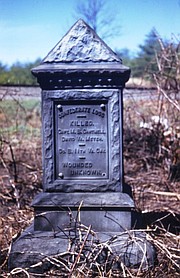 When Fairfax Station native Lee Hubbard was stationed with the U.S. Army in Baltimore, he would come home every weekend, sometimes more often than that. On a visit in the spring of 1959, Hubbard and his brother Bob went to check out something some local children had been talking about.
In an undeveloped field by Colchester Road and the Southern Railway in the area of Clifton, they found a four-sided stone marker commemorating the 1863 Battle of Sangster Station, known as the "Hot Little Fight."
The marker stood on property that was once also home to the Fairfax County "Alms House" for poor citizens.
SEVERAL YEARS LATER while hunting in the area of the marker, Hubbard and friends discovered three of the four copper tiles that lined the marker were missing.
Bill Everheart, a friend of Hubbard's, thought they should save the fourth plaque from the same fate. He removed it, according to Hubbard, and gave it to Lewis Leigh, whose father owned the property where the Alms House once stood. Leigh then passed the plate to John Kincheloe, a descendant of William Simpson Kincheloe, who led Confederate Gen. Thomas Lafeyette "Tex" Rosser's troops to the Sangster Station battle.
The remaining tiles were missing until 2006, when Hubbard was approached by a young man who had been cleaning out a McLean house and discovered an original cornerstone from the Fairfax Courthouse. The man knew Hubbard was a historian and connected with local museums.
Hubbard was curious what else might be inside the house. He described the missing plaques to the man. "If you see anything like this," he told the man, "let me know."
Several days later, the man's daughter came to Hubbard with her father and the missing tiles in tow. "She said she was holding them ransom," Hubbard said, "for three pieces of candy."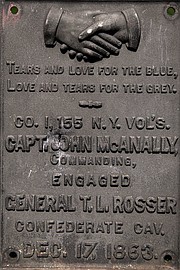 "I was just delighted to get them back," said Hubbard.
Hubbard tracked down letters from Captain John McAnally, who had fought at Sangster, petitioning the Fairfax County Board of Supervisors to place a marker. The letters were dated 1903, leading Hubbard to think the marker went up in 1904.
The documents from Captain McAnally describe the plaques as being white bronze, but no one has had them tested to verify which metal was actually used. Friends of Fairfax Station board member Larry Johnson of Springfield did the restoration of the plaques, including a "blueing" powder-coat process, removing scratches and adding new steel nuts to the corners.
Hubbard unveiled the restored plaques, mounted on wooden frames and hanging on the wall, at the annual meeting of the Friends of Fairfax Station on March 30.
April Events at the Fairfax Station Railroad Museum
*Sunday 5: Closed for Easter
*Sunday 12: Model trains of T-Trak on display from 1-4 p.m.
*Sunday 19: Model trains of N-Trak on display from 1-4 p.m.
*Tuesday 21: The museum will be open 10 a.m.-4 p.m. for the Garden Club of Virginia Historic Garden Week.
*Sunday 26: Westfield High School senior Christa Morrone presents a photo exhibition of past and present railroad sites titled "Images of Rails" from 1-4 p.m.
DEL. TIM HUGO (R-40) was on hand to present formal certificates of recognition to Hubbard as well as former Friends of Fairfax Station president Joan Rogers. "Truly, these accomplishments remind us of what our history was," said Hugo, "and so we never forget."
Hugo remarked on Hubbard's deep familial roots in Fairfax Station and praised Rogers for her service as president, including working with him shortly after he took office to secure state funding for keeping the museum running.
Among other railroad artifacts, paintings, maps and informational placards, the new old plaques add to the historical richness of the museum, said Michael Chinworth, vice president of the Fairfax Station Railroad Museum: "They've been orphans for years," he said. "The charm of this place is being able to focus on the ground right under our feet."
For more information on the Fairfax Station Railroad Museum, visit www.fairfax-station.org or call 703-425-9225. The museum is located at 11200 Fairfax Station Road in Fairfax Station. Admission for ages 16 and older is $4 ($5 for special events), 5-15 is $2, children under 4 get in free.