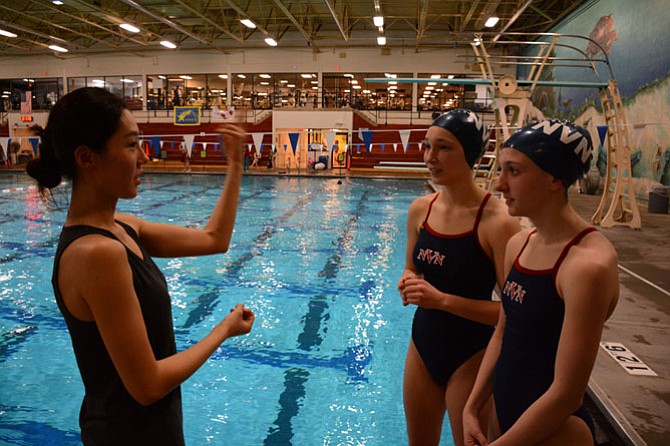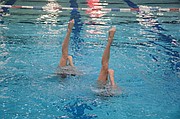 High school juniors Margot Baden and Jackie Hafner, students at W.T. Woodson High School and Robinson Secondary School respectively, and their coach chose to set their duet synchronized swimming routine to a medley of music from the "Batman" franchise.
"The music can be anything," said Hafner, "just something you can count to, that's upbeat." Adam West, Michael Keaton, it's all good.
The girls explained they spend a sizeable part of their three-minute routine with legs in the air and heads underwater. "It looks kind of crazy," said Hafner, who first swam laps competitively for her neighborhood summer team Commonwealth and then added synchronized swimming at age 7.
They're able to keep up with the music using speakers both above and below the surface. Sure enough, a black extension cord trickles down over the side of the deck with a single speaker attached to the end.
Baden and Hafner practice at the Audrey Moore RECenter at Wakefield Park with the synchronized swimming team Northern Virginia Nereids. After placing in the top six at the South Zone Championship meet in March, the pair qualified to take their routine to the U.S. National Synchronized Swimming Championships held March 31 and April 4 in Moraga, Calif.
The Nereids comprise of 40 girls ages 7-18. They have been around over 30 years and are one of two synchro teams in Northern Virginia. They draw swimmers from Virginia, Washington, D.C. and Maryland. Baden and Hafner are the first team of Nereids to qualify for nationals in six years.
"We're very excited for them," said co-head coach and Washington, D.C. resident Julie Silverman. "These girls practice 12 hours a week and swim and run -- you can see the dreams coming true in their faces, that all the hard work was worth it."
Synchro is a blend of dance, gymnastics and swimming, with body parts contorting, twisting and inverting in rhythm with a music track. Baden's names for past routines include: Free Rider, Up, World Cup, Scary Mermaid, Jungle and Greek Techno.
Breath control is a major factor -- most swimmers wear a nose plug -- as is spatial awareness and knowing the movements of the other swimmer or swimmers as if they're your own.
"These girls have really good body shape," said duet coach Hayan Kim of Fairfax, "and good technique. They're tighter, so it looks fun, not boring."
Baden, who started lap swimming with her summer community team Mantua before starting synchro in fifth grade, is confident the work will speak for itself when they get to the national meet. "It's as good as it gets," she said of the routine. "You can't really mold based on your surroundings, how others perform." They just have to execute and be in sync.
For more information about the Northern Virginia Nereids, visit www.nvnsynchro.com.