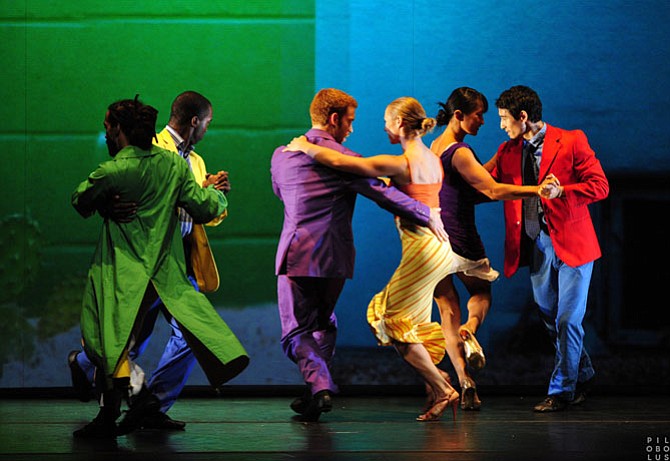 Friday/April 3
Jam Session. 7-9 p.m. 115 Pleasant St. NW, Vienna Acoustic musicians and fans are invited to join a jam session at the Vienna Art Center, playing acoustic instruments and singing in an environment featuring wood floors and surrounded by original art. Free and open to the public. 703-319-3971.
One Night Only Combat Paper Exhibit: The Places We Have Been. 7 p.m. Workhouse Arts Center, 9518 Workhouse Way, Lorton. Enjoy the exhibition of Combat Paper artwork and explore the internal and external travels of veterans and Service members. They have refined their artistic talents in a week-long workshop,
Art House Cinema Presents: Trois films du Cinéma Français. 7:30 p.m. ArtSpace Herndon, 750 Center Street, Herndon. The April film will be The Man Who Loved Women "L'homme qui aimait les femmes" (1977) with a brief talk by George Mason University Professor Martin M. Winkler. Tickets are $7.50* per person for the movie and fresh popcorn. Beer, wine, water, and concessions will be available for purchase. The doors open at 7. To buy tickets: http://www.artspaceherndon.com/art-house-cinema-presents-trois-films-du-cinema-francais/. For more information call 703-956-6590.
Saturday/April 4
Workhouse Cabaret Series: Broadway Goes to Hollywood. Workhouse Arts Center, 9601 Ox Road, Lorton. 8 p.m. Lights! Camera! Music! The best of Broadway has been preserved for future generations through their film adaptations!
Historic Pohick Church First Saturday Tours. 1-3 p.m. Pohick Church, 9301Richmond Highway, Lorton. During the colonial period, Pohick Church was the congregation of many of our country's most prominent families, including the Washingtons, Masons and Fairfaxes. The Historic Pohick Church Docent Guild willgive free guided tours of the historic colonial church. For more information please call 703-339-6572 or visit http://www.pohick.org.
Great Falls Eggstravaganza in the Park. 8-11:30 a.m. Riverbend Park, 8700 Potomac Hills, Great Falls. There will be a 5K, Tabatta, scavenger hunt for kids and a kids bootcamp. There will be lots of great raffles and prizes. All proceeds will go to support Katie Simmons Hickey 2015 Candidate for Woman of the Year for the Leukemia and Lymphoma Society. http://www.eventbrite.com/e/eggstravaganza-in-the-park-tickets-16075308681?aff=eac2 You can buy tickets there or at the gate, you can also see the schedule of events if you scroll down that page.
Spring Fest. 10 a.m. - Noon. McLean Community Center, 1234 Ingleside Avenue, McLean. Spring Fest is a special event that includes self-guided arts and crafts projects, an egg hunt, entertainment and the opportunity for children to get a professional photo with Bunny. In addition, The Amazing Kevin will perform his magic show. Admission is $5 per person; infants to 36-month-olds will be admitted free of charge. Advance registration is required; walk-ins will not be admitted. To register, visit the Center's website, www.mcleancenter.org, and use Activity No. 4501.315. For more information, call the Center at 703-790-0123, TTY-711.
Easter Egg Hunt at Nottoway Park. Nottoway Park, 9537 Courthouse Road, Vienna. The Fairfax County Park Foundation and the Friends of Nottoway will host an Easter egg hunt onApril 4. Visit with the Easter bunny and hunt for candy, toys and eggs filled with treats. Bring your own basket. Egg hunt start times: 10:30 a.m. (1-2 yrs.); 11 a.m. (3-4 yrs.), 11:30 a.m. (5-6 yrs.), 12 p.m. (7-9 yrs.). Walk-in registration starts 9:30 a.m. ($9 per child--cash only). Call 703-324-8566 for information.
BandHouse Gigs' Tribute to Steve Winwood & Traffic. 7:30 p.m. The Barns at Wolf Trap, 1635 Trap Road, Vienna. Featuring Patty Reese, Eric Scott, Tommy Lepson and Brian Simms. The District's most talented artists recreate the powerful sound of legendary Rock and Roll Hall of Famer Steve Winwood and Traffic. $25-27. 703-255-1900.
Herndon Easter Egg Hunt. 9 a.m. - 12 p.m. Herndon Municipal Center, 777 Lynn St. Herndon. Children are invited to bring their parents, cameras, baskets and egg-hunting shoes for a fun-filled morning in the park. Games, arts and music, along with a photo opportunity with the Easter Bunny. Ages 7 and younger. 9$ registration. http://www.herndon-va.gov/content/parks_rec/specialevents/.
Sunstroke and Ankle Deep Mud: The Road to Gettysburg. 2 p.m. Reston Regional Library, 11925 Bowman Towne Drive, Reston. Local Civil War tour guides Jim Lewis and Brian McEnany recreate the arduous march of the Union's Army of the Potomac through Northern Virginia on the way to Gettysburg. Highlights include Hunter's Mill encampments. Adults and Teens.
Saturday-Sunday/April 4-5
Reston Zoo's Easter Eggs-Travaganza. Reston Zoo, 1228 Hunter Mill Road, Vienna. Join your friends for two weekends packed with Easter fun! Feed baby lambs, goats and bunnies. Enjoy excellent photo opportunities with the Easter bunny and have your face painted with your favorite animal before venturing out to take part in an Easter egg hunt. We will have a touch station with baby chicks and bunnies! Have fun with bubbles, a slide, hula hoops, yard balls and more. All Easter egg hunts will include eggs filled with candy, stickers, toys, and more. Children must attend the Easter egg hunts by age group. Safari Egg Hunts are for children 4-12 years old and Toddler Egg Hunts are for children 3 and under only. Children are encouraged to bring their own Easter baskets for collecting eggs. Please plan to arrive early for this popular event. Last admission will be at 3pm each day of the event. $12.95, $3. Call for times, 703-757-6222.