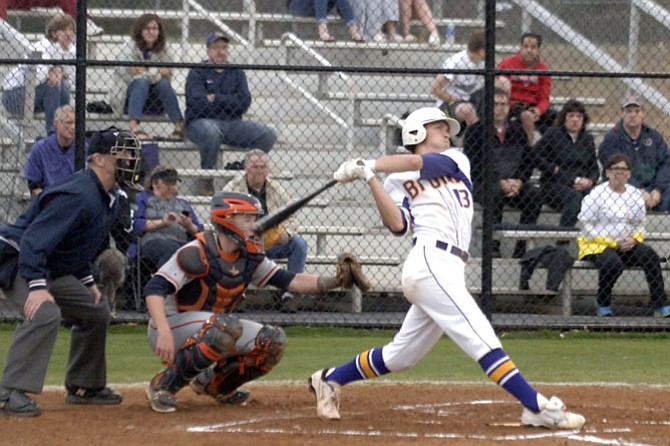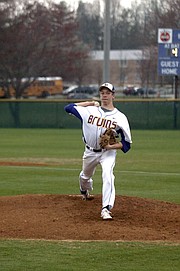 The decorated history of the Lake Braddock baseball program is chronicled on three banners hanging on the outfield fence.
To the left is a display of district championships. To the right is a list of region titles. In the middle is recognition of the Bruins' lone state championship, captured in 2012.
Lake Braddock enters every season with expectations of adding to its ledger of accomplishments. Last year, however, not only did the Bruins fall short of adding "2014" to any of their banners, Lake Braddock failed to qualify for the region tournament.
The defending 6A North region champions were one­-and-­done in the Conference 7 tournament, ending their season with a 3-­2 loss to Annandale in the opening round. The Bruins lost twice to West Springfield, West Potomac and South County during the season and finished with a 12-­9 record.
One week later, head coach Jody Rutherford and new pitching coach John Thomas had the Bruins in the weight room, working to assure such a shortcoming didn't occur again.
The loss to Annandale "made me hungry," Rutherford said. "You take some things for granted. I think we underachieved a little bit last year and we weren't going to let that happen again this year."
Nearly 11 months after Lake Braddock failed to qualify for the 2014 region tournament, the Bruins are back to playing like contenders. On Tuesday, they thumped defending Conference 7 champion West Springfield 7-­1 at Lake Braddock Secondary School. The Bruins improved their record to 7­-1 in 2015, including 2­-0 in the conference.
LAKE BRADDOCK opened the year with four straight victories before losing to Oakton, 7­-5, on March 30. The Bruins responded by beating defending 6A North region champion Chantilly (8­-1), Freedom (6­-2), and the rival Spartans.
"I feel like the chemistry with this group is way better," Rutherford said. "Really, man for man, starting with me, I told the guys I didn't do a good job last year. I could have done a lot of things better. I didn't handle the adversity well and I took ownership in that and I said they needed to take ownership in things that they needed to do better."
The pitching staff has been a strong point early in the season, led by juniors Wade Strain, Ryan Mullins and Andy Shreves.
Strain got the start against West Springfield on April 7 and earned the win. The right-­hander allowed six hits and one unearned run while striking out six in six innings. He did not walk a batter.
Strain surrendered just two hits in his final four innings on the mound.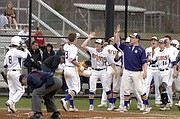 "[West Springfield] squared up some balls in the first inning and [Strain] just competed," Rutherford said. "After they got on him, he competed. Last year, same situation. He started against them. He got hit hard and he didn't battle through it. Today, he battled through it.
"After that, he was really pretty dominant."
Senior shortstop Nick Neville said he appreciates Strain's strike-­throwing approach.
"It makes it 10 times easier," Neville said. "If you get a guy throwing balls out there, you kind of get on your heels sometimes [and] that's when you get an error and a big inning happens. But Wade works really quick. He always pounds the zone. You know what's coming."
While Strain's approach helps Neville stay focused in the field, Neville returned the favor by giving his pitcher an early lead against the Spartans.
Leading off the bottom of the first inning, Neville cranked a 2­-1 pitch over the fence in right-­center field for his first home run of the season and a 1­-0 lead.
"I was just kind of looking for a fastball on that count, 2­-1, and I got a pitch that I could drive," Neville said, "and I didn't miss it."
How does missing the region tournament last year affect this team?
"Obviously, last year is last year," said Neville, a three-­year varsity player, "but at the same time we feel like we have something to prove this year and we feel like we can surprise some people."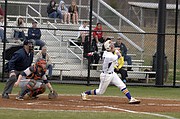 Senior center fielder Colin Brechwald went 3-­for-­4 with a double against West Springfield. Senior right fielder Evan Eschenburg was 1-­for-­3 with three RBIs and sophomore second baseman Ethan Rolland finished 2-­for­-4.
JUNIOR CATCHER Logan Driscoll and freshman designated hitter Will Reid each had a single. Senior first baseman Matt Supko drove in a pair of runs and junior left fielder Nate Contrino had an RBI.
Supko, a four­-year varsity player who underwent Tommy John surgery following his sophomore season, pitched a scoreless seventh inning, striking out two.
"It's hard to forget about [missing the region tournament]," Supko said. "We definitely think back to the games ­­­ we lost to West Springfield twice last year. The top three teams in our district we lost to twice. We definitely use that as motivation."
Lake Braddock returns to action at 6:30 p.m. on Friday, April 10 with a road game against West Potomac. The Bruins are then scheduled for three straight home games against Woodson (April 14), St. John's (April 15) and Annandale (April 17).
"Every year, we're trying to win a state championship," Neville said. "I think I've got 20 guys behind me that believe the same thing."