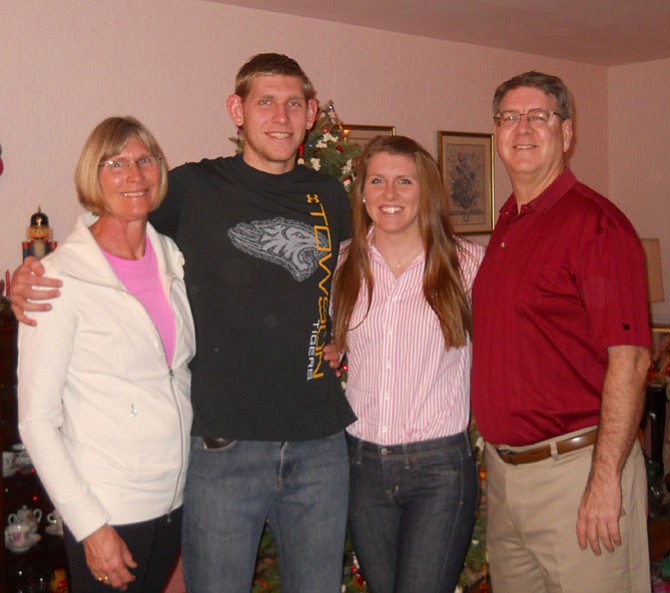 Melissa Belote Ripley's former swimming coach Ed Solotar had two requirements: "You've got to want to win and want to get better," said Belote Ripley, who was born in Washington, D.C., but grew up in Springfield. "To have to have that burning desire to always be the best, a fire in your belly to really want to win, to work -- that was easy for me, that's just how I was."
The Robert E. Lee High School graduate set numerous school, state and national records for high school swimming, but is most well known for her three-gold-medal breakout performance at the 1972 Summer Olympic Games held in Munich, Germany. She was 15 at the time.
At 8, however, she was "just a water rat" whose friends and neighbors convinced her to come out for the social and competitive environment of the Springfield Swimming & Racquet Club summer league team.
Inspired immediately by her coach Dickie Donahue, she spent "every minute" in the pool that season and qualified for the Northern Virginia Swimming League All-Star championship meet.
Another coach saw Belote Ripley's ability to do more than just summer swimming and introduced her parents to Solotar and his eponymous club team. Under his guidance, she skyrocketed over the next several years, competing at the national level by age 12.
Through a series of high profile meets including the Santa Clara International, she "found another gear to make me go faster, train harder" and qualified for the Olympic team in individual events of 100- and 200-meter backstroke.
As a rising high school sophomore, Belote Ripley said the Olympic Village experience was reminiscent of Disneyland. "It was a fantasy world," she said. "Sure, I was nervous, but I've never been scared. My personality doesn't allow that. I'm a confident person that believes in myself in everything that I do."
THE YOUNG SWIMMER from Springfield won gold in both her individual events and lead off the gold medal-winning, world record-setting 4x100 medley relay team. Her 200 meter backstroke time also set a new world record of 2:19.19.
"My zip code was 22150," said Belote Ripley. Everyone told her, "'You've got to break your zip code.' Eventually I broke it."
The hometown hero was courted by the media and made numerous visits to the White House after she got back from Munich.
Hungry to keep improving, Belote Ripley returned to the games four years later in Montreal facing high expectations from her successes in Germany. When she only qualified in the 200 backstroke, what she called an "incredible personal triumph," the media "basically told me I'm a failure because I couldn't go back and challenge what I'd done four years earlier. I'm like, I'm a different person."
At 19, she said, there are a few more distractions than at 15. She had just finished her sophomore year at Arizona State University, for one.
As a Sun Devil, she was part of two national championship teams and a four-year All-American. Rather than try for a third Olympics, Belote Ripley chose to retire from competing after her final college season. She moved back to Northern Virginia, where she worked for Xerox and was asked to coach young swimmers at her former team, Solotar Swim Club.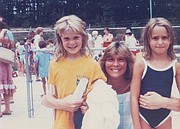 The Olympic champion started with Solotar in 1981 and continued there until 1988, when she moved back to Arizona and married her longtime friend from college Rich Ripley. Their children Rachel and Erik both grew up as swimmers and were able to swim at the same Springfield pool where Belote Ripley first trained, while staying with their grandparents. They each became successful college swimmers in their own right.
Belote Ripley was inducted into the International Swimming Hall of Fame and Virginia Sports Hall of Fame. She and her husband live in Tempe, and she continues to coach age group swimmers with Rio Salado Swim Club and high school swimmers at McClintock High School.
"When I would work the little kids," she said, "they have huge successes almost every single day." She added she loves to "see a kid mastering a skill they struggled with, getting a flip turn the first time."
Springfield resident and former Clifton Elementary School teacher Siiri Fenix first met Belote Ripley when she came home from her first Olympics. Her students wanted to present her with a book of drawings of Olympians from their unit studying Greece.
"She could've said 'That's nice, I don't really have time,'" said Fenix. Instead, the young champion said she would love to see the pictures and come talk to the class about her experience. "That's the type of person that she was. A friendship started right there, the fact she was very warm, friendly, a real people-person who wanted to give me something to take back to the kids."
YEARS LATER, when Fenix and her husband Jim had children of their own that swam for the Rolling Forrest summer league team, they heard an Olympian was coaching at a local winter program. It was Belote Ripley at Solotar. The Fenix children Doug and Stefanie were soon under her tutelage and a relationship developed between the families.
"Kids really worked hard for her," said Jim Fenix. "She instilled that in them and she set goals for them, and that's what made her such a good teacher."