Mount Vernon Softball Wins Third Straight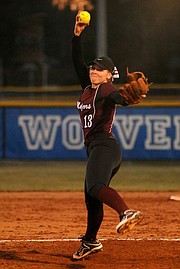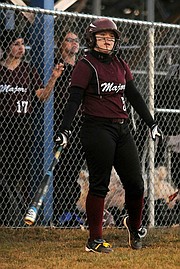 The Mount Vernon softball team defeated Washington-Lee 11-2 Tuesday, giving the Majors three straight wins.
Freshman pitcher Susannah Anderson tossed a complete game, allowing five hits and two runs while striking out 10.
At the plate, Anderson went 3-for-3 with a double and three RBIs. Senior Stormy Zyzyk and Junior Jazmyn McClure each had two hits.
"I feel like we played well tonight and played like a team tonight," Zyzyk wrote in an email. "We lost concentration in the fifth inning, where they scored those two runs, but we came back strong the next inning to shut them down."
The Majors opened the season with three straight losses, but bounced back to even their record with victories against Thomas Jefferson, T.C. Williams and W-L by a combined score of 39-2.
"We have a lot of new players, from incoming freshmen, late transfers and also people in new positions (I'm now catching), so we didn't really get the chance to jell well as a team and I think that definitely showed in the first three games so far," Zyzyk wrote. "I think we're on the right track after three wins in a row and think there is a lot of confidence in the team and each other now, which we lacked in the beginning."
Mount Vernon will host Wakefield at 6 p.m. on Thursday, April 9, Yorktown on April 10 and Stuart on April 14.
Mount Vernon Boys' Lax: Is This the Year?
Dan Convery was the JV boys' lacrosse coach at Mount Vernon for eight years and a former player. In his first year as the varsity head coach, Coach Convery has high hopes for this team. Many of these players he coached on the junior varsity level and he knows the strengths and quality of the players he has.
This year, Mount Vernon returns several skilled seniors on the offense and defense including Mouctar Balde, an all-conference defensive player in 2014, and Christian Abenes, another defender and commit to Ottawa University.
Returning on the offense is attackman Justin Fees, a three-year starter. He has great speed, a fierce shot and has been one of the team's leading scorers for the past several years. Louis Martin, another senior returns this year at attack. Louis brings quickness and has a knack for getting around defenders and finishing. Both Martin and Fees lead the team in goals this year with a total of 14. Keep an eye on junior Ricky Dobson and sophomores David Gibbs and Griffin Ocker.
On Thursday, April 9, the Majors will face one of their long-time rivals, the Edison Eagles. Last year, these two teams met in the second round of the conference playoffs with Edison taking the win.
The Majors have won three of their four games, taking a tough loss against a very talented Oakton team in a tournament last week. Edison comes in to this season with a fairly young team after graduating some key players last season — attackman Danny Riley and defender Tim Owens.
The Majors are looking for a chance to redeem that loss and continue their winning season. There are high expectations for the Majors to make it to conference playoffs this season and Convery believes he has an impressive group of hard working, talented players that can hopefully get them there.
Over-40 Men's Softball Team Looking for Players
Games are throughout the summer on Sundays in Herndon. Lots of fun. Experience preferred. Contact dtazbin@aol.com or call 703-406-4711.