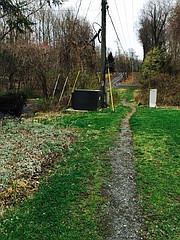 Spray painted swastikas were quickly purged from two power boxes along Seneca Road in Great Falls this week.
"Both boxes are along a well traveled path. No one in the area had observed anything suspicious so this may be considered an isolated incident," said Lucy Caldwell, public information officer for the Fairfax County Police.
The graffiti was spray painted on the Verizon boxes on Monday, April 6 during the week of Passover.
The boxes were hidden behind flowering bushes, and went largely unnoticed.
"Great Falls Citizens Association was unaware of the incident," said Phil Pifer, of the GFCA. "Graffiti of any kind is unusual in Great Falls, as is any type of vandalism. We agree with the police that this is an isolated incident," said Pifer.
Verizon quickly purged the hate graffiti in Great Falls. Caldwell reminded residents to contact police "if any residents observe vandals in the act."