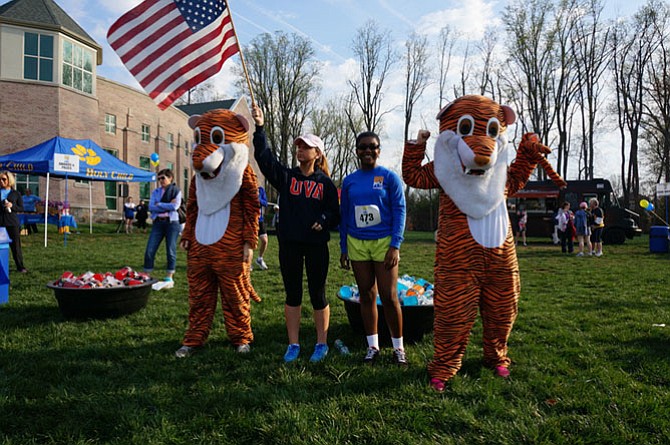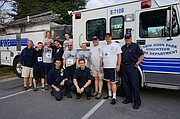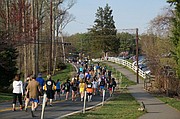 At 8:30 a.m. on Sunday, April 19, runners will take their places, listen for the starting gun — and then sprint down the scenic route through the hills and valleys of Potomac.
The race — the Tiger Trot sponsored by the Connelly School of the Holy Child — begins on the Holy Child campus, turns onto Persimmon Tree Drive, takes in the neighborhood of Bronson Drive and ends back at the Bradley Boulevard school grounds. Those participants who prefer to walk will enjoy the stroll through the picturesque neighborhoods of Potomac.
This is the 5th year for the Tiger Trot run/walk — a road race that has attracted more and more runners each year. Last year, the field numbered close to 500 runners and walkers — including everyone from elite runners to moms with strollers. The students, families and staff of Holy Child will be turning out in force, along with many members of the Cabin John Park Volunteer Fire Department located on River Road.
What makes this race special is that all proceeds remain in Potomac — to benefit the Connelly School of the Holy Child Health and Wellness Programs as well as the Cabin John Park Volunteer Fire Department. The fire department provides fire prevention, education and suppression activities and is the primary care provider of emergency medical services, river rescue services and heavy rescue in this area. When a resident requires an ambulance, has a fire in their home or another emergency, the CJPVFD is usually the first on the scene.
Sport and Health is a new sponsor this year for the event. Nancy Terry, senior vice president of Sport & Health Clubs, said, "We are excited to be a part of this great event. We will be leading a fun, interactive warm-up before the race and will provide all sorts of raffle prizes for membership, training, Pilates, Barre and more. The grand prize will be a one-year fitness membership to Sport and Health Clubs." Every race participant will receive one raffle ticket. More may be purchased for $10 each.
Runners and walkers can sign up in a range of age divisions; cash prizes will go to the top three male and female overall winners. More than $900 in prizes will be given out. Additionally, prizes from local restaurants, gyms and sporting goods stores will be awarded to the top runner in all age divisions. All participants who register online will receive a high-tech shirt. A post-race party will feature family activities, free food, vendors and raffle prizes. Local entrepreneur Molly Hamilton will be serving samples of Molly's Bakeovers, an all-natural, gluten-free cookie and the Java Cruiser coffee truck will be selling specialty drinks and smoothies.
Tiger Trot co-chair Cindy Anastasi said, "This race is an important way to bring our community together as many local businesses are involved by donating food, beverages and prizes. For the school, its families and community, it's a positive way to give back — and help keep our community safe. Chairing the race is always so rewarding because it incorporates all the students – and is full of energy. My co-chair Christine Drummond and I are pleased that the race is such a success — and so much fun for everyone. It's a great event to come to — everyone that participates loves the camraderie."
A list of sponsors, along with many parents and businesses, has contributed money, food and prizes. Savantage Solutions is the presenting sponsor and Charles Schwab and Coakley-Williams are water station sponsors.
On-line registration will be open until 10 p.m. on Friday, April 17. On-site registration will be at packet pick-up on Saturday, April 18 and also on race day, April 19 from 7 – 8 a.m. Registration fees are $35 for adults 20 and over and $30 for students 19 and younger. To register, go to www.holychild.org.