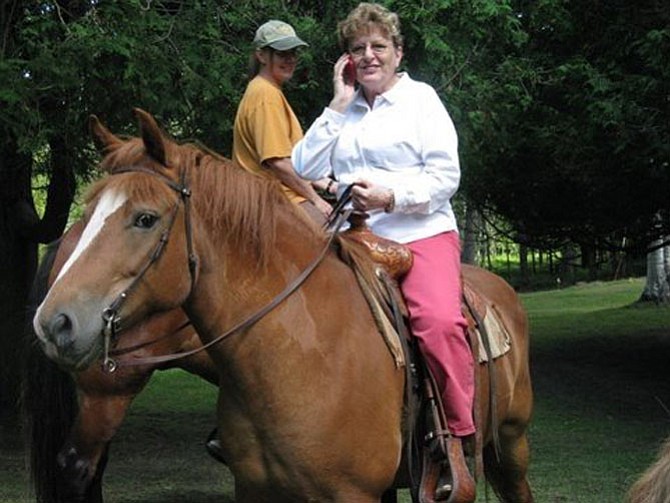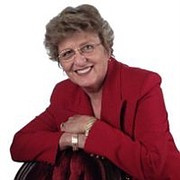 Springfield resident Sam Martin remembers Karen Brown as the exemplary neighbor. "She was a wonderful friend who wouldn't drive by the house without stopping," he said. "She was always welcoming you in, and a fantastic cook."
More than just a neighbor, Brown was a force in the community, as founder of the nearly 30-year-old support and outreach organization for disadvantaged students in Fairfax County Kristi's Christmas, an advocate for organ and tissue donation, and an Arlington Lady at Arlington National Cemetery.
BROWN, a 74-year-old realtor, died Wednesday, March 25 at Fairfax Hospital of complications from cancer, according to a release from the West Springfield Rotary Club.
Hundreds celebrated her life Saturday, April 18 in the auditorium of West Springfield High School.
"When people walked out of the room there was a sense of wow, she touched so many lives," said Kyle McDaniel, a member of the Rotary Club and policy director for supervisor Pat Herrity (R-Springfield). "In one word, she was genuine: salt of the earth, always the person that would give you her honest opinion on something."
For Martin, the word that resonated most came from her son Allen's speech on Saturday.
"What personifies and defines her," he said, "she was love. Everything she did involved love for her family, community, for Rotary, the children, the underprivileged."
Brown created Kristi's Christmas to honor her daughter who died in a car accident that same year. The organization has helped provide students with clothing, food and school supplies, as well as set up mentorships for students receiving aid with West Springfield High School students.
"She really took a tragedy and turned it into something I don't think she ever thought it would become, that's impactful and positive in West Springfield, the whole South County community," said McDaniel.
Springfield resident Ed Linz used to live across the street from the Browns; now he's only two blocks away. Their friendship intensified as Linz went through a heart transplant operation in 1994. The Browns had been through a similar organ-sharing circumstance with Kristi (several of hers were donated after she died) and they were able to provide Linz "a lot of moral support," he said.
Together, Linz and Brown did over 30 talks about organ and tissue donation. "I would talk as a recipient how wonderful it was," Linz said. "And Karen would talk from the perspective of the donor's mother. It really helped her and her family with this very difficult loss of their own daughter.
"It's just such a tremendous loss," Linz continued, "not only on a personal basis, but from the community, the incredible amount of good Karen did. I don't know of anyone else that's done as much for the community as Karen Brown, which includes most of our public servants, I might add."
Brown is survived by her husband Col. Lloyd W. Brown, Jr. (U.S. Air Force Ret.), daughter M. Kimberly Brown, son Allen L. (Audra) Brown and three grandchildren, all in the Washington, D.C. area; her sister, Sandra Ebling in Bloomfield Hills, Mich., and sister Sonja Kropff in Hobe Sound, Fla.
THE ROTARY CLUB of West Springfield is encouraging contributions to the foundation for Kristi's Christmas sent to P.O. Box 2097 Springfield, VA 22152, or the Washington Regional Transplant Community (www.beadonor.org).