After what seemed to be an endless winter, spring has finally come calling, signaling the start of the year's first real estate high season. Homes trade hands all year long, but spring is often for buyers, seller, agents, brokers and lenders like those weeks between Thanksgiving and Christmas; buyers at full speed searching out the best bargains and sellers looking to move their wares without having to resort to price-slashing sales tactics.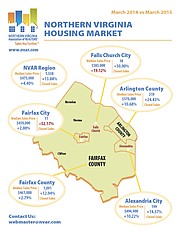 So far, area real-estate experts and the data from sources like the Northern Virginia Association of Realtors (NVAR), Movoto Real Estate, and SmartCharts (powered by RealEstate Business Intelligence with data supplied from the MLS listing service) are all aligned in their assessment of the outlook for the 2015 market in Northern Virginia. Compared to a lackluster 2014 after a strong 2013, there's reason for optimism.
Veronica Seva-Gonzalez, NVAR board member and Realtor with Compass Real Estate, noted that the spring weather and positive housing market news had arrived simultaneously. "It's great to see how all of the numbers are up from last year and also from the beginning of this year," she said.
Across the board, the numbers do look positive. Combined data collected for the counties of Fairfax and Arlington, the cities of Alexandria, Falls Church and Fairfax and the towns of Vienna, Herndon and Clifton, show a first quarter increase of total units sold of just over 9 percent, with 3,657 units sold in 2015 compared to 3,352 the prior year. For the same period and for the same localities, days on the market (DOM) per unit actually rose in 2015 and the average ratio of sales price to list price showed marginal slippage, but Realtors and market analysts see the significant improvements in March 2015 numbers vs. March 2014 figures as an indicator of a healthy selling season ahead.
The March 2015 increases were seen in all sectors of the residential market, with "attached" homes like townhouses leading the way with a 3.6 percent uptick in average sales price. Condominiums came in at second place, with a 1.8 percent increase in the month compared to 2014. Single-family homes came in last for the March 2015 totals, but still better than the prior year by 0.7 percent.
Greatly increased inventory versus last year could be one factor in the more modest single-family home price increases. In 2015, 3,165 new properties came onto the market during the month, while only 2,656 were put on the books during that month last year. A total of 3,381 units were available to buyers in March this year compared to 3,011 last year.
"In some areas and some price ranges, there is definitely more choice," said Reston Long and Foster Realtor Anita Lasansky. "Sellers are starting to get more confident."
Realtor Jennifer Boyce, Long and Foster Gold Team, also noted that some buyers were starting to "come out from under," having held on during the worst of the economic downturn. "Equities are looking stronger, so they can get back in, selling or buying."
The data does vary around the region. Not all areas experienced an increase in sales prices in the month-to-month comparison. Falls Church City, for example, posted an increase in the numbers of units sold, but a 19.12 percent decrease in median sales price.
Arlington County, on the other hand, saw the largest increase in the March 2015 vs. March 2014 side-by-side; with 24.43 percent more closed sales and a 10.68 percent increase in the median sales price.
Janet Gresh of the Gresh Group in McLean says that her experience so far this year is in line with those numbers. "Arlington is definitely hot right now, close in and enough quality properties that you see serious competition."
Lasansky gave the numbers she is seeing for Reston a "thumbs up," as well. "We're up about 15 percent in the first quarter over last year and about 5 percent up in median sales price."
In the City of Alexandria, the median sales price rose by more than 10 percent in March on an increase of 14.37 percent in closed sales.
Fairfax County and Fairfax City both saw more moderate improvements in median sales prices at 2.79 percent and 2.00 percent respectively. For Fairfax City, the positive takeaway from the March figures is that the median sales price rose despite a drop in total closed sales of more than 50 percent compared to last year.
While all of the data provided is considered preliminary and still subject to revision, the numbers available to date suggest a good start to the year – and barring the unforeseen negative impact – a positive 2015 real estate market.
Plus-column numbers on the books, the collective optimism of many of the area's top real estate professionals, and respected organizations like the Northern Virginia Association of Realtors adding that "2015 may be different because of its more sustainable, positive market direction," all offer signs that the real estate market in the region is looking at a healthy year. Any number of factors, including the ever-present threat of the Federal Reserve raising interest rates sometime this year, could stall or even reverse the positive trends.
Whatever comes along, realtors like Kathleen Quintarelli, Weichert Realtors, Burke, think we will deal with it. "People have kind of stopped believing that the rates will go up again and when they do it will be a shock and have its impact, but we will adjust to that new norm, as well."
With the latest figures in hand, we asked some of our area's top real estate professionals for their perspectives, and to offer some expert advice to buyers and sellers alike.
Virgil Frizzell, Ph.D., MBA, realtor Long and Foster Reston: "I think the March housing statistics indicate a healthier spring housing market in the footprint of the Northern Virginia Association of Realtors than for the rest of the country. The continuing improvements … are good for both homebuyers and home sellers and likely indicate a more balanced market. Buyers should benefit from increasing inventory, still low mortgage [rates] and easing credit standards. The year-over-year increase in housing units sold and modestly rising median prices may embolden sellers." (Frizzell is the 2015 NVAR Chairman-Elect.)
Mary Bayat, owner of Bayat Realty in Alexandria and 2015 NVAR Chair: "Finally, many buyers who had distressed house sales years ago could have enough repaired credit to qualify for a new loan. They will get more house for their money now than if they wait. We expect the Federal Reserve to raise interest rates later this year. Another local indicator is that active listings have risen more than 25 percent."
Jennifer Boyce, Long and Foster Gold Team Burke/Fairfax Station/Clifton: "Don't price too aggressively in late spring or early summer is my advice. Homes that are well priced and in good condition will sell. The $500,000-$800,000 homes are in high demand. Homes that are priced over $1 million face a smaller and sometimes more exacting buyer base, not willing to compromise much and expecting top quality for their money."
Will Farnam, Long and Foster Falls Church: "I think the data so far for this year would be considered bright - not a boom - but strong. It's a market that's good for good properties, not good for just anything. There's enough choice. One good sign is the traffic at Open Houses. The last two weekends I have had house-fulls, quite different from last year. Smaller down payments on many FHA and VA loans is helping, but despite some lending requirement easing, I find that buyers with credit problems are still struggling to get a loan."
Janet Gresh, The Gresh Group@Keller Williams: "The market is looking good, but it is still a bit more of an art than a science at times. If an under-$1 million home is priced right, I am starting to see multiple offers, especially in Arlington. ... In some of these areas, if the house doesn't sell or have offers in the first two weekends, it could be a sign of trouble and time to re-evaluate. … Don't overprice and you may end up getting more than you ask for. I have experienced that recently."
Anita Lasansky, Long and Foster Reston: "It's looking good, strong numbers over last year for Reston especially, what some call the 'Silicon Valley of the East.' Some homes are selling now in days, not weeks, if they are well-priced with updated kitchens and bathrooms. Those homes take top dollar and for the first time in years I am seeing multiple offers on those properties. The properties over $1.2 million are still sitting. Sellers should also be cautioned not to overprice based on the addition of the Metro Silver Line. I see that a lot of people are riding it, but it hasn't had that much of an impact on house prices in the area, at least not yet, but some sellers are factoring in 5-10 percent in their list price based on the Metro.
Kathleen Quintarelli, Weichert Realtors, Burke: I'm excited. 2015 looks slightly better already. Open Houses are really packed. With interest rates staying so low, more choice, the easing up on credit requirements, and fewer short sales and foreclosures - all those factors are really giving the market energy. There's just not enough inventory in some categories, especially anything around $350k - $450k. Anything in good condition in that price range can go in the first week. My advice to sellers: Price well, prepare your home and stage it. And have your photographs taken by a professional. If the potential buyer comes in and says "Wow! This place looks a lot better than the pictures on the internet!" then your agent – or you – have done something wrong. Sellers should be ready to buy, even the same day you see the house you want. That means pre-approval and preferably by a local lender that we can work with quickly, especially if you're faced with multiple offers or counters.