Amy Zang has just returned from a week sailing the British Virgin Isles with nine members of her extended family ranging from her 78-year-old, legally-blind father to her brother's 4- and 6-year old children.
"I was the captain of the 46-foot catamaran, but I had to get used to it. It is the biggest boat I have sailed. You use the same sailing skills but adapt the technique when the boat is this large."
Zang is the Director and Owner of the Youth Sailing Day Camp at the Washington Sailing Marina. The Washington Sailing Marina camp offers six different youth sailing classes in the summer with the Sunfish for beginners and the Flying Scot for intermediates. The advanced class uses a Hobie Cat. The racing class sails a Collegiate 420 that is a fast, maneuverable boat allowing campers the chance to work on boat balance and roll tacks.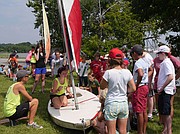 Adventures on a Big Boat sails a Catalina 25. This group has a picnic lunch under anchor on Thursdays and they, along with the intermediate boats, sail to Old Town for lunch on Fridays. Other groups get smoothies on Friday "so everyone gets a treat."
Sailing students must be certified before moving on to the next level. Some campers come for one week and others move up the skill level over successive weeks at camp. Windsurfing is also offered.
The camp opens June 1 and runs weekly through Aug. 22, and is already over 50 percent full. The classes run from 9:30 a.m.-4:30 p.m. and are open to rising third graders-15 years of age. She thinks children choose sailing for summer because "it is different, it is outside, it is hands on and they get immediate gratification." They walk away with a life skill that they can carry into adulthood, she says.
Sailing class is empowering, Zang says. Children don't have much in their lives that they can be fully in charge of. "I give them trust, here is a boat, and you can learn to sail it and they give trust back. They learn responsibility and it is a huge confidence builder for both male and female students. Sailing isn't about strength." She adds, "When kids come they love it and keep returning year after year." She said word of mouth is powerful and she has had a number of children for many years.
Classes are systematic, beginning with a 10-minute "chalk talk" about what they will be doing that day. Then on to a drill such as a figure eight on the water followed by docking. The routine gets instilled with a game like "stick, stick, capsize." Sailing students practice docking, sailing to the dock where an instructor awaits them. If they do a perfect docking, they get a paint stick and they sail back to a buoy not too far off, switch positions (crew moves to skippers position) and sail to the dock again. If they do a good docking they get a second paint stick, and from there they sail out into the lagoon where a safety boat is stationed. They hand in their two paint sticks and get to do a capsize, the reward for two good dockings.
She calls each day "controlled chaos" where she has to be mentally two steps ahead watching weather, keeping track of the boats at all times and supervising the instructors as well as tending to children who may need special attention. "Every single cog in the wheel has to work." Zang describes herself as a big communicator and sends group email updates to parents during the week. If there are specific things to pass along she emails the parents directly.
During the school year, Zang provides home-bound school instruction for students with illness or special needs that keep them from attending traditional school.
At this time of year, Zang is interviewing staff, rescheduling returning staff, reviewing insurance policies and other business, organizing buses, getting boats ready for the season "putting a screwdriver to every screw, washing out boats and getting them in the water."
Zang offers bus service pickup from Bethesda. This year, a mom organized a group of 24 sailing campers from Chantilly so "I am sending a bus there to pick up the kids that week." Sailing students come from all over the metropolitan area and some are visiting relatives and attend sailing camp for a week or two. About half come with a friend although she tries to match everyone up with a buddy if they don't. "We have a lot of diplomat kids, too, a nice diverse population."
The staff includes more than 40 full-time summer counselors; many started in sailing camp themselves a number of years ago. "I have one counselor this year who started camp when he was 9." She has better than a 1-6 ratio of staff to campers.
"It's a good job for high school and college students, getting a tan, learning valuable skills and how to work with kids."