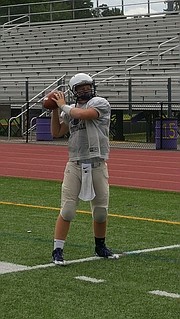 There is no guarantee the Lake Braddock Bruins will face the Westfield Bulldogs this season. For the first time since 2008, the teams will not meet during the regular season.
But if you ask Bruins quarterback Kyle Edwards, Lake Braddock will inevitably cross paths with Westfield if the Burke school is going to capture its first state championship in football.
"They're going to be a team that we're going to have to beat if we want to go for a state championship," Edwards said. "We're not preparing for Westfield, we're not thinking about Westfield, but we know."
The Bulldogs have reached the region championship game each of the last four seasons, beat the Bruins in the semifinals each of the last two years and figure to once again be a contender in 2015. Last year, after beating Westfield during the regular season, Lake Braddock laid an egg during the postseason rematch. The Bruins turned the ball over three times in the first quarter, trailed 35-0 at halftime and 42-0 in the fourth quarter before a trio of late Bruin touchdowns made the final score 42-20.
Edwards passed for 382 yards in defeat, but turned the ball over three times during Lake Braddock's first 12 plays.
NOW A RISING SENIOR, Edwards enters his second season as the Bruins' starting quarterback and will lead a Lake Braddock offense loaded with talent. The 6-foot-2 signal caller is a threat through the air or on the ground, and figures to be more polished in his decision making with a year of experience under his belt.
"Really, what I'm looking for from Kyle is play just like you did last year and cut down on mistakes because mistakes kill you," Lake Braddock head coach Jim Poythress said. "Turnovers and interceptions kill you. He just needs to do what he's capable of doing, not try to force any of the action. Let his skill kids outside make plays [and] we should be fine."
Edwards will have plenty of weapons at his disposal as he attempts to lead Lake Braddock to a seventh consecutive Patriot District/Conference 7 title and a deep postseason run. Rising senior receiver/defensive back Peyton Scott is one of the Bruins' playmakers and figures to be an impact player on both sides of the ball.
"He's an X-factor type guy," Poythress said. "He can run back kicks, play D-back, play anywhere in the secondary. He played safety last year, now we'll play him at corner. He can probably cover anybody in this region, I'm pretty certain. He can play out wide, he can carry the ball and he can crack a long run ... at any time."
Rising junior Lamont Atkins is the team's top threat at running back.
"He has tremendous hands," Poythress said, "but he can run the ball as well."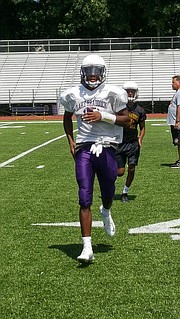 Rising junior Ibrahim Mansaray will also see carries. Poythress said Mansaray is "probably the quickest kid I've ever coached."
"He's short, but don't be fooled, he's built," Poythress said. "He's super strong."
Rising seniors Josh Churchill, David Fofi and Trey Stephens are also receiving threats for the Bruins.
"They have to stop not only weapons through the air running down the field on them, but also, in the backfield," Scott said. "They're not going to know where the ball is going. ... It's going to be tough to handle."
How does the quarterback keep all his weapons happy?
"It's not a challenge," Edwards said, "it's a great problem to have."
Rising senior tackle Aaron Lenhardt (6-5, 250) and rising senior guard Johan Marin (6-2, 245) are standouts on the offensive line.
Lake Braddock also returns plenty of talent on the defensive side of the ball. Rising seniors David Hibner and Kamron Abolfotouh return as defensive ends in the Bruins' 4-3 scheme. Atkins, and rising seniors Darius Johnson, Andrew Niedringhaus, and Daniel Dinges are returning linebackers. Scott, Mansaray and rising junior Asa Ward are standouts in the secondary. Rising sophomores Tyler Matheny and Jack Darcy could also be impact players.
Rising senior Nick Bruhn is the kicker.
LAKE BRADDOCK will open the season on the road against Lee at 7 p.m. on Friday, Sept. 4. The Bruins' first home game is Sept. 11 against Annandale. Lake Braddock's other notable regular-season matchups include Robinson (away, Sept. 18), Centreville (home, Oct. 2), West Springfield (home, Oct. 23) and South County (home, Nov. 6).
"It's a better group [this season] because there's no individualism," Poythress said of the Bruins. "These people sometimes stand out and they're above everyone else and they make you miserable, even from a coach. ... They need to bond and jell together more as a unit and not little cliques on the outside. At the end of the day, that wears you thin. Seems like we have a good group."