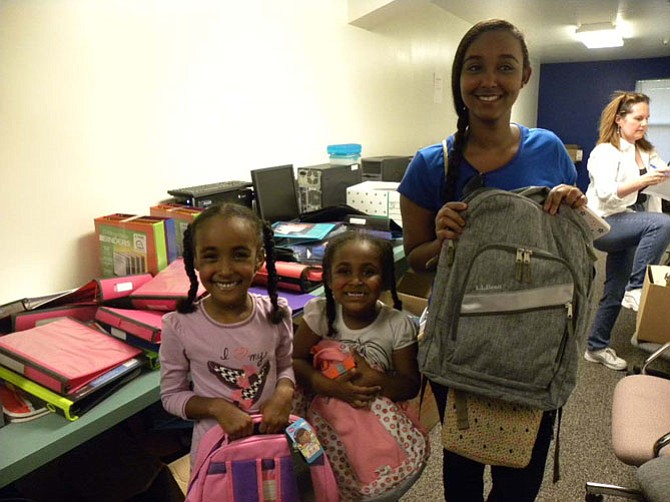 "I wanna get school supplies so I can get smart," said Sabrina Mohammed, 5, of Fairfax, as she excitedly entered the recreation center at Ragan Oaks Court apartments in Fairfax, which has been filled with school supplies provided by FACETS.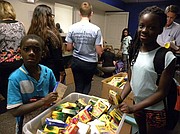 Fifty-three children have signed up to receive book bags and school supplies on Monday, Aug. 17. FACETS will also distribute back-to-school necessities at two other locations, Robinson Square in Fairfax on Tuesday, Aug. 18 and Barros Circle in Centreville on Wednesday, Aug. 19.
A total of 186 children from low-income families will get brand new school supplies.
"When they have something new and in good condition, it looks good and it does exactly what they need it to do, it helps boost their self-esteem," said FACETS' D'Ivonne Holman.
Armed with the list they received from their schools and escorted by their own personal shopper, a volunteer, the children, who ranged from elementary to high school, gathered notebooks and binders and rummaged for pens, crayons and scissors.
For items on the list that they cannot get during the distribution, such as graphing calculators, FACETS will try to get them using monetary donations to the Back-to-School drive.
Employees from Noblis in Falls Church helped distribute the supplies at Ragan Oaks Court. Volunteer Gloria Maser said that her company likes to do things that can connect with and involve the community directly. This is the second year Noblis has participated in Facets' Back to School Supply Party.
Naana Boateng, 10, of Fairfax, is excited to start the fifth grade at Eagle View Elementary school. She is especially looking forward to the field trips.
Mohammed cannot wait to start first grade at Eagle View, too. Her favorite subject is playing.
For more information on FACETS and its programs, visit http://facetscares.org/.