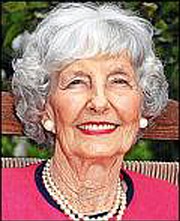 Frances Dowdle Abbott "Smokie" Lyon, 91, of Mt. Pleasant, S.C., died on Tuesday, Aug. 11, 2015. Frances was born in Rome, Ga., on March 21, 1924, a daughter of John Westley and Lucille Field Dowdle. She grew up in Columbia and Florence, S.C., and graduated Columbia High School and Draughon's Business College with honors. She was a member of the Columbia Choral Society, the Trianon Club and the Episcopal Church of the Good Shepherd. A member of the National Honor Society, Frances later worked for Military Personnel at Fort Jackson and the Army Air Base in Columbia during World War II.
Frances later transferred to Washington, D.C., and in 1948, married Army Captain Jackson Miles Abbott, of Boston, Mass. Residing in Alexandria, they raised four children in Waynewood, property along the Potomac River once a part of George Washington's Mount Vernon estate. Active in her community, Frances was involved in Girl Scouts, Boy Scouts, the PTA and volunteered with countless other organizations. The Abbotts were members of the Children of the American Revolution (CAR) and listed in the Social Register of Washington, D.C. A lifelong student of history, Frances is a descendant of Richard Stockton of New Jersey, signer of The Declaration of Independence. She served many years as chairman of the "George Washington Birth Night Supper & Ball" as a member of the Virginia State Commission to celebrate Washington's 250th Birthday (1982), and five years on the steering committee establishing the Neighborhood Friends of Historic Mount Vernon. During her tenure as chairman of the Birth Night Ball, it became an "invitation only" affair and was attended by the Governor of Virginia and Mrs. John Dalton (1978), the Lt. Governor and Mrs. Charles Robb (1979), and the Attorney General and Mrs. Marshall Coleman (1980), various ambassadors and their wives and other distinguished guests. Frances received many special awards for her volunteer activities on behalf of Mount Vernon in furthering the remembrance of George Washington.
Frances later pursued a 20-year career as librarian and research associate at Gadsby's Tavern Museum in Old Town Alexandria. She especially enjoyed its connections to George Washington and Thomas Jefferson and was instrumental in beginning a series of books holding all the Alexandria Gazette's clippings relating to Gadsby's Tavern from 1749 to its present day as a city museum. Frances was a 50-plus year member of the Daughters of the American Revolution (DAR), during which time she chaired many committees. At the time of her death, she was a member of the Fort Sullivan Chapter of Charleston.
Other activities included: feature writer and Mount Vernon correspondent for the Alexandria Gazette newspaper; District Chairman of the Mount VernonMarch of Dimes; Secretary-Treasurer of the Mount Vernon Citizen's Association; and volunteering once a week at the White House during the Reagan years. She also enjoyed modeling for various military and civilian organizations in the Washington, D.C., area. For years, she was listed in Who's Who of American Women.
After her first husband died in 1988, Frances married Archibald (Archie) W. Lyon, BG U.S. Army (Ret.) in 1993. They travelled widely and enjoyed sharing their love of history until Archie died in 1998. Frances later moved to Charleston. In addition to membership at Christ Church where she was an active member of the "Seekers" Life Group and Daughters of the King, she belonged to the West Point Society of Charleston, South Carolina Historical Society, The Nature Conservancy, Charleston Chapter of National Sojourners, Charleston Chapter of Military Officers Association of America and the Hat Ladies of Charleston.
She is survived by her four children, Elizabeth Youngs (Steven), of Mt. Pleasant, S.C., Medora Frances Abbott, North Charleston, S.C., David Field Abbott (Patty), of Columbus, Ohio, Robert Jackson Abbott (Sandra), of Woodbine, Md.; stepson, David Allen Lyon, of Washington D.C.; her beloved sister, Medora Dowdle Jackson, of Columbia, S.C.; two grandsons, Jackson Byron Youngs and Jacob Miles Abbott; and a large and loving extended family. A funeral service will be held at Christ Church, 2304 N Hwy. 17, Mt. Pleasant, SC 29466 on Saturday, Aug. 22, 2015 at 5 p.m., followed by a reception at the church. She will be buried at Arlington Memorial Cemetery, Arlington, beside her first husband, the late Jackson Miles Abbott, LTC USAR (Ret.) at a later date.
Memorial donations may be made in honor to Christ Church Building Fund, 2304 Highway 17 N, Mt. Pleasant, S.C. or to Gadsby's Tavern Museum, 134 N. Royal Street, Alexandria, VA 22314. Expressions of sympathy may be viewed or submitted online at www.McAlister-Smith.com. Arrangements have been entrusted to McAlister-Smith Funeral Home, Mt. Pleasant Chapel, 1520 Rifle Range Road, Mt. Pleasant, S.C., 843-884-3833. Visit the guestbook at www.legacy.com/obituaries/ charleston.