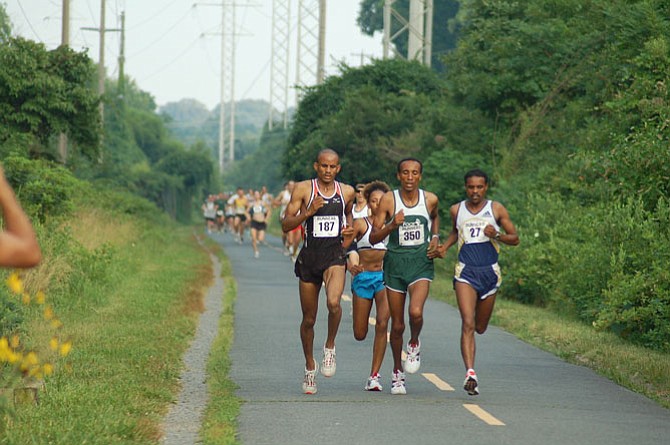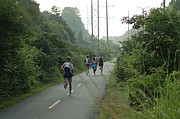 On Saturday evening, Aug. 1, Safety And Health Foundation and ACE Physical Therapy and Sports Medicine Institute presented the 9th annual Friends of the W&OD 10K race in Vienna, Virginia.
The 10K race (6.2 miles), ran on the Washington & Old Dominion Trail, one of the nation's best-known rails-to-trails parks, from Ayr Hill Road to Hunter Mill Road and back, with a short spur onto Clark's Crossing Road and Batten Hollow Road.
From 4:15 to 8 p.m. on the day of the race, ACE and SHF presented the 9th annual College of the Environment -- Green University at Centennial Park, the one-acre park surrounding the old red caboose at 131 Church Street NE in Vienna. Environmental organizations are welcome to exhibit for free , and environmentally-themed businesses are invited to sponsor the event.
The event emphasized how runners can work to improve the environment, to recycle, reduce, and re-use. The race announcements were printed back-to-back with another flyer on recycled paper, race organizers facilitated car-pooling, the race planted a new tree along the W&OD Trail at 5:30 p.m. before the race, and all trash from the race was minimized and recycled.
All participants received a commemorative t-shirt printed by Sport Science of Vienna using a non-polluting ink fusion process that wasted no ink, unlike traditional screen printing.
The race offered cash prizes totalling $1,000 -- $250 for 1st place, $150 for 2nd and $100 for 3rd -- male and female -- plus gift certificates from sponsors for 1st/2nd/3rd in each 10-year age-group, male and female.
"By organizing the unique race, we encourage runners to understand their impact on the environment and how they can choose to mitigate that impact," said race director Jay Jacob Wind. "Each of us has the tools to act to improve the environment -- our own hands, our feet, and our wisdom."
The race benefitted Vienna-based Friends of the W&OD, working to maintain the trail and its bridges, drinking fountains, plantings, and sitting areas.
Exhibitors and sponsors included: ACE Physical Therapy and Sports Medicine Institute Friends of the W&OD 10K.
Exhibitors: ACE Physical Therapy and Sports Medicine Institute, Aspire Natural Sports Drinks, Athleta at Tysons Corner, BOWA, Breakout Running, Chelsea Collective, Engineers Without Borders - NoVA Chapter, Historic Vienna Inc. at Freeman House, I Like to Bike, Koons Tysons Scion, NVRPA and Meadowlark Botanical Gardens, David Garcia with snake and turtle, Orange Theory Fitness, Passanante's Home Food Services, Potomac Appalachian Trail Club, Renewals by Anderson, TD Bank, and Vienna Women's Center
Next Safety And Health Foundation (SHF) races include:
*Thursday, Aug. 27, 2015 -- Roosevelt Run 5K
*Saturday, Sept. 12, 2015 -- Abebe Bikila International Peace Marathon and Half
*Sunday, Nov. 15, 2015 -- 11th Annual Potomac River Run Marathon
*Sunday, May 1, 2016 -- 12th Annual Potomac River Run Marathon