As Kyler Zampiello (class of 2015) prepares to play in her first field hockey game at James Madison University, the Chantilly Chargers are preparing to play their first game without her. A first-team all-region selection in 2013 and 2014, Zampiello led the Chargers from the goal.
"[Zampiello] is a hell of a player, so if we screwed up she would make up for it in the goal," Chantilly head coach Ralph Chapman said. "We aren't a team that always scores a lot of goals, so the goalie is huge for us."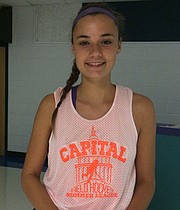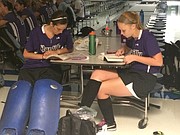 Stepping up to fill in the goalie position for Chantilly this season is senior Paige Hinds. In her second year on varsity, though, Hinds lacks ample game experience, having played behind Zampiello.
"[Hinds] has got some ability and can play," Chapman said. "She's just not seen a lot of playing time."
Another option for the Chargers' defense is goalie Caroline Barnes, a junior.
"Going into this season, the team expects more from me and [Barnes] because [Zampiello] was so good," Hinds said. "I'm working my way up there."
One of the players expected to lead the Chargers defensively is Macy Parana. However, after being hit in the face by a stick in practice, she will miss at least the first three games of the season.
"Macy is the only carryover I have from my defense last year. She's solid as a rock," Chapman said. "We won't have her these next few games, so we'll have to see what we're made of."
Offensively, the team has a number of returning players, but few started in 2014.
"We have a group of girls coming back," Chapman said. "It's about half of the [2014] team. Problem is the half that graduated all played a lot and most of them were starters."
The team will again rely on a short-passing offense, as they lack the physical strength and size of other teams in the region.
"We aren't a big-hitting team like some schools we play, like Westfield," Chapman said. "We dink and donk and get it up the field. We've always been blessed with girls with great speed so when we make a mistake, we are able to catch up and recover."
Chantilly went 15-5 last season and finished 6A North region runner-up, losing to Fairfax 2-1 in double overtime in the region championship game. The Chargers lost to Cox 1-0 in the state semifinals.
Chantilly's first game of the 2015 season was scheduled for Monday against West Potomac, but was postponed due to inclement weather. The Chargers will host McLean at 7:30 p.m. on Wednesday.
"Our games are anything but boring," Chapman said. "We're either knocking on the door trying to score or running down the field like 'Oh, here we go again.'"