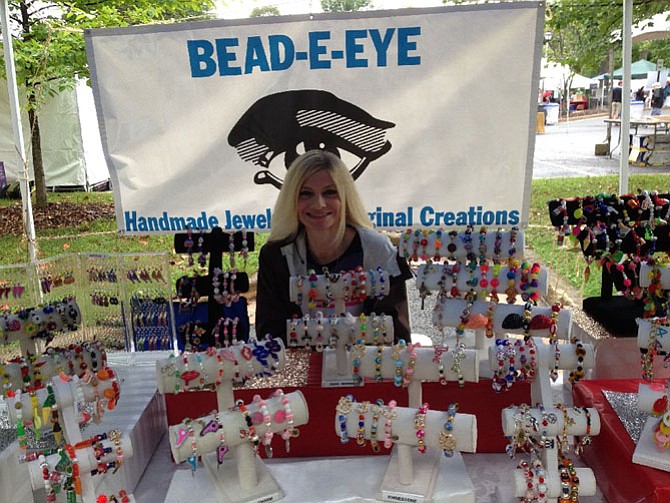 Originally from Westchester County, N.Y., Suzanne Stein, 52, relocated to Virginia in 1991 with her husband, Dr. Lawrence Stein, when he had a job opportunity to work as a physician in Northern Virginia. He currently serves as the chief of the Department of Medicine and the director of the Sleep Lab at Virginia Hospital Center in Arlington. He also works in the intensive care unit of the hospital and, additionally, he is a pulmonologist with a practice in Arlington. Having served as a school teacher in New York, Suzanne Stein continued teaching for five years when she relocated to Virginia. After she stopped teaching, she looked for an outlet and something to do. Thus, in 2005, she used her creative skills and began making jewelry. "I love jewelry. I love wearing jewelry," she said. When she taught all girls in a private school, she would make jewelry with her students. Perhaps her love of jewelry was influenced by her grandfather who was a jeweler.
Suzanne Stein works from at a studio in her home where her beads and supplies are readily available. She collects vintage charms. "That gave me the idea to create them into bracelets. I enjoy shopping. I went to different bead stores. It gave me inspiration," she said. She has travelled to different countries where she purchased beads and charms.
She invests a lot in her supplies and buys many of them online where she is able to find some different charms. She spends approximately 10 hours per week working on her jewelry, and she creates a variety of bracelets, necklaces, earrings, key chains, eyeglass holders, Christmas ornaments and wine glass charms in a variety of themes.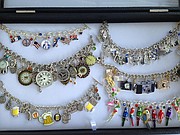 Her first creative idea focused on the issue of breast cancer, and she began her work with a bracelet and a key chain. "I like the pink ribbon, and I thought it was a nice idea to do something for a cause," she said. She has also donated her work to ARC of Northern Virginia, an organization that helps people with disabilities. She has created bracelets for different causes and is contemplating developing jewelry for those in the public safety sector.
Other items she has made relate to animals, hearts, clocks, cities, careers, sea life, sports (i.e. baseball, football charms), religion, and cracker-jack charms. She has also made text message bracelets that have charms stating, "BBF" (Bestest Best Friend), "TTYS" (Talk To You Soon), LOL (Laughing Out Loud) and "OMG" (Oh, my God)." One of her bracelets, titled "Up in Smoke" is made with miniature cigarette and pipe charms. Another one is made with tiny plastic whistles and is titled, "Wrist Whistler." Additional creations are a metal clock charm bracelet titled, "Time Is Of The Essence," a vintage gumball record charm bracelet titled, "They're Playing My Song," a beaded glass blown star bracelet titled, "I'm Seeing Stars," a glass blown miniature fruit charm bracelet titled, "Freshly Picked," a metal camera charm bracelet titled, "In A Flash," and a vintage cracker jack fish charm bracelet titled, "Swimming Up My Wrist."
"I created something pretty and unique that people will enjoy. My bracelets are unique. I'm not copying others. These are my own ideas. I get satisfaction out of people enjoying my things. My parents enjoy it. My mother has worn my things," she said.
She sells her work online through Etsy, and her business is known as Bead E Eye. (www.etsy.com/shop/BeadEeye). She also has a Facebook page for her business. In addition, she sells her work at various shows in the area.
"I care about how it is made and that everything looks good and people will be happy with what they get," she said.
Her husband helps transport her jewelry in large containers and carries displays to all the shows, and he assists in setting up. "He also helps customers and writes up sales. Considering his very busy schedule, he finds the time to always be there for me," she said.
"My wife makes colorful and creative themed jewelry. Her best customers tend to be teenage girls though she sells items for those of all ages," Dr. Stein said.
Arlene Connelly, one of Suzanne Stein's customers, purchased items from her on more than one occasion, and she is pleased with her work. "I've bought several charm bracelets for grandchildren and wine glass charms and an eyeglass holder," she said. Connelly has attended several shows. "I've gone each time. I really like her work, and her prices are reasonable. I've recommended her to friends. I wanted a charm bracelet of London. She also made me a necklace. Suzanne got the pieces — Big Ben, London Bridge, Queen Victoria," Connelly said. She has received many comments about them, and people asked Connelly if she had purchased them in England. Connelly plans to attend the upcoming 2015 Holiday Craft Show that will be held in Falls Church on Saturday, Dec. 5, and Sunday, Dec. 6, at the Falls Church Community Center where Suzanne Stein will have her work displayed and for sale.
When not busy making jewelry, Suzanne Stein enjoys spending time with her husband and two sons, her parents and her dog, Wellington — a King Charles Spaniel. She also derives pleasure from collecting vintage dolls and vintage gumball charms.
Karen L. Bune is a freelance writer. She also serves as an adjunct professor at Marymount University in Arlington and George Mason University in Fairfax.