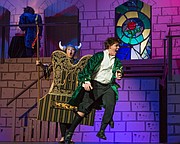 The magic of love that stems from generosity, kindness, and friendship engulfs the story of "Beauty and the Beast" and Hayfield Secondary School's transformative production of the popular Disney musical.
"Beauty and the Beast" was originally based off of a French fairytale where a prince is transformed into a terribly ugly beast due to his selfish and rude ways by a sorceress. Then a young woman, named Belle, becomes his prisoner in his castle and in order to break the spell and become human again, the beast must fall in love with Belle. The staged production was based on the hit Disney movie and it opened on Broadway in 1994 with music by Alan Menken, lyrics by Howard Ashman and Tim Rice, and a book by Linda Woolverton.
Hayfield's production was led by the youthful and energetic Taegan Chirinos who played the title role of Belle. Chirinos had great stage presence and was very consistent throughout the entire show. Chirinos was also very consistent with having a lot of energy whether she was in a dramatic and emotional scene or a fun dance number like "Be Our Guest." Opposite Chirinos was the magnificent Chad Vann in the role of the Beast. Vann showed complete dedication to character and through his luscious voice he strongly conveyed his emotions even through the intense and transforming Beast makeup.
Stealing the show, in an amazing way, was Hank Von Kolnitz as Gaston. Von Kolnitz was absolute perfection as Gaston with a gorgeous voice that complemented every acting choice he made. Von Kolnitz truly embodied his evil and annoying character but with such beautiful execution that it made the audience absolutely love to hate him. Assisting Von Kolnitz in the hysterical antics was Jackson Miller in the role of Lefou. Miller had great comedic timing and amazing chemistry with Von Kolnitz which made the audience automatically get excited when they were both onstage together.
Without the help of the ensemble of performers that wonderfully portrayed the exciting and fun featured characters, the leads of the show would have had nothing to build upon, but thankfully that was not the case. Nathan Tepe, who portrayed Lumiere, and Shannon Flack, who played Cogsworth, had wonderful dedication to character and they beautifully worked together to have great comedic timing during all of their scenes together. "Beauty and the Beast" is very dependent on a strong and energetic ensemble and the Silly Girls ensemble brought just what was needed to the show. Tripping and bawling while running after Gaston, the Silly Girls ensemble helped bring the energy back up and provide some hysterical, over the top moments onstage.
Based on the fact that "Beauty and the Beast" is truly a beast of musical with so many intricacies with the different aspects of the show that have to seamlessly come together, Hayfield Secondary School did an extraordinary job putting on the show.