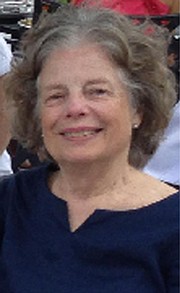 Resilience allows children to develop in spite of adversity, which every child faces in some form. Developmental research underscores the importance of early childhood in building resilience. Schools, family, and community obviously all play a role. At ATC we have learned that providing books for the ACPS kindergartners and first graders we tutor about resilience in children's everyday lives can be valuable — stories about everything from making friends and asking for help to overcoming obstacles, fears and disabilities to reach ends that are serious to children.
Last year I asked ATC's coordinators, who write the lesson plans and select the books for ATC's trained volunteers to use with the child they tutor, what gift book they would recommend we give the students. They chose "Pete the Cat, I Love My White Shoes" by Eric Litwin because, as one of them put it, that story is what resilience looks like to a first grader. The children loved it, got the message, and soon were reading it on their own.
When I asked the staff of Hooray for Books! Alexandria's independent bookstore, for their help, they wrote the descriptions below for their selections of stories of children and resilience.
"One Word from Sophia" by Jim Averbeck, is about a little girl who really wants a pet giraffe. Even as her parents and relatives refuse, she comes up with different ways to persist in asking. This book has great illustrations and lots of fun vocabulary, making it an excellent read aloud for ages 2+.

"Drum Dream Girl" by Margarita Engle is a poetic text with vibrant illustrations by Rafael Lopez, telling the story of a girl in Cuba in the 1930s who dreams of being a drummer. Despite being told that only boys can play drums, she doesn't give up and eventually joins a famous jazz band. This book is based on a true story and has a great author's note. For ages 3-10.
"Flat Stanley" by Jeff Brown is an older title that remains very popular with beginning readers. Stanley is accidentally flattened by a bulletin board one day, but he is perfectly fine after his accident — except for the tiny detail that he is now two-dimensional. Stanley deals with not being able to do a lot of the things he used to do, overcoming new challenges such as blowing away in the wind, and discovering new talents and ways to help the people around him. In the rest of the Flat Stanley series, Stanley has a variety of adventures all over the world where he accomplishes tasks that no one but he can do, turning what he initially viewed as a disability into his greatest strength. For ages 5 to 7.
"Crenshaw" is the latest title by Katherine Applegate, who won the Newbery a few years ago for "The One and Only Ivan." In this story, Jackson's family is facing financial struggles and as he tries to help his parents and stay positive, he keeps seeing his old imaginary friend Crenshaw, a giant cat who helps him see his life's challenges in a different light, which helps him overcome those challenges. For ages 8-10.
"So how can you show your child that reading and learning new things are family values," asks Daniel Willingham, a professor of psychology at the University of Virginia and the author of "Raising Kids Who Read"? "An obvious implication is that your child should see you reading. Telling your child to do something you neglect yourself won't work. …… You can't tell your child 'go read' while you are watching television or checking Instagram."
Columnist Frank Bruni in "The Gift of Reading" [Nov. 25, 2015, The New York Times] also quotes Willingham, this time about the importance of reading: "Kids who read more get better at reading ….. And kids who read well don't just do better in English class – it helps them in math, science and every other class, too." Bruni goes on to say "I'd go even further. Reading tugs them outside of themselves, connecting them to a wider world and filling it with wonder….. It's transformative."