The volunteers of Our Neighbor's Child are working as hard as Santa's elves to bring holiday joy to local families in need. But with so many people in need, they can't do it all without the community's help.
Now in its 24th year, ONC provides new toys and clothes to financially struggling families. And it has 771 families — including 1,863 children — on its list. The largest number of children needing gifts are ages 4-13, but presents are needed overall for children ranging in age from infants to 17.
"It's wonderful to be part of something that helps all kinds of people with many kinds of need," said ONC Founding Director Kelly Lavin. "Some need basic, material things and we work to provide them. Others need to be involved in helping others, and we're glad we can provide opportunities that will bring them their own joy."
This Saturday, Dec. 5, from 9 a.m.-noon, Stone Middle School's National Junior Honor Society will hold a Panther Drop-Off gift collection. People may drop off donations of brand-new toys, books, games and clothing at the school, 5500 Sully Park Drive in Centreville.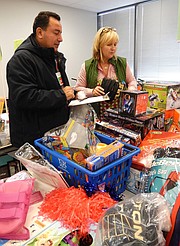 Area residents may also help by volunteering on packaging and/or delivery day. "Having enough packaging volunteers on Thursday, Dec. 10, is really critical," said Lavin. "Then on Sunday, Dec. 13, from 1-4 p.m. is delivery day, and we need as many drivers as possible to bring the gifts to the recipient families."
In addition, ONC will deliver approximately 20,000 homemade cookies along with the gifts, so lots of baking help is needed. Bring cookies in disposable containers, Dec. 10, from noon-4 p.m., to the Virginia Run Community Center, 15355 Wetherburn Court, off Route 29 and Pleasant Valley Road, in Centreville. And to volunteer for any of these needs, go to www.ourneighborschild.org.
"Each family gets a mixed assortment of two dozen cookies," said Lavin. "Many of the recipients are single parents with no time to bake. And on delivery day, when the families see us carrying cookies, along with their gift bags, it helps identify us as Our Neighbor's Child."
ONC has more than 400 volunteers, all working on different parts of the process, and each one is valuable. For example, said Lavin, "We really appreciate the many hours the school counselors devote to these families in need of holiday assistance. We depend on them for accurate address and gift wishes, and they follow up when address changes occur — something quite common for struggling families."
Besides that, many ONC volunteers return year after year. "We have delivery-day volunteers who participated as preschoolers and are now bringing their babies," said Lavin. "It's become part of their holiday tradition. Westfield High football players are in their 14th year of unloading our trucks, and Chantilly High lacrosse players help us on cleanup day. Westfield and Centreville High SGA members bake cookies for us; and this year, in addition to collecting gift wrap for the recipient families, Chantilly High will join the cookie-baking, too."
Still, ONC needs the community to help contribute the gifts, and giving trees adorned with ornaments containing children's Christmas wishes are in various churches and businesses. "We received some grants in the past for books," said Lavin. "But this year, we don't have them. So I'd love it if some group or company that really values starting kids off right with books would partner with us. If they'd collect monetary donations, we can use them to purchase these books."
Clothing is also critical. "Many families can't afford their own homes, so they're living with another family," said Lavin. "So some of these addresses have as many as 10 children living in the same home. And they're not asking for toys for Christmas — they're asking for things like warm blankets, pajamas and socks. Studying in an environment with little heat can be a challenge, so we try to help any way we can."
She said some teens have requested grooming items, makeup, nail polish, athletic socks, backpacks, watches and small overnight bags. "Because of their cost, even twin sheets and pillowcases are needed," said Lavin. "And we've gotten requests for a huge amount of diapers — especially sizes 4 and 5 — and wipes."
And, of course, people may make monetary donations at ONC's Web site or mail them to: Our Neighbor's Child, P.O. Box 276, Centreville, VA 20120, Attn: Karen Moore, Treasurer. That way, ONC volunteers may shop for the wished-for items left on the giving trees.
"We're overjoyed to be back for our 24th year," said Lavin. "But it's only possible to bring holiday gifts to local people in need with help from the community."