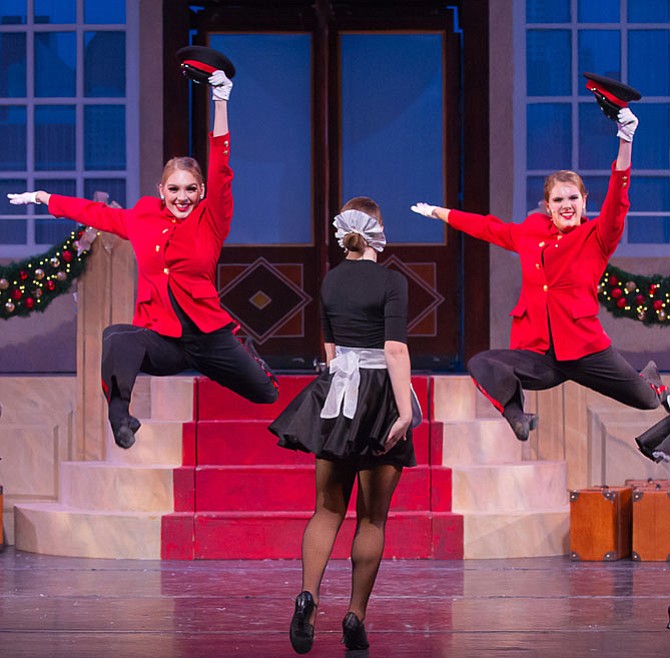 If it's December, it's time for Encore Theatrical Arts Project's annual holiday show. And this year's Broadway-style, original musical — celebrating Encore's 20th anniversary — is called "Christmas in New York."
Running Dec. 11-20, it tells the story of a boy named Eddie, full of ideas for new toys, but feeling like a misfit. At Elf Training School at the North Pole, a teacher named Frosty the Snow Man befriends him, but may actually be more interested in Eddie's inventions.
Then Eddie and Frosty attend an international toy convention in New York City to sell Eddie's ideas. And as the tale unfolds, the audience will see whether Frosty will learn a lesson or will totally commercialize Christmas.
The cast of 36 has been rehearsing since August, and director and choreographer Raynor van der Merwe says everything's "going wonderfully. The dancers are working amazingly hard and have some incredibly quick costume changes which have to be rehearsed just like the dance numbers."
Set designer Tabitha Dees will transport the audience to Santa's workshop. "It's 24 feet high and 40 feet wide," said van der Merwe. "It's a beautiful, glorious set with staircases and balconies. Scenes will also take place inside the convention at a hotel with views of the New York City skyline. There'll be soaring, 16-foot-high windows, plus stairs and revolving doors. It's gorgeous and elegant."
She said this show "takes young and old on a journey of imagination. New York City is transformed into a magical place, and we get to see these North Pole characters in it. And this being our 20th anniversary, we've hand-selected some iconic dance numbers that we're bringing back for this show. It's fast paced, with storyline and dances connecting really well, so it'll be an exciting two hours that'll put people in the holiday spirit."
In her ninth year with Encore, Centreville High junior Jenna Frisby has been dancing since age 3. "I'm a girly girl, so it fills that part of me," she said. "And my mom and grandma danced, too. I play the elf teacher, trying to keep the elves in order and teaching 'Christmastology.' And I also dance in about 14 numbers."
The snow finale is her favorite because she changes her costume five times and does a special ballet on pointe. And, added Frisby, "I like the white tutu, leotard and tiara I wear for it." She said the audience will love the "relatable characters, and the story about school, plus the scenery and costumes are always very professional and fun. We work about 25 hours/week and then do 12 shows, and it's really nice to see it all come together."
Chantilly High junior Claire Griese is in her 11th Encore show and loves "being onstage and performing — and doing the Christmas show is my favorite part ever. I play Melinda, a mad scientist at the convention in New York. She's terrified of public speaking, has a nerdy voice and big glasses and speaks in a monotone. It's fun to act that way and make people laugh."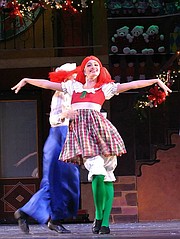 Griese especially likes the "Rockettes" number best. "It's a new number this year with new costumes and choreography with a crisp, more professional style," she said. "And I think every dancer's dream is to be a Rockette." Since the story involves an elf school, there are more child actors this year, so "the kids in the audience will relate to them," said Griese. "And the set and music will transport them and everyone to the North Pole."
Portraying Eddie is a Herndon Middle eighth-grader Henry Metcalf. "Eddie's an elf with brilliant ideas for Christmas-toy production; but at first, no one listens to him," said Henry. "He's also mischievous and gets into trouble. I love my role because Eddie is high energy; I get to fall out of a fireplace, make a ton of inventions, sing and be part of a big dance number, 'Be the Hero.' Everyone in the cast dances behind me, and I feel so cool and privileged to be in the same number as such amazing dancers."
Henry started dancing with Encore last year and enjoys it. "It's a way to channel my energy," he said. "If I'm stressed out, I can just let it all out and dance really hard." As for the show, he said audiences will like the bright costumes, sets and "all the work everyone's put into it."
Mariana Artieda, who's 17 and homeschooled, has danced with Encore since age 4. "I like having my own style, performing for people and making them happy," she said. "I'm in almost every dance number; 'Reindeer' is my favorite. We wear fishnets, brown leotards, cute little jackets and antlers. And it's the number I can put the most facial expressions into."
Artieda said audiences will enjoy seeing a Broadway-type show here in Virginia. And, she added, "The sets are colorful and imaginative and the dances are full of Christmas characters."
Both homeschooled and attending NOVA, Sara Avery has been in Encore's performing company six years. "Encore's helped me manage my time and work smart," she said. "I can keep focused and positive, even when tired."
In this show, she dances, sings and acts in 15 numbers. "I especially like 'Rag Dolls' because we each get to be characters — our own, fun toy — wearing plaid dresses and pigtails," said Avery. "Overall, the show's upbeat, entertaining and funny and will make people excited for Christmas."