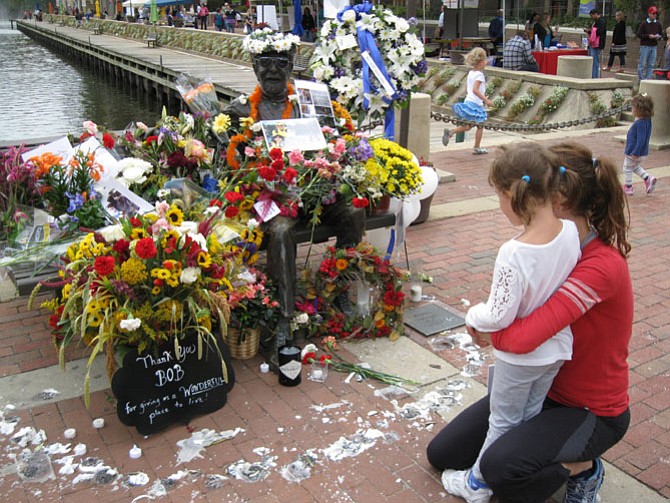 Robert E. Simon, 101, Reston Founder
Robert E. Simon died Monday, Sept. 21, 2015 at home at Lake Anne in Reston. He was 101.
"Of course, it's with sadness, but we also all say, 'Thank you.' Thank you for having a Bob Simon," said Supervisor Cathy Hudgins.
"He was a good friend and liked everyone. We at Cornerstones feel blessed to have worked with him," said Kerrie Wilson, of Cornerstones. "Everyone is going to benefit from the legacy he leaves. … He has been an inspiration to all of us for so long."
Simon grew up in New York, where his father ran a real estate business whose holdings included Carnegie Hall. Also among Robert Simon, Sr.'s holdings was part of Radburn, N.J., America's first Garden City that was founded in 1929.
When his father died in 1935, Simon was 21 and had just graduated from Harvard. Within a couple years, he was running the family real estate business.
Part of his responsibilities involved running Carnegie Hall. Most of Simon's co-workers lived nearby in Manhattan, while Simon commuted by train from Syosset, a suburb in Long Island. His long commute and other suburban experiences translated directly into his vision for Reston of working, playing and living in the same area.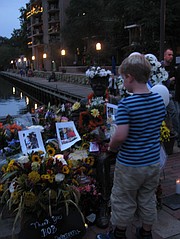 Simon also saw the value of convenient, local recreation and shopping centers at this time in his life. During this period, Simon also developed his appreciation for the value of housing opportunities for all income levels, not just the very wealthy.
In 1961, Simon purchased a 6,750-acre parcel of land in Northern Virginia, located 18 miles from D.C., even though at the time it was in the middle of nowhere. Fairfax County was then the fastest growing county in the country and nearby Dulles International Airport was being built.
Simon decided to develop Reston into a New Town, a large-scaled development that includes all functions of a well-rounded community — residential, commercial, industrial, cultural, recreational and civic. The team first developed Lake Anne and the more traditional Hunters Woods simultaneously. The first families started moving into their homes in November 1964.
In the fall of 1967, Reston's population had grown to 2,500, though it had fallen short of projections. The development group headed by Simon made an agreement with Gulf Oil to get loans of millions of dollars to cover some of the debts Reston was quickly accruing. But the new managers forced Simon out.
"What happened was we were going full blast and running out of money," Simon said in an interview with the Connection on the occasion of his 100th birthday.
"They said, 'you'll have to leave,' and he said, 'no, you'll have to fire me,'" said Simon's stepdaughter and Reston Museum board member Lynn Lilienthal.
At the time, Reston was one of the only places in Virginia where housing was not segregated.
Simon left Reston and moved back to New York, but returned to Reston in 1993.
Lake Anne Redevelopment Dies?
The Fairfax County Board of Supervisors and Lake Anne Development Partners LLC have terminated their contract to revitalize and redevelop Lake Anne.
"LADP indicated that serious market obstacles exist, and that the initial deal negotiated with the County may not be economically viable at this time," according to county documents.
"I fear the outlook for Lake Anne revitalization is not good," said longtime Lake Anne resident and advocate John Lovaas. "Certainly, we face at minimum, two-to-three years additional delay. Worse, it is difficult to imagine a project of the high quality of LADP's plan emerging from the ruins, and harder yet to imagine one with anywhere near the generous affordable housing components."
Plans to renovate apartments and commercial plaza had been approved by the Board of Supervisors in March, "after years of debate and discussion."
The plan for Lake Anne called for 1,037 new mixed-income residential units, more than 110,000 square feet of new retail including a 15,800-square-foot boutique grocery, 82,454 square feet of office space, an amphitheater with outdoor movie screen, an expanded plaza with community gathering area, multiple public parks and additional trails, underground parking and more.
Lake Anne turned 50 years old in 2014, the year Bob Simon, Reston's founding father turned 100.
"Lake Anne is still taught today as a case study at almost every American architecture and urban-design program," said Michael E. Hickok, architect of a massive redevelopment proposal approved by the Board of Supervisors in the spring. "To say it was ahead of its time is an understatement."
Cathy Hudgins, Reston's representative on the Board of Supervisors, is not happy about the situation.
"We'll have to reassess," Hudgins said. "Lake Anne is an asset. Crescent is an asset. We'll have to build upon what we still have."
"The Crescent community has been on edge," she said.
Residents of the Crescent Apartments, who would have had to move for the Lake Anne plan to go forward, were anxious about the timeline, and it was time to let them know that they could stay put because the deal would not go forward at this time.
The Crescent apartments had developed significant vacancies associated with the planned redevelopment, but will now begin leasing again soon.
Circuit Court Rules on Golf Course
The owners of Reston National Golf Course hope to build housing on the land in the future, but a recent court ruling will require them to go through the usual zoning process to do so.
Circuit Court Judge Michael F. Devine made a ruling that protects Reston National Golf Course from being developed, at least until the owners of the golf course navigate the proper channels to seek a land use change, or continue to appeal its case.
Judge Devine granted Fairfax County Attorney Laura Gori's motion for summary judgment filed by Fairfax County, meaning the Circuit Court vacated and voided the April 15, 2015 county Board of Zoning Appeals (BZA) decision concerning the Reston National Golf Course.
"The circuit court ruling on Friday, Nov. 6, is considered a defeat for the owner of the golf course and is significant because any redevelopment of the course must now be preceded by the filing of specific plans with the county, which will then be compared with the Development Plans approved in 1971," said John McBride, Reston Association's legal counsel.
"These plans are in the county zoning files and clearly limit use of the land to a golf course, open space and driving range. Any change to these approved plans will require amendment approval by the Fairfax County Board of Supervisors. The golf course owner had sought to avoid this requirement for a plan amendment by seeking by-right use status for a number of residential and other uses."
"This is an important step forward in defending Reston's permanent open space," said Connie Hartke, of Rescue Reston.
"The property owner of Reston National Golf Course is back to square one. Their choices are: appeal to Virginia Supreme Court, follow County process to attempt a land use change, accept that no means no," she said.
"There is a significant cost to submit a PRC plan that could be dead on arrival," said Scott D. Helsel, attorney for RN Golf, tallying a $100,000 application fee and half a million dollars necessary for engineering, environment, sewer and stormwater plans to be able to submit an application,
"That's an expensive way to find out an answer to the question we want an answer to," he said.
RA Purchases Tetra Property
Reston Association (RA) bought the 3.47 acre Tetra property, 11450 Baron Cameron Ave., for $2.65 million in July. Two months earlier via referendum, association members voted to approve the purchase the property for community and recreation use.
"The Tetra Property purchase represents a historic moment for our association. It is the first time in RA's history that property has been acquired to protect against over development, to enhance green space and to increase community and recreational use opportunities for members," said Reston Association Board president Ellen Graves.
RA CEO Cate Fulkerson said she believes the property will be ready for the community to use by spring 2016.
"Members will not see an impact to their assessment fee from this purchase until 2018 at the earliest," she said.
The property, which sits between RA's Lake Newport Tennis Court complex and part of the RA's Brown Chapel Park, creates a continuous band of 98 acres of common area property or parkland.
Silver Line Turns One
The Silver Line celebrated its first birthday with festivities at the Wiehle-Reston East stop on July 26.
"Wiehle-Reston East continues to be the Silver Line's commuting powerhouse, surpassing first-year ridership projections with nearly 9,200 boardings, or 18,400 weekday entries and exits last month," said Mike Tolbert, public information officer with the Washington Metropolitan Area Transit Authority.
Silver Line has been a positive and exciting addition to Reston and the area, in general," said Sridhar Ganesan, president of the Reston Citizens Association.
"Even though Silver Line currently ends at Wiehle, which is at one end of Reston, we are still seeing a lot of people arriving to Reston during peak times," he said. "Clearly, a positive impact is that this many people are off the roads and making it an easier commute."

Nearly 220,000 trips were taken to and from the five new Silver Line stations during the first week of service one year ago in 2014, including 9,197 boardings in the month of June.
The Silver Line stops in Fairfax County's largest business district (Tysons Corner) and in the county's second-largest commercial center (Reston). The Silver Line has already had a big effect on business and workforce development and "changes are just beginning," according to Alan Fogg of the Economic Development Authority.
Anxieties still surround transit.
"While the Silver Line has quickly ramped up to the averages of many of the stations within the metro area, the proposed funding formula creates anxieties for those that are forced to use the toll roads," said Ganesan, of the Reston Citizens Association, "as the tolls are supposed to make up for revenue shortfalls to service the financing of Silver Line."
Supervisor Cathy Hudgins Unopposed
Hunter Mill Supervisor Cathy Hudgins (D) won re-election to her seat with more than 94 percent of the vote in November; her only competition came from undeclared write-ins.
Communities included in the Hunter Mill District include parts of Tysons Corner and Vienna, north Vienna, Reston, Oak Hill and some areas around Herndon.
Hudgins was first elected in 1999, and serves as the Chair of the Board's Human Services and Housing and Community Development committees and member of the Governing Board for the Initiative to Prevent and End Homelessness.