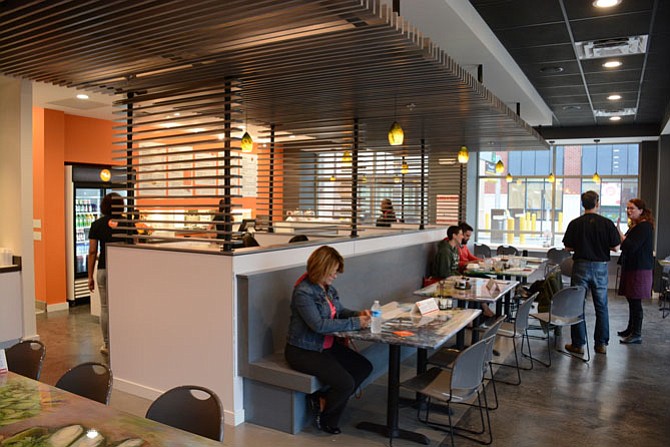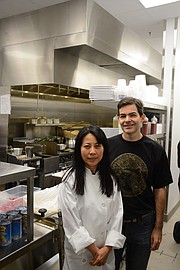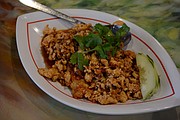 Chief Chef Eed Banchanurat Landon loves to listen to and accommodate her customers. When those at the Sterling location of her Thai By Thai restaurants started requesting other dishes than were on the menu -- things they remembered eating back in Thailand -- she was happy to oblige. Having grown up in the center of Bangkok herself, Banchanurat Landon's experience cooking and living there enabled her to fulfill their special requests.
"We were popular with them, and they'd say, 'We wish you had this, wish you had that,'" said Banchanurat Landon's husband Matt. "We started writing them down and putting the list under the register with pricing."
The popularity of this "secret street food menu" grew as reviewers on Yelp began commenting on them specifically.
"We have a lot of Thai people in this area," Banchanurat Landon said, "and I'm glad I can fix these things for them."
Banchanurat Landon's husband Matt Landon finally translated the menu into English and they decided to make that menu an official part of the larger offering by removing "secret" from the title.
About a dozen choices include appetizers like the extremely tender curry puff pastry, soups and dishes served over or with rice such as the seasonal favorite of Banchanurat Landon's: peppy and savory "Ka-prow" with minced chicken, bell peppers, Thai basil and green beans.
The Street Food items join a robust but not overwhelming full menu with Thai classics such as pad Thai and drunken noodles, as well as recipes exclusive to Thai By Thai such as "Kai Rabert," a slightly sweet and tangy dish of minced chicken and spicy red sauce over rice and fried egg that Banchanurat Landon used to eat in Bangkok and reimagined here in the U.S.
Banchanurat Landon learned stir-fry cooking from her Chinese-born father and the details of spicy, Northeast Thai and Lao dishes from her nanny. Her eldest sister taught her about the importance of cooking healthy, using fresh ingredients.
To help with that goal, her husband Matt is learning to grow special Thai basil and chilis for his wife's recipes using aquaponics. By decreasing their reliance on a seasonal growing schedule, the restaurants will be able to use those fresh ingredients year-round.
The couple owned a number of Subway restaurants before opening the first Thai By Thai in Sterling in 2007. They since opened Thai By Thai restaurants in Annandale and Fairfax City before adding their latest in Dunn Loring, walking distance from the Metro stop. That restaurant opened Oct. 1.
"The four stores are like children," Landon said. "They start as infants, require a lot of attention, and they eventually mature."
Thai By Thai Dunn Loring is located at 2676A Avenir Place, Vienna 22180.