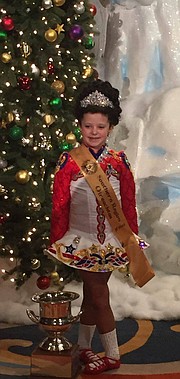 Dancers from the McGrath Academy of Irish Dance won three first place awards – girls under age 8, boys under age 10 and ceili team under age 10 – at the Irish Dance Teachers Association of North America (IDTANA) Southern Region Oireachtas in Dallas, Friday, Dec. 4 through Sunday, Dec. 6.
Sophia and Reilly Savage, of Springfield, brought home two first place trophies from the southern regional Oireachtas, held in Dallas. Reilly placed first, beating all girls under the age of 8. Sophia and Reilly were both part of an eight-hand (eight dancers) ceili team that also came in first.
Reilly began dancing when she was 4 years old. She has travelled to competitions all over the United States, as well as a recent major championship, the Great Britain, in Bognor Regis, England.

"I was super excited to hear my name called as the U8 girls champion winner," said Savage. "The best part of my day was sharing the results with so many of my friends who also did well. I am looking forward to learning new steps and competing at the North American Nationals!"
McGrath Academy of Irish Dance offers classes in Manassas, Lorton, Ashburn and Frederick, Md. For information visit http://mcgrathirishdance.com/.