After waiting 17 months for any information about the investigation into the shooting death of John Geer, the information released last week is deeply troubling.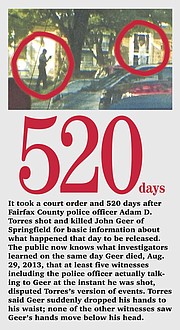 Fairfax County Police officer Adam D. Torres shot and killed John Geer of Springfield inside the doorway of his own home in Springfield on Aug. 29, 2013. Police were called to Geer's home following Geer's argument with his longtime partner. Police spoke with him for more than half an hour while he stood in his doorway, unarmed, with his hands raised and resting on the frame. As he began to lower his hands, by all accounts still at shoulder level, he was shot in the chest and died in his house without receiving medical attention.
It took more than 16 months, a $12 million civil suit by Geer's family and a court order to get the first tiny bit of information on the shooting, which came earlier this month when police named the officer who fired the shot that killed Geer.
On Friday, Jan. 30, 2015, in response to a court order, Fairfax County released more than 10,000 pages of documents about the shooting and the investigation.
We now know that investigators learned on the same day Geer died, Aug. 29, 2013, that at least five witnesses including the police officer actually talking to Geer at the instant he was shot, disputed Torres's version of events. Torres said Geer suddenly dropped his hands to his waist; none of the other witnesses saw Geer's hands move below his head.
On the day of the shooting, investigators and prosecutors had compelling information to take to a grand jury. Instead, after a long period of silence, obstruction and obfuscation, the investigation was turned over to the Justice Department, where there is no timetable for resolution (and no adequate explanation for punting the investigation to the feds).
Without the Geer family lawsuit and the court order to turn over documents as part of discovery, the public might never know what really happened that day.
The question of accountability for what happened remains.
As we have said many times, the problem goes beyond Fairfax County, and beyond police shootings.
Police officials in Fairfax, Arlington and Alexandria have adopted what they call a "blanket" approach to using their exemption. That means they have decided to withhold any document they can without any analysis of whether they should.
It's past time for change.