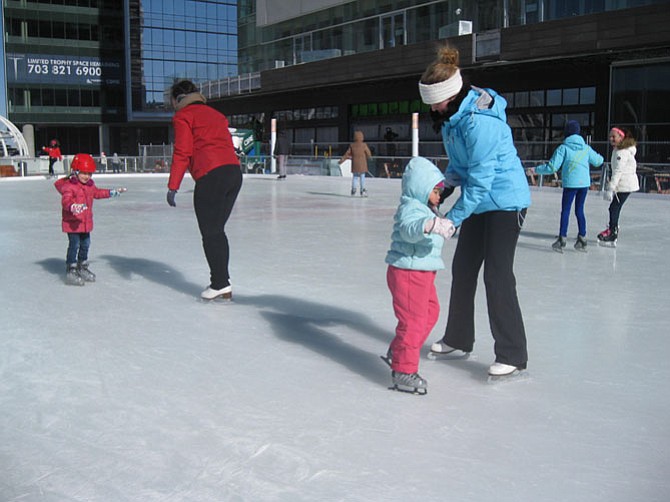 Photo Gallery
Tysons Corner Ice Rink Opens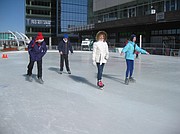 Click Photo for Flash
The new 6,000 square foot Tysons Corner Ice Rink has officially opened for business. The opening took place on Black Friday, Nov. 28, and the season extends through March 11. The rink sponsored by CBRE Realty is situated on The Plaza next to Lord & Taylor on the second floor of the mall, and opposite the Shake Shack Restaurant. A new Hyatt Hotel is scheduled to open beside it in March.
"We're very excited about our project at Tysons Corner," said Marissa Marwell, general manager who's been in the business for 10 years. "We think it's a perfect addition to an already successful mall."
In addition to general ice skating, the rink offers ice skating lessons, birthday parties and fundraising opportunities. A weekly Cartoon Skate takes place Saturday mornings from 11 a.m. to 1 p.m., for children to skate with mascots dressed as a lion, penguin, dalmatian and polar bear. For the older crowd, there's a Rock and Skate with a deejay on Saturdays from 7 to 10 p.m. The deejay plays Top 40, special requests and does "shout-outs" to skaters.
For Valentine's Day on Saturday, Feb. 14, they'll be issuing Swag Bags to the first 100 skaters that contain coupons and swag gifts. On Friday, Feb. 27, there will be a Speed Dating on Ice event for singles to mix and mingle with various skating partners. Sponsored by the Capital Grille Restaurant in Tysons Corner, the event for ages 18 and up will offer a different spin on speed dating.
"Our goal as a business is to provide a safe, enjoyable and memorable experience for all of our guests," said Marwell, who grew up ice skating on ponds in Rhode Island. "We hope to have them return several times throughout the season and create a family tradition."
She adds: "Skating in an outdoor rink is so different than skating in an indoor rink. There's just something magical about it."
Ice rink hours are Mondays to Thursdays, 11 a.m. to 9 p.m.; Fridays and Saturdays from 11 a.m. to 11 p.m.; and Sundays 11 a.m. to 7 p.m.
As far as pricing goes, general admission is $10 for adults; $9 for child/senior/military. Skate rentals are $6. Group rate (10 or more guests) is $12/person (includes admission and skate rental). The skate rental shop is located inside the mall on Level 2 near Lord & Taylor. Birthday Party packages start at $175.
Group and private lessons are available for kids ages 3 and up on Sunday mornings at 9:30 a.m. or 10:15 a.m., based on skill level. The next classes, Session Two classes, are Feb. 1, 8, 15, and 22.
For more information, visit the web site: www.tysonscornerlearntoskate.com. The email isskatetysonscorner@gmail.com. Call 703-356-1240.