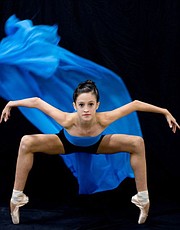 On Feb. 13, at the Reston Community Center, Classical Ballet Theatre (CBT) will be presenting "An Evening with Classical Ballet Theatre."
For the last 25 years, CBT has been educating and inspiring children through the art of classical ballet in Northern Virginia, thanks to the vision, commitment, and dedication of its founder and Executive Director, Cynthia Donavin. This established organization seeks to strengthen its links with its community by presenting innovative dance outside of the classical repertoire, and, on Friday, Feb. 13, the community can enjoy a taste of this work – just in time to celebrate Valentine's Day.
With a group of volunteers and the addition of Dubraskha Arrivillaga and Gillmer Duran to its faculty, CBT is taking a new turn towards a more relevant and balanced dance experience for young and contemporary adults.
"Going forward, our students not only will learn to love the classical repertoire, but also they will learn to love, move, and perform different choreographic styles that make them more competitive and in-tune with what is happening in the global dance world today…," said Duran.
Along with other works, "An Evening with Classical Ballet Theatre" will feature pieces created by Meghan Rudorfer and Tara Henderson and performed in Philadelphia for the Youth America Grand Prix (YAGP). The evening also will include the Pas de Deux of Paquita staged by Ballet Mistress Dubraskha Arrivillaga as well as three brand new pieces by Artist in Residence Gillmer Duran.
"We want people to talk about dance while having a good time. Come to see us, ask us questions, tweet about the experience, and grab a cocktail while you're at it."
Complimentary cocktails begin at 6:30 p.m., followed by performances at 7:30 p.m.
For more information, please visit http://www.cbtnva.org/evening. Purchase tickets at: http://purchase.tickets.com/buy/TicketPurchase?orgid=31908&pid=7952578