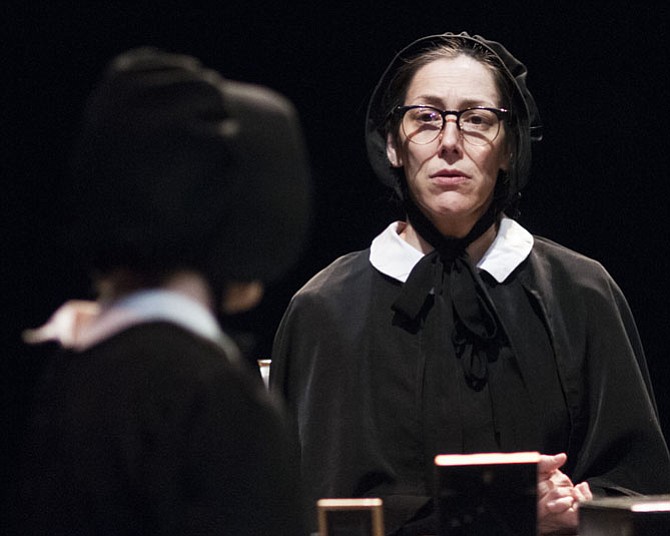 Where and When
"Doubt, a Parable" at 1st Stage, 1524 Spring Hill Road, Tysons. Performances through March 1. Fridays at 8 p.m., Saturdays, 2 p.m. & 8 p.m., Sundays at 2 p.m. & 7 p.m. Tickets: $15-$28. Call 703-854-1856 or visit www.1ststagetysons.…
1st Stage has given audiences a beautifully accomplished, soaring production of "Doubt, a Parable." Directed by Michael Dove, "Doubt" is a courageous act of intellectual and emotional honesty that is rare in its presentation of power, gender and ambiguity. It is rich in passionate dialogue to hold your attention.
Written by John Patrick Shanley, "Doubt" is a Pulitzer and Tony Award-winning drama that transcends time and place. It whisks the audience quickly away from everyday life into a world examining right and wrong, compassion and rigidity, the secular and the spiritual. The production is highly commended as well for the first-rate use of deeply quiet moments that add volume to the expressive dialogue of the four characters.
"Doubt" is set in an America on the cusp of vast change. It is 1964. President John Kennedy has only recently been assassinated, the Vietnam War not yet front page news, and in the fictional "Doubt," an African American student finds himself integrating a New York City Catholic school.
As the play opens the audience becomes rapt parishioners taking in a sermon dealing with doubt and uncertainty in life delivered by young Father Flynn (Rob Jansen who gives a wondrous, profound performance of a likable character with a very complex nature). Next we meet the school principal, Sister Aloysius, a nun who operates with a strong hand and lives a life of high-duty; eyes always open for things not within her standards. (Jessica Lefkow gives her character believability and decency along with straight-shooting righteousness) and a young, naive nun, Sister James. (Jenny Donovan, an impressionable young nun with expressions and body posture that speak loudly about the predicament she finds herself in).

Aloysius and Flynn are quickly in conflict over the priest's alleged over-the-line conduct with the only African-American student in the school. Was there misconduct between them? Are there facts? Only gossip? Does it matter what the child's mother thinks? (Lolita Marie in a tour-de-forces performance as a mother who deeply loves her son and will stand up for him).
With terrifically crafted set design by John Bowhers, spot-on costume design from Brittany Graham, moody lighting design by Kyle Grant and rich sound by Thomas Sowers, "Doubt" transports the audience to become witnesses not merely onlookers.
A top-notch evening awaits those with hearts and minds open to mull over what is truth, doubt and the consequences of each. "Doubt" is the real thing.