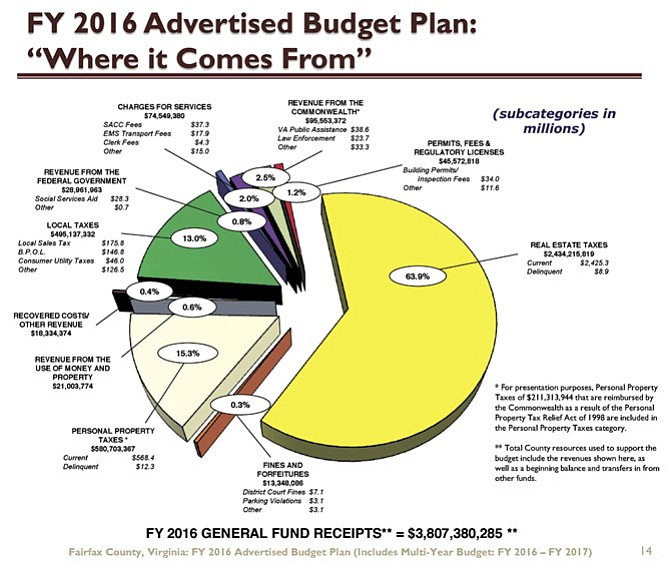 5 Things to Know about the Budget
One penny change in the real estate tax rate, currently $1.09, is worth $22.6 million.
The average 2014 home selling price, $517,000, has still not reached its previous peak value of $543,271 achieved in 2005.
Direct office vacancy rate was 15.2 percent as of mid-year 2014, the highest office vacancy rate since 1991.
Fairfax County Public Schools request $14 million more than is in the current proposed budget. Schools ask for a 3.99 percent increase; the current county budget proposal includes 3.43 percent increase over last year.
School Age Child Care (SACC) fees restructured to generate revenue and to better reflect income levels and affordability for participating families. Full paying families will see an increase of 8 percent.
Supervisor Jeff McKay pointed out an irony in County Executive Ed Long's proposed $3.8 billion budget.
Three planning positions would be eliminated from the budget even though Long suggested the county needs more efforts to raise revenue from commercial and industrial venues.
"A timely planning process in revitalization is important in economic development," said McKay after Long's 30-minute presentation to the Board of Supervisors on Tuesday, Feb. 17. "The planner piece is not going in the same direction as the economic development question."
McKay pointed to redevelopment along the Route 1 corridor as a source of economic growth that would require extra input from planning.
Long agreed that the county urgently needs to expand the nonresidential tax base in the county.
Commercial assessments dropped 0.6 percent, while residential assessments increased 3.4 percent. Commercial vacancy rates are higher than they have been since 1991.
Although the U.S. economy grew at an estimated rate of 2.6 percent during the fourth quarter of 2014, "we are clearly underperforming the national economy," Long told the Supervisors, mostly due to the sequester and reductions in federal spending and contracting.
"Our economy is very dependent on people buying cars, buying houses and shopping," Long said.
Long forecasts no significant improvements in the short term future. "We cannot fund all our priorities and investments." Most departments, aside from public safety, will see some expenditure reduction.
Just 5,100 jobs were created in Northern Virginia in 2014, less than half of the 11,900 jobs created in 2013, which is half the number of jobs (25,250) created on average in 2011 and 2012.
"It is a bit sobering," said Hunter Mill Supervisor Catherine Hudgins.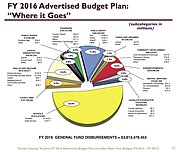 Budget Town Hall Meetings
Hunter Mill District Budget Meeting, Frying Pan Park, 2709 West Ox Road, Herndon, Saturday, Feb. 28, 9 a.m.
Dranesville District Budget Meeting 1, Great Falls Library, 9830 Georgetown Pike, Great Falls, Wednesday, March 4, 7 p.m.
Dranesville District Budget Meeting 2, McLean Community Center, 1234 Ingleside Avenue, McLean, Wednesday, March 11, 7:30 p.m.
Providence District Budget Meeting, Providence Community Center, 3001 Vaden Drive, Fairfax - Multi-Purpose Room 2, Wednesday, March 11, 7 p.m.
Braddock District Budget Meeting, Braddock Government Center, 9002 Burke Lake Road, Burke - Braddock Hall, Wednesday, March 11, 7:30 p.m.
Chairman Bulova's Community Dialogue on the Budget, South, South County Center, 8350 Richmond Highway, Alexandria - Room 221, Saturday, March 14, 10 a.m.
Chairman Bulova's Community Dialogue on the Budget, Fairfax County Government Center, 12000 Government Center Parkway, Fairfax - Conference Room 9/10, Saturday, March 14, 2:30 p.m.
Braddock District Budget Meeting, Frost Middle School, 4101 Pickett Road, Fairfax, Tuesday, March 17, 7:30 p.m.
Springfield District Budget Meeting, West Springfield Government Center, 6140 Rolling Road, Springfield, Community Room, Wednesday, March 18, 7 p.m.
Mason District Budget Meeting, Mason District Government Center, 6507 Columbia Pike, Annandale - Main Community Room, Thursday, March 19, 7 p.m.
Lee District Budget Meeting, Franconia Government Center - 6121 Franconia Road, Alexandria, Wednesday, March 25, 7 p.m.
Sully District Budget Meeting, Rocky Run Middle School - Cafeteria - 4400 Stringfellow Road, Chantilly, Wednesday, March 25, 7 p.m.
Budget Schedule
March 3: Board advertises FY 2016 tax rate
April 7-9: Public hearings
April 21: Budget markup
April 28: Budget adoption
To sign up to speak at one of the public hearings, call the Clerk to the Board's Office at 703-324-3151 or 703- 324-2391 (TTY 711) or to access the form to sign up to speak, go to https://www.fairfaxcounty.gov/bosclerk/speaker_bos.htm. The public can send written testimony or communicate with the Clerk's Office by email at: clerktothebos@fairfaxcounty.gov