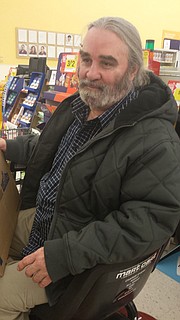 Come Summer 2015, Cardinal Forest Plaza will be the home of a new TD Bank, making the new bank the sixth one to be located near the intersection of Old Keene Mill and Rolling Roads. Also not far from the intersection is a SunTrust Bank, making for a total of seven banks in the area. The new TD Bank is being built in what used to be parking spaces for shoppers mainly at Giant Food, and while many customers are just now noticing the project underway, plans for development began back in 2012.
"Three years ago there was a petition not to build the bank," said Springfield resident, Kevin Wheatley. "Some citizens were handing out fliers to try and stop the bank from creating so much traffic. Now the question is will they be adding more than just the bank."
Environmental and safety concerns surrounded the construction of the new TD Bank. A public hearing before the Board of Supervisors back in 2012 addressed these issues by reducing the size of the bank to 2,900 square feet, and by reducing the number of drive thru lanes from four to three. Still, that has not changed the sentiments of Cardinal Forest Plaza shoppers.
"[We] already have enough banks," said resident Michael Magnotti. "I prefer restaurants or coffee."
"I thought it was going to be a restaurant," said Springfield resident Charlene Chesley. "It's not a real problem, it's just disappointing."
But the decision about what to do with the Cardinal Forest Plaza property lies with Edens, Inc., the developer that owns the property and who proposed building a "free-standing TD Bank in the parking lot of Cardinal Forest Plaza facing Old Keene Mill Road," according to a 2012 Fairfax County web update.
TD Bank, or Toronto-Dominion Bank, is a Canadian-based bank and also one of the 10 largest banks in the United States. Currently the closest ones are in Annandale and Fairfax. Once the construction for the bank is completed, there will be a total of seven banks in the Cardinal Forest area.
— Marissa Beale