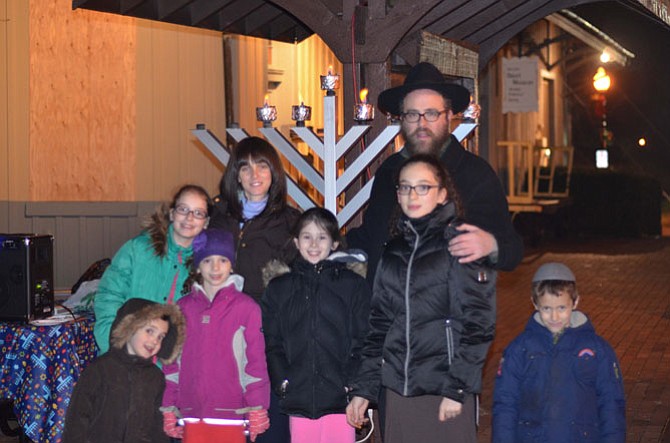 The Sunday evening of Dec. 21 members of the community assembled at the Herndon Town Square to celebrate Chanukah with the Chabad of Reston-Herndon. The event was open to the public and more than 35 persons came to attend. The program was arranged by Rabbi Leibel and Nechamie Fajnland directors of the Chabad Reston-Herndon. Program sponsors were the Nachman Partnership.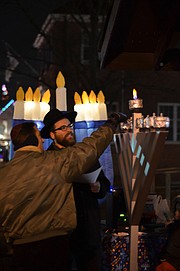 "It is nice to see other people recognize Chanukah as a holiday," said Joe Tamres, a resident of Fairfax who attended the celebration. The celebration of Chanukah lasts from Dec. 16 – 24. Also known as the Festival of Lights and Feast of Dedication, it is an eight-day Jewish holiday commemorating the rededication of the Temple in Jerusalem at the time of the Maccabean Revolt against the Seleucid Empire. Chanukah is observed for eight nights and days, starting on the 25th day of Kislev according to the Hebrew calendar, which may occur at any time from late November to late December in the Gregorian calendar.
The Nachman family has long supported the celebration of Chanukah, and has encouraged the entire community to join in the experience. A menorah provided by the Nachman family has been present at the Herndon Town Square during Chanukah season for more than 30 years. Elysa Birman, resident of Herndon and member of the Council for the Arts of Herndon, attended the Chanukah celebration with her husband Igor. "We think it is great to get together and celebrate the holiday," said Elysa Birman.
Also returning for the Chanukah event were long time Herndon residents Linda Downer and her husband Richard Downer. Rabbi Fajnland welcomed all the attendees and handed out chocolate coins to kids in the crowd. After the menorah was lit, everyone was invited to enjoy latkes and donuts, as well as Chanukah-themed crafts for the kids. On Tuesday, Dec. 16, the Chabad of Reston-Herndon met at the Lake Anne Waterfront and the Reston Community Center to celebrate the first day of Chanukah.
Volunteers with Herndon HCTV, a nonprofit community television station which can be seen on COX channel 23 in Fairfax County and FiOS channel 28 were out at the Herndon Town Square videotaping the evening event. In addition to singing some traditional Chanukah songs including "Maoz Tzur" and "I Have A Little Dreidel," a raffle was held and several prizes were presented to winners. One of the raffle winnings included a Kindle Fire. "An appropriate prize for this festival of lights," joked Rabbi Leibel Fajnland.
To learn more about the Chabad of Reston-Herndon, visit www.chabadrh.org.