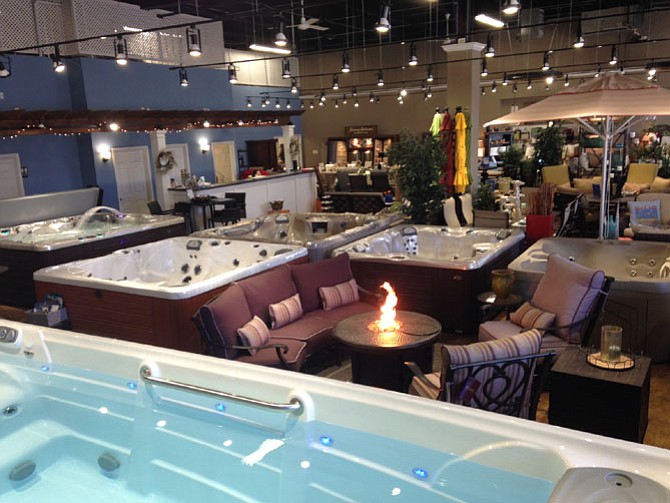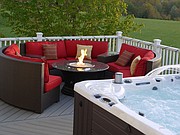 Spring may seem light years away from the frigid January temperatures, and lounging in your backyard is probably the last thing you want to do at the moment, but landscape designers say now is the time to start planning a summer retreat.
"January is a good time to start thinking about your backyard," said Alex Ikenson, co-owner of Home Escapes, located in Herndon. Home Escapes, which had specialized in hot tubs and outdoor furniture, merged recently with Urban Retreat, an indoor furniture and accessory company.
"A lot of things we sell are special order and take a few weeks to come in, so you don't want to start too late," said Ikenson.
From swim spas to fire pit tables, options for outdoor landscapes are plentiful.
"People now are spending more time at home and less time going on vacation, and making their backyards more of a living space, creating a living space," said Rosanne Tsantes, sales manager of Home Escapes. "Outdoor furniture companies have responded to the surge with beautiful pieces of furniture."
Touted by industry insiders as comfortable, durable and easy to maintain, the array of outdoor fabrics on the market rival their indoor counterparts.
"The whole industry has expanded to true designer furniture and fabrics. There are hundreds of beautiful fabrics available," said Tsantes. "If you were to pick out aluminum furniture, you could choose from at least 10 frame colors, where it used to be just black and green. We have brush tones with gold tint, antique tones, … There are some really gorgeous finishes."
Accessories can be customized to fit virtually every budget and space as well. "Everything is made to order," said Jodie Labovitch, an interior designer with Urban Retreat. "They're not pulling it off the shelf."
Outdoor fire pit tables, powered by gas, are crowd-pleasing accessories that come in every size from compact coffee table to dining room table. Styles run the gamut from rustic to sleek.
"The tabletops can be porcelain or aluminum, stone or granite," said Tsantes. "There is even an artisan top that looks like carved leather. Now you can go into your back yard and feel like you're on vacation somewhere in the islands."
Adding the resort-like feel are swim spas, the large cousin of the ubiquitous hot tub.
"A swim spa allows you to exercise, even during the winter, by swimming against the current," said Tsantes. "They are like hot tubs, only about 12-16 feet long and eight feet wide. You can run out in the winter and swim and then sit on the spa bench, just like you would in a hot tub."
Even those who don't have an expansive backyard can create cozy retreats.
"Outdoor furniture companies are making pieces for those with small spaces to those with huge Great Falls homes with a large backyard," said Tsantes.
"Indoor and outdoor furniture are now blending," said David Cintorino, president of Home Escapes. "People are using their outdoor spaces like indoor spaces, that is a current trend. Outdoor furniture companies are creating furniture to keep up with that trend."