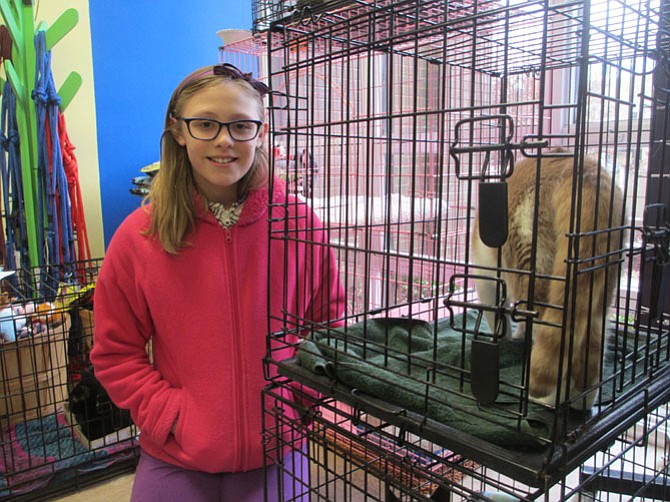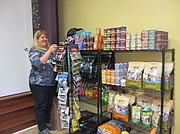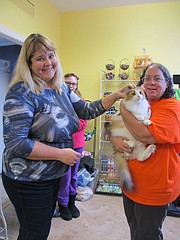 When PetMAC owner Cindy Williams moved her pet supply and adoption center to Reston's Lake Anne, she took her business philosophy of community outreach and high-quality inventory to a lakeside shopping center abundant with small locally-owned businesses. Williams' PetMAC [Pet Marketplace and Adoption Center) opened at Lake Anne Plaza on Jan. 3. On Jan. 4, the shop featured its first adoption fair – homeless cats - with partner Homeward Trails, and repeated a cat adoption event the following Sunday.
"I really wanted to be a part of a community of other merchants and residents," said Williams. "I moved from Vienna to Reston two years ago and fell in love with Lake Anne."
PETMAC IS A NUTRITION-BASED pet supply shop selling all-natural pet foods, treats, toys and other supplies for dogs and cats. It works closely with local animal rescue groups to host adoption fairs, and Williams plans on having "resident" cats available for adoption at the shop.
On Saturday, Jan. 17, PetMAC wil host adoptable dogs from Homeward Trails from 10 a.m. to noon. A representative from Answers Raw Pet Foods will be on-hand to offer free samples and provide information about their foods on Jan. 17 from 10 a.m. to 2 p.m.
Often, shelter animals come in emaciated, needing nutrient-dense food to help them recover, Williams said. PetMAC donates a portion of its sales to rescue groups Williams works with, such as Homeward Trails and K-9 Lifesavers.
Williams has been actively engaged in animal rescue for about 20 years, first as a volunteer for the Washington D.C. Humane Society, where she got her dog, and for private rescue groups in Northern Virginia.
PetMAC moved to Lake Anne after almost a decade in Arlington. "When I opened the shop, I wanted to offer a venue to find homes for animals in-need, and offer good nutritional options at prices competitive with other places selling the same food we sell," Williams said. "You do pay more for higher-quality food and ingredients."
PetMAC offers a diverse selection of canned, dry, and raw foods for dogs and cats, as well as accessories, from leashes to play-toys. The shop is decorated with a hand-painted trellis marked with pawprints as leaves.
A NATIVE OF THE D.C. AREA, Williams opened her first PetMAC in 2005. Her initial foray into the pet food business was a web-based home-delivery business model. When she opened her physical site in Arlington, Homeward Trails set up an adoption center there. Homeward Trails eventually moved to a larger location but Williams maintained her supportive partnership with them. PetMAC still works closely with Homeward Trails, as well as others, to find forever-homes for rescue dogs and cats. Potential pet-parents fill out an adoption application at the adoption events; they do not take the pet home immediately.
PetMAC sponsors, and donates to, various fundraisers benefiting animals. It hosts frequent dog and cat adoption events, and offers seminars conducted by veterinarians and other industry experts, as well as food-tasting demonstrations and social events. PetMAC features special events from Yappy Hours, to photos with Santa and an annual Howl-o-Ween party for dogs.
"I love being able to work with formerly-homeless animals and offer good nutrition to enhance their health … PetMAC is a merger of animal rescue and good nutrition for pets."

— PetMAC owner Cindy Williams
Shortly after her Lake Anne grand opening, Williams lost her own cat to cancer. She understands and appreciates the pet-parent/pet relationship. "I love being able to work with formerly-homeless animals and offer good nutrition to enhance their health," said Williams. "PetMAC is a merger of animal rescue and good nutrition for pets."
FOR MORE INFORMATION about PetMAC and upcoming events, go to www.petmac.org and click on the Lake Anne page. Winter operating hours are Tuesday through Friday, 11 a.m. to 6 p.m.; Saturday, 10 a.m. to 5 p.m. Closed Sunday, except for special events, and Monday. PetMAC is located at 11412 Washington Plaza West. Park at Lake Anne Plaza and walk toward lake for PetMAC shop will be on your right.
To learn more about PetMAC's stock or information on adopting a new family member, contact Cindy Williams by email at cindy@petmac.org or by phone at 571-325-2099.
To learn more about animal rescue at Homeward Trails, go to www.Homewardtrails.org.