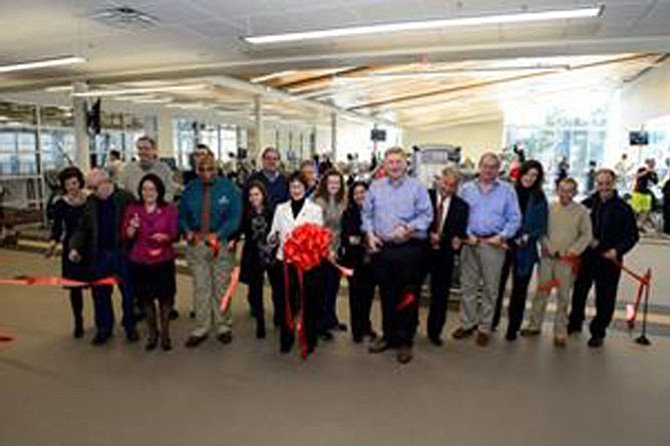 On Jan. 10 elected officials, County staff, contractors and members of the community celebrated the completed expansion and renovations of Spring Hill RECenter with a ribbon-cutting ceremony. The RECenter is located at Lewinsville Road and Spring Hill Road in McLean. Present at the ceremony were Fairfax County Board of Supervisors Chairman Sharon Bulova, Dranesville District Supervisor John Foust, Dranesville Park Authority Board representative Grace Wolf, McLean Youth Athletics president Joel Stillman, RECenter and Park Authority staff, project staff and community leaders.
RECenter users can now enjoy a two-story fitness center and a gymnasium with an elevated running track. The gym features a single high school-sized basketball court with two overlay basketball courts and a volleyball overlay court. Locker rooms and showers have been upgraded and five new family cabanas are now available. In addition, there is new flooring and paint throughout the facility.
The original master plan for Spring Hill RECenter dates back to 1988 and included a gym and other features. In 2003, the master plan was revised with extensive public involvement. The gym remained in the revised plan but was unfunded until Supervisor Foust and Kevin Fay, former Dranesville Park Authority representative, were able to develop and execute a plan to use 2008 and 2012 bond money to fund the project.
The final phase of the project, converting the old fitness room into three multi-purpose spaces and renovating the lower hallway area, is scheduled to be completed by March.
"It is exciting to celebrate the opening of this wonderful addition and renovation to Spring Hill RECenter," said Supervisor Foust. "The community has needed and planned for an indoor gym for a very long time. I want to thank the Park Authority staff, architects, engineers and contractors who designed and built a beautiful and very functional facility for our community."