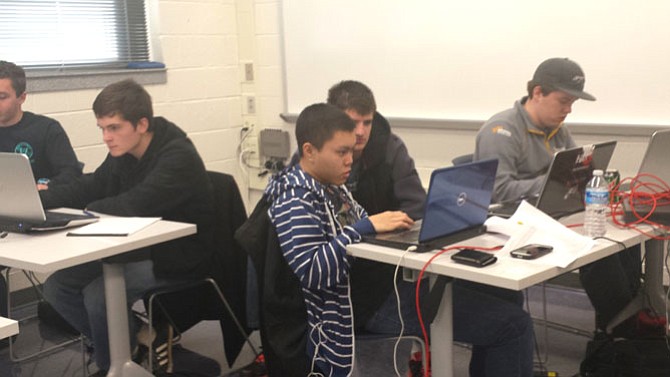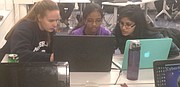 Students from Marshall, a Governor's Science, Technology, Engineering, and Math (STEM) Academy, are advancing to the national round of the annual CyberPatriot Competition. They are doing so after two teams were awarded first and third place in the state competition, and after a long day of regional competition that took place on Saturday, Jan. 17.
In the various rounds of competition, teams had up to six hours to locate and secure cybersecurity vulnerabilities within images representing several different operating systems, for a maximum score of 300 points. Competitors at Marshall on Saturday also came from James Madison High School and McLean High School.
"The club teaches its members how to do this," said Quiana Dang, 15, on Saturday. Dang is a sophomore and vice president of Marshall's Cybersecurity Club. Marshall's club has several teams, including an all-girls team.
Ryan Walters, a former Air Force captain who now runs a cyber-company, wanted a way to bring cybersecurity into the classroom. With the help of his son, Jacob, Walters started Marshall's Cybersecurity Club. The club not only potentially produces the next generation of information technology (IT) experts, but also the next generation of leaders.
"They all have different backstories," said Walters of the students. "One was an avid gamer, but now leads one of the top-scoring CyberPatriot teams in the nation."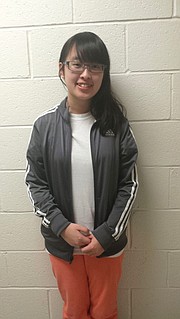 These students are developing skills at a critical time when the demand for IT experts is growing quickly. Internships start for those as young as 16 years old at Northrop Grumman, a global security company providing cyber and aerospace defense technology. The financial cost of cyber defense continues to climb.
"All of these students are going to school for cybersecurity," said Walters, who also serves as a mentor for Marshall's Cybersecurity Club.
The team composed of seniors Michael Bailey, Paul Benoit, Joshua Shepard, Khang Lieu, Jacob Walters won first place in the state round, and after Saturday's regional competition, the team ranked third in the nation, and will be advancing to the national round in Washington, D.C.
Marshall Academy teams demonstrated skillful teamwork, critical thinking skills, and technical knowledge, earning spots in the platinum tier (representing the highest scoring teams).
Cyberpatriot was created back in 2009 by the Air Force Association to inspire high school students toward future careers in cybersecurity. To learn more about CyberPatriot, visit http://www.uscyberpatriot.org/.