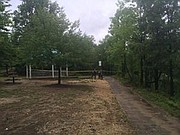 Fairfax County Police continue to investigate the death of Kenneth Duane Bernhardt, 36, of Falls Church, who was found Saturday, June 27 in a pond on South Van Dorn Street near Kingstowne Village Parkway.
Police responded to a call about Bernhardt's body around 11:30 a.m. with homicide and crime scene detectives. They said that at the time there were "no obvious signs of trauma to the body" of the man.
In an update from Fairfax County on June 29, police haven't discovered anything about the case to be "overtly suspicious."
The Office of the Chief Medical Examiner attributed Bernhardt's death to drowning and determined it was not the result of any criminal action.