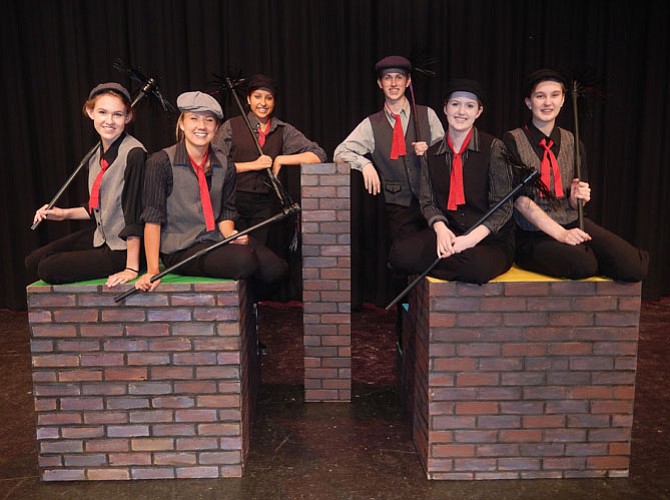 Featuring a cast and crew of nearly 50, Westfield Summer Stage is bringing the Disney musical, "Mary Poppins," to life. This production also marks 15 years of summer musicals for this local, theater group.
In 1910 London, a woman becomes the nanny for a family in crisis, and she and the children have fun-filled adventures which teach them life lessons. And through the wonder of theater, the audience gets to go along for the ride.
"At the end of the show, the Banks family has learned to operate as a healthy family unit," said Director Pat Mitchell. "And it's because of Mary Poppins — she's the catalyst."
Show times are Friday-Saturday, July 17-18, at 7:30 p.m.; Sunday, July 19, at 2 p.m.; Friday, July 24, at 7:30 p.m.; and Saturday, July 25, at 2 and 7:30 p.m., at Westfield High. Tickets are $15 at the door and $12 in advance via www.westfieldtheatreboosters.com; seats are reserved.
There's a live, student orchestra, plus a crew of all Westfield alumni. Mitchell's a graduate, as are music director Laura Walsh, choreographer Rachel Shirley and assistant vocal director Melanie Robison. "I was in Westfield's first graduating class in 2002, so it's a nice homecoming to be back here again," said Mitchell.
Furthermore, he said, "I can't say enough about the parents — including alumni parents — who've put in their time to build and paint the set and create the costumes. It shows how much community is in this place."
The sets depict the Banks's house and nursery, a park and the bank where Mr. Banks works. And, said Mitchell, "As the show goes on, the scenes get more magical, culminating in a show-stopping, rooftop, tap-dance number, 'Step in Time.'"
Middle- and high-school students, and new grads, comprise the cast, and Mitchell's also "proud of their hard work. They show up with a positive attitude every day and are always excited to be here." As for the show, he said, "It'll make every adult feel that fondness of being a child again. These classic songs will get stuck in their heads, and I guarantee they'll be whistling, humming and singing them for weeks to come."
In the title role of Mary Poppins is Robinson Secondary senior Madyson Hanton. "She's a magical nanny who cares about the Banks family," said Hanton. "She's prim and proper and doesn't take any backtalk from the children. She's sassy and is practically perfect, and she changes the family's life drastically — for the better."
Calling it her "dream role," Hanton said, "I love the movie and it's written for a soprano like I am. She has so much depth and I get to have fun showing her different sides — caring, wacky, fun, energetic — and I also show that she's not just a nanny, but a woman, too." Hanton's favorite song is "Supercalifragilisticexpialidocious," which she sings to the children. "The whole cast is in it," she said. "You have to put a lot of work into that song, so I'm happy to be a part of it and see it all come together."
Hanton said the audience will enjoy the show because "it's a spectacle. The set is so intricate, while being gigantic, and the costumes are colorful and also help with characterization. The choreography is something you'd expect from a Broadway musical, and every song has five-part harmony. And it's great for all ages; people will definitely leave smiling."
New Centreville High grad and GMU freshman Joshua Ewalt portrays Bert, who's also a bit magical. "He's the narrator and sings about what's happening and how the characters are feeling," said Ewalt. "He's also a jack-of-all trades — a street artist, a chimney sweep, a street cleaner, etc., and he's tons of fun to play."
Bert speaks in a Cockney accent and, said Ewalt, "Most of the role is singing and dancing. He's one of the funnier characters and gets to move around and do some tumbling during the musical numbers. It's a very energetic role."
Ewalt especially likes the song, "Step in Time," one of the biggest numbers in the show. "It has the hardest dancing, but is really cool," he said. "There's tap, people are jumping over each other, and others are sliding across the stage, so people will look forward to seeing it."
He added, "They're going to love the big musical numbers and our colorful costumes, and the sets will be awesome. We'll have some cool special effects, especially with Mary Poppins, so there'll be lots of things to see in this fun musical. And it's a good story about a family trying to work together and find ways to spend time together. Through Mary Poppins's influence, they start to look at things from a different perspective."
Playing Robertson Ay, a servant in the Banks house, is Westfield senior Connor Rudy. "He's clumsy and is always messing up, dropping things and forgetting Mr. Banks's briefcase and umbrella," said Rudy. "He's pretty nervous and is scared of Mr. Banks reprimanding him. He's fun to play because it's a high-energy role. I love running onstage and being really frantic in my movements. Especially in the 'Spoonful of Sugar' scene, he ends up knocking down things from shelves and being knocked unconscious."
Rudy's favorite number is "Cherry Tree Lane," sung by the whole Banks family and staff. "It introduces the show," he said. "You get to meet the family and see how chaotic their lives are and how Mr. Banks is trying to keep order; it's really fun."
He said both children and adults will enjoy the show. "We have a great cast, and people will like the vocals — especially when the ensemble sings a capella during the song, 'Feed the Birds.' It makes for a beautiful, choir effect."
Westfield senior Meredith Mehegan plays Neleus, a statue in the park. "When Mary Poppins comes to the park, the statues come to life," she said. "My statue is lonely because her father is the Greek statue of Poseidon, who's far away. I come to life, talk to the kids and show them around the park. I also dance with penguins and other statues. Since Neleus just suddenly comes to life, like Frosty the Snowman, she's energetic and happy to be alive again. It's cool to stay frozen in a scene, and it's challenging because you can't blink or twitch."
Mehegan likes the song "Jolly Holiday" best because she's featured in it as a dancer. And, she said, "I like how it incorporates so much of the cast in it, plus the statues and penguins in the park." Overall, she said the audience will appreciate the "amazing voices and great talent" of the leads. "They'll also like "the magic of this show," said Mehegan. "And since so many people have seen the movie, it'll be nice to see it come to life in front of them."