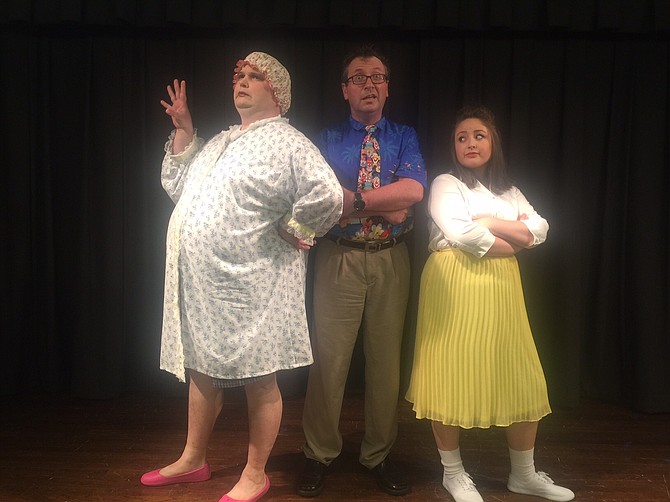 Good morning, Baltimore. It's 1962 and overweight white teen Tracy Turnblad is thrilled when her dancing talent lands her a spot on the Corny Collins TV show. But it seems unfair to her that black teenagers can only be on the show once a month, so she decides to integrate it.
That's the premise of this joyful, exuberant and Tony Award-winning musical being presented, July 17-25, at Lanier Middle School by the City of Fairfax Theatre Company. Helming it are Director Tara Taylor, music director Kirsten Boyd and choreographer Erich DiCenzo.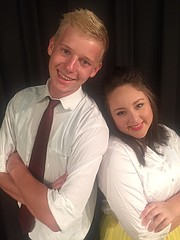 It features a cast and crew of almost 70 and, said Taylor, "It's invigorating and inspiring seeing people ages 6-55, of different backgrounds and capabilities, all coming together for the common purpose of theater. And that also exemplifies this show's meaning – bringing diverse people together."
Besides, she said, "There's such fun music and choreography that it's almost like we're playing. The cast includes 22 kids under age 13 who sing 1960s songs before the show and during intermission. They're also in three numbers in the show."
Yet "Hairspray" has a serious side, too. It has weight and relevance to modern day, said Taylor, because "it's so pertinent to the racial and equality issues we're still having, even in Baltimore. The show's message is happening now, outside this theater." So to underscore and visualize it, she said, "We've added media images from the recent riots in Baltimore and from the Civil Rights movement, including images of Civil Rights leaders, on a huge projection screen in back of the set."
They've been rehearsing six weeks, and Taylor said putting on a show in this amount of time "takes an exceptionally talented group of people. They also need to have incredible passion and drive for what they're doing and for the show's message.
MORE THAN 200 PEOPLE auditioned, and they're working hard to make this musical the best it can be. And it's an entertaining show – it makes you feel good."
Portraying Tracy is TJ grad Anna Hicks, who'll attend UVA law school this fall. Jacob Nelson plays her crush, Link Larkin, the lead male dancer on the TV show. "Tracy's a bold, happy and optimistic high-schooler," said Hicks. "She's almost naïve, but in an endearing way, and she always puts her best foot forward. Throughout the show, she progresses to having a more realistic view of the world, but she wants to change it for the better, anyway."
Hicks loves her role because Tracy's "fun and has a great time, all the time. Her personality is very theatrical, so I get to make grand gestures and big, Broadway movements. My favorite song is 'Run and Tell That.' Hasan [who plays black teen Seaweed] sings it, and it shows a bunch of kids getting together and bonding over dancing."
The audience will enjoy the show because "it's hilarious," said Hicks. "And they'll appreciate all the creativity of the director, cast and everybody working together. It's something people can go to and have a great time."
In "Hairspray," a male traditionally plays Tracy's mom, Edna, and Jay Tilley fills the bill here. "She's a really good-hearted lady," he said. "She has some self-esteem issues because she's gained some weight over the years, and she's protective of Tracy, who's also plus-sized. She loves her daughter and husband Wilbur and once dreamed of designing her own clothes. But now she cleans and mends other people's clothing, and she wants to shield Tracy from that same kind of disappointment."
Tilley calls Edna a "blast" to play and one of his bucket-list roles because "as an actor, I love transforming myself physically and emotionally. And Edna's a hoot because she's big, boisterous and fun. I have a background in musical theater, so I like being able to sing, dance and act at the same time. And I couldn't ask for a better group to work with – it's a terrific cast and crew."
He especially likes the song, "Timeless to Me," a duet between Edna and Wilbur "where they profess their love to each other, no matter what. The choreography is great and it's such a sweet song." He says the audience will love "Hairspray's" songs and story because "it's really a show about hope for a better society and better lives. It's also about learning to love yourself, flaws and all. So it's joyful and entertaining, with a message."
Hasan Crawford, a rising sophomore at Robinson Secondary, portrays Seaweed. "He's one of the dancers on the Corny Collins TV show on 'Negro Day' and Tracy's friend," said Crawford. "He's a really fun and accepting guy, full of energy. He's also suave, cool and a good dancer. It's one of my dream roles because I love his songs and his character is so cool. He likes dancing and is confident, even though some people don't like him because he's black."
Crawford's favorite number is "Hairspray's" signature song, "You Can't Stop the Beat," because everyone "finally gets together and realizes that it doesn't matter what you look like. We're all there to dance and we can dance with whoever we want. It's really upbeat and one of the show's most energetic songs." He said people will enjoy all the dancing and choreography because "we worked really hard to perfect it."
PLAYING Tracy's best friend, Penny Pingleton, is Emily Flack, who'll double-major this fall in theater and voice at the College of William & Mary. "Penny's quirky and lovable and wants everybody to be happy," said Flack. "She starts getting out from under her overbearing mother's thumb and eventually falls in love with Seaweed. She's fun to portray because she has no inhibitions; she just says what she thinks and is an endearing character."
Flack likes her song, "Without Love," best. "It's when Penny transforms from someone awkward into a confident woman," she said. "And the way the two couples in it interact is both heartwarming and funny." She said the audience will like this show's "timeless quality. Even though it's set during the Civil Rights movement, everyone can relate to it in some way. And they'll pick up on the fun and great time the cast is having putting it on."