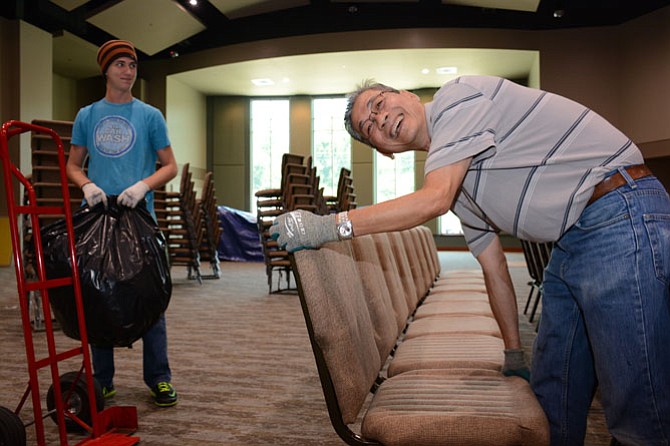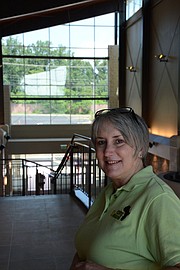 This is what the founders of Christ Church first envisioned in the mid-1980s. Though they first met in elementary schools, including Silverbrook Elementary school in Fairfax Station, the idea was always to form a regional church with a major road presence, said the current church executive director Debra Merrill.
But before they could realize that dream, they had to first "build a family, a culture, a mission." To help solidify those, the church moved into its first independent campus on Glen Eagles Lane in Fairfax Station in 1995. There, it grew with a mantra and philosophy of "Worship, Connect, Serve" and gained popularity as the first United Methodist congregation to use a more contemporary worship model beginning with its first service.
Lessons from Biblical scripture were presented by lead pastor John Speight in a passionate, "take home" manner that appealed to many people who had had negative church experiences in the past.
TO KEEP UP with the growth concept, a new, expanded church was designed in 2006. Then construction on the larger campus, located at 7600 Ox Road in Fairfax Station, began in winter 2013 with 274 tons of limestone being laid to fortify the land to support the structure's foundation.
Around $14 million and a year and a half later, members of Christ Church are scheduled to worship in their new building for the first time Aug. 2.
After the last service in the Glen Eagles campus on July 26, members are planning an exodus, an organized walk from the old church to the new one. After worship, members will pick up their seat and put it on a truck bound for Ox Road.
The roughly 1,350 members of the church have a lot to be excited about, according to Merrill, including a 630-seat main worship hall that eliminates the need for expansion trailers like the six at Glen Eagles. "We're the only trailer park in Fairfax Station," she said.
The weekly attendance average is between 600 and 700, which has grown and shifted substantially in demographics, Merrill said, reflecting a broader spectrum of ethnicities and cultures.
"Everything is bigger," said the church's head custodian Phat Dang as he helped set up new chairs in the worship area, "they can handle it."
Though the new church was designed in 2006, progress was stalled in 2007 along with the United States economy. Merrill said the terms of the church's loan changed, requiring more cash up front rather than pledges.
"How could we get some change, do it in a more cost-effective way?" Merrill recalled.
To work around the obstacle, the church construction team came up with a solution that incorporated two prefabricated steel buildings, joined in the middle with covered central walkway. This not only accomplished an "almost identical vision" to the original plan but also saved millions of dollars in construction costs.
The church was ultimately able to get $12.5 million through a loan and capital campaign, as well as another $2-3 million in funding from the church congregation. Part of that effort was called the "Last Mile" campaign, which set aside a portion of funds raised for the church to build a school in Sakwa, Kenya, where Christ Church sends mission teams annually.
A three-room industrial kitchen suite will provide Christ Church's in-house chef and team the infrastructure to prepare regular Wednesday night home-cooked meals for upwards of 270 people at a time. The hospitality is offered to anyone, though guests often include Wounded Warriors and others from Fort Belvoir, in addition to Christ Church families.
The church's GreenTree preschool also benefits greatly from the new structure, spreading out over the first floor of the northern half of the building. Preschool director Heather Greene (whose husband Brian is a worship leader) said they can now facilitate 120 children at a time with a total enrollment capacity of 188, versus 140 at the Glen Eagles campus.
LARGE WINDOWS in the classrooms look out toward the Church's 15 acres of wooded property to the west, including trails, an amphitheater and outdoor class area.
Eventually, a second phase of construction behind the existing structure is planned to include a two-story education center, large dedicated worship center (freeing the current hall for other activities) and the possibility of a Christian school.
Greeting church-goers and those driving by the front of the church is a fountain planned by Pastor Speight. Merrill said the tall columns spouting water are a reference to God telling Moses to strike a rock so people could drink from it.
It's a reminder, she said, that "God provided when we saw no way forward. It's our job to do well by it."
More like this story