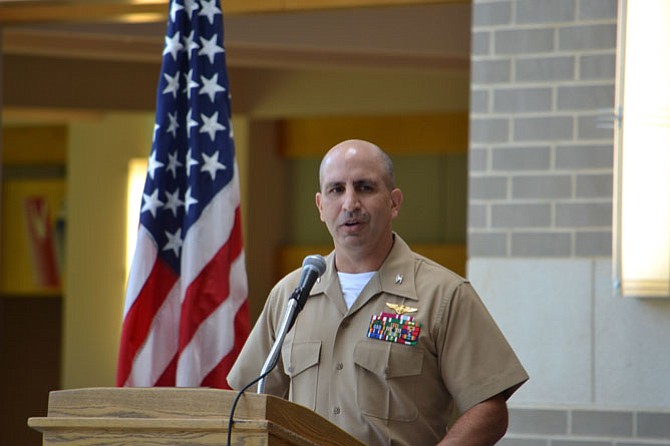 Alexandria — Acknowledging that he would miss his colleagues in the Naval Aviation Training Systems Program Office (PMA-205), U.S. Marine Corps Col. David Owen, the Marine Corps department head for PMA-205, marked his retirement from the service July 10 during a ceremony at Naval Air Station (NAS) Patuxent River, Md.
A native of Alexandria, Owen managed acquisition and support efforts for 11 aircraft training systems, comprising 68 flight simulators and associated electronic classrooms, maintenance trainers, materials and facilities.
He was commissioned in June 1989 through the Platoon Leaders Class program at West Virginia University, where he graduated with a Bachelor of Science degree in business administration. After graduating from The Basic School in April 1990, Owen was later deployed to Sheik Isa Air Base in Bahrain in support of operations Desert Shield and Desert Storm.
Owen's assignments from 1991 to 2005 included stints as the S-4 officer for Marine Wing Headquarters Squadron 3 in 1991 and then reporting to Marine Helicopter Training Squadron (HMT) 302 for fleet replacement training in 1994. He also served as the flight schedule writer and pilot training officer for Marine Heavy Helicopter Squadron 461 in 1994 and aviation safety officer in 1997; operations flight officer for Marine Medium Helicopter Squadron 266 (REIN), 24th Marine Expeditionary Unit Special Operations Capable in 1996 and assistant future operations officer in 1998; CH-53E instructor pilot and operations officer for HMT-302 in 1998 and operations and maintenance officer in 2001; and H-53 program officer at Naval Air Depot (NADEP) in 2003 and NADEP AIRSpeed officer in 2005.
Owen reported to Naval Air Systems Command (NAVAIR) at NAS Patuxent River in July 2006 as the V-22 Joint Program Office (PMA-275) assistant program manager training systems/training integrated product team lead. In September 2008, he was reassigned as Marine Corps department head for PMA-205.

Owen reported to the Office of the Assistant Secretary of the Navy for Research, Development and Acquisition in August 2010 to serve as the chief of staff for the Deputy Assistant Secretary of the Navy for Expeditionary Warfare. He was promoted to his current rank of colonel in 2011 and was reassigned as the chief of staff for the Deputy Assistant Secretary of the Navy for Air Programs.
In July 2013, Owen returned to NAVAIR and PMA-205. He holds several Defense Acquisition Workforce Improvement Act (DAWIA) certifications, including Level III in Program Management; and Level I in Production, Quality and Manufacturing. He is also a member of the Defense Acquisition Corps.

Owen's personal awards include the Legion of Merit, Defense Meritorious Service Medal, two Meritorious Service Medals, Navy and Marine Corps Commendation Medal, and three Navy and Marine Corps Achievement Medals.

More like this story