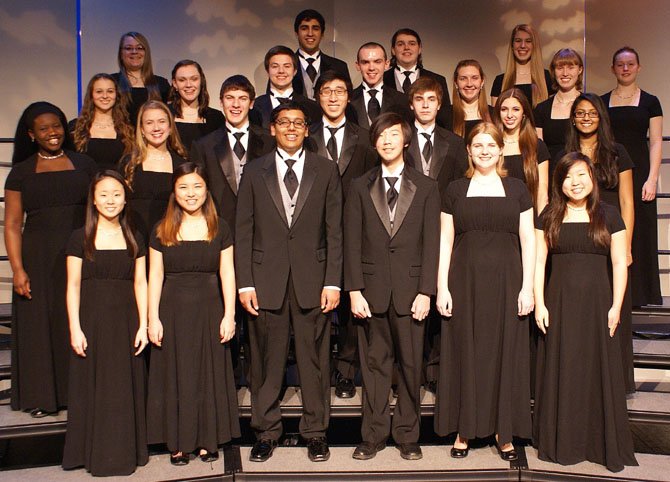 Centreville High School's Choral Department will present its annual summer concert, "Broadway Pops", on Thursday and Friday, June 4 and 5, in the CVHS Skip A. Maiden theatre 7:30 pm. Admission is free.
This concert features music from the Broadway musical repertory, performed by the six Centreville High School choirs, along with performances by the three student-led a capella ensembles, and solos by various senior members of the choirs.
The concert will open with a medley of Manhattan Transfer vocal jazz numbers, performed by Madrigal Ensemble, with a solo by Zoe Costanza. They will also perform an arrangement of "When I Fall in Love." Women's Ensemble will follow with a medley from the Broadway production of "Mary Poppins." Soloists for this ensemble will be Brooklyn Pendleton, Madison Lee and Mya Baptiste. Then Men's Ensemble will perform a medley of Motown tunes, which were part of the Broadway production "Motown, the Musical." The first act will close with Concert Choir's performance of a medley from the Broadway show "Aladdin." Soloists in this medley will be Alexi Henderson, Peter Waldmiller, and Kobie Turner.
The second act will open with Bella Voce performing the medley from "Rent." Soloists featured in the medley will be Caitlin Dodson, Erin Kang, Rebecca Brittain, Victoria McMahon, Pooja Karandikar, and Stephanie Bond. Following this, Symphonic Choir will perform a medley from "In the Heights," featuring solos by Seth Kim, Gillian Snell, Tre'von Patton, Nancy Brittain, Joshua Ewalt, Brianna Verrill, and Karsten Kim. The seniors will follow with their "swan song," "On My Way," by Phil Collins. The finale, with all the choirs, will be "Es tu Tiempo," by Francisco Nuñez, the director of the Young People's Chorus of New York. The choirs participated in a clinic led by this composer/conductor this past April, when he worked with them on this particular piece.
Three student-directed a cappella groups will perform: The Downbeats (all-male), directed by Karsten Kim, the Upbeats (all-female), directed by Caitlin Dodson, and Contempo (mixed voices), co-directed by Karsten Kim and Gillian Snell. Contempo will perform "Happy," the Upbeats will perform "Parachute," and the Downbeats will sing "Stand by Me." Senior soloists will be Mary Lee ("Can You"), Jin Young Lee ("Love Song"), Tre'von Patton ("Outside"), Alejandro Masias ("Fly Me to the Moon"), Nancy Brittain ("Watch Me Soar"), Joshua Ewalt ("On the Street Where You Live"), Logan Ross ("Best Day"), Kayla Ebright ("Bring On Tomorrow"), Emma Eichenberger ("The Greatest Adventure"), Lily Park ("Like I'm Gonna Lose You"), Nora Winsler and Joshua Ewalt ("Anything You Can Do"), Adrianna Johnston ("One and Only"), Karsten Kim ("The Impossible Dream"), Samuel Ahmed ("Feelin' Good"), Brianna Verrill ("You Ain't Woman Enough"), and Anna Adere ("You and I").
The concert is directed by Lynne Babcock, choral director at Centreville High School. The choreographer for the majority of the concert was Tara Penick, a Richmond-based choreographer who works with the Centreville choirs every spring. The back-up band consists of Lynne Babcock on piano, Scott Babcock on drums/percussion, Glen McCarthy on bass, Jacob Walker on guitar, and Scott Kovan and Marie Brittain on synthesizer.