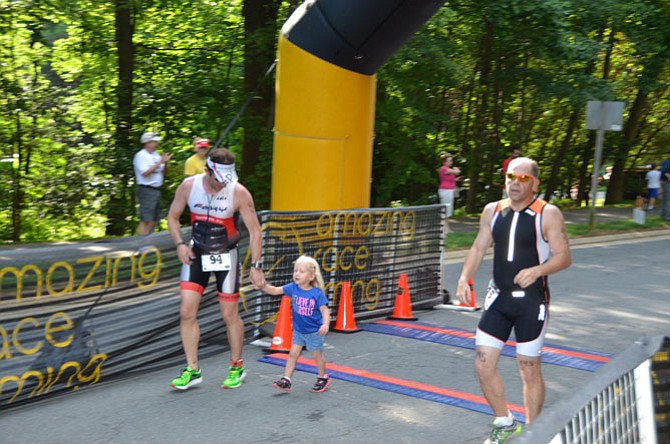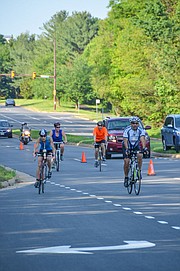 Sunday, May 31, was the date of the Ninth Annual Reston Sprint Triathlon. Proceeds from the event were donated to one of Reston's oldest, and Northern Virginia's most successful, nonprofit organizations, Cornerstones (formerly Reston Interfaith). Cornerstones promotes self-sufficiency through support and advocacy for those in need of food, shelter, affordable housing, quality childcare, and other services.
"We are so grateful to the CORE Foundation for sponsoring this community, Reston event," said Jill Norcross, chair of the board for Cornerstones.
The Reston Sprint Triathlon is covering 15 miles of swimming, biking and running. Athletes swim 400 meters in Reston's only 50 meter pool, then bike 11.28 miles around Reston, and run 3.2 miles (5 km) along part of Reston's famous paths. The race is always held the Sunday after Memorial Day weekend. Before this year's event began, Joseph Letteri gave a presentation of the Star Spangled Banner. The CORE Foundation, in cooperation with Reston Association, presented the event.
This year's event had the biggest turnout yet, with over 850 athletes registered to participate. Good weather helped increase the turnout and spectators who cheered on participants. "It was a great day," said Herndon resident Douglas Landau, who participated in this year's triathlon. "The Reston and Herndon areas are unique in having venues with community events like this," said Landau.
More than 240 volunteers helped make sure the event ran smoothly. Also present was founder of the Reston Sprint Triathlon and director of the CORE Foundation, Reston resident Doug Bushée. "It is a great event for the volunteers and a great event for Reston," said Bushée. Having seen the big turnout in autumn triathlons, Bushée worked with Cornerstones to set up an event in May. "This is our way of giving back," said Bushée.
The swim was in the Lake Newport pool at 11601 Lake Newport Road, Reston. The bike segment was within North Reston, with police and volunteer course monitors. The run segment takes advantage of Reston's famed pathways for the 3 mile run. In the female overall results, first was Nicole Rayson with a finish time of 1:02:29, followed by Katie Palavecino with a finish time of 1:02:52. For the male overall results, first place went to John Baldwin with a finish time of 57:17, followed by Kevin Kunkel with a time of 59:38. Approximately $210,000 was raised from this year's race. With a family-friendly atmosphere, fast course, and early morning start, the race is always a special event. For more information, visit www.restonsprinttri.org.