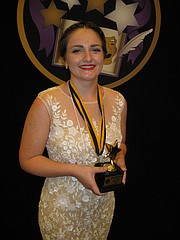 The 16th Annual Cappies Gala honoring high school theater was held Sunday, June 7 at The Kennedy Center. Of the 39 awards, winning the top prizes were Robinson Secondary School for the Best Play Award for "Neverwhere," and McLean High School for the Best Musical Award for "Big Fish." This year's Masters of Ceremony were Judy Bowns, Janie Strauss and Ed Monk.
This year's show included 58 public and private high schools in Fairfax County, Arlington, Fauquier, Loudoun, Montgomery, and Prince William counties, and the Cities of Falls Church, Alexandria, Manassas and Washington, D.C. The Cappies season extended from late October to early May.
The Cappies program was launched in the summer of 1999 by Judy Bowns, the theatre arts resource teacher with FCPS, and the late Bill Strauss (director, Capitol Steps), in cooperation with area theater teachers, for the purpose of celebrating and bringing public acclaim to high school theater.