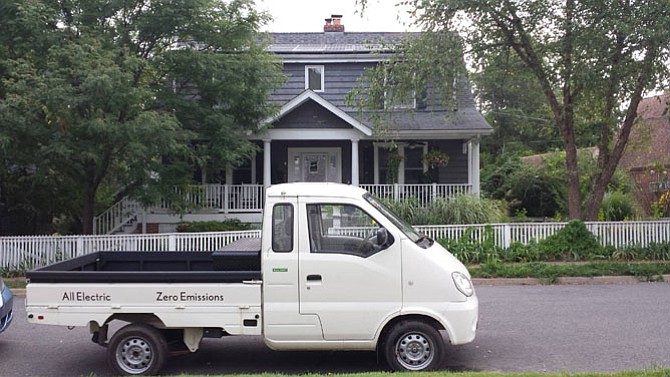 Residents of Arlington are showing an increasing interest in solar power. Eighty-one residents have already installed solar panels and solar water heating systems in an attempt to go green, while 153 others are in a new program considering installing these features to their homes or businesses.

Joan Kelsch, green building programs manager at the Arlington County Department of Environmental Services and a resident of Arlington for 24 years, said, "Absolutely. I am a big fan." She installed solar panels on top of her home's flat roof five years ago. Now, 75 percent of her home's electricity comes from these solar panels.
Jim Egenrieder, STEM Education Outreach, Strategies, Research and Evaluation at Arlington, Alexandria and Falls Church public schools, installed an 18-panel system which produces between 3.4 kW and 3.6 kW during its peak hours. He said, "Of course it feels good to lead by example, watch your electric meter crediting your energy production, and spend the money you save on more enjoyable things."
Installing solar features can be seen as an investment. Kelsch's original system of 4kW has saved her more money than the $25,000 she originally invested in installing the system. Scott Sklar, who installed solar features to his home in 1985 and upgraded them in 1998 and 2010, said that the solar panels paid for themselves in 2000 and he is essentially living on free electricity for the last 14 years. Jim Egenrieder, living in Arlington since 1987 and installed the solar panels in 2010, took advantage of all the federal and state incentives, including the tax rebates, to pay a little over one-third of the total price of $28,000.
Kelsch says that her electricity bills have reduced to almost 25 percent of what they were before as well. Kelsch added, "The cost now would be almost half of what it was five years ago."
Even though solar seems to be of great economic value, as well as environmentally friendly, not many Arlington residents are utilizing this resource. Aaron Sutch, Virginia Sun program director, said, "Definitely less than one percent" about the number of solar homes currently in Arlington.
Chris Somers, community energy specialist at the Arlington County Department of Environmental Services, confirmed a total of only 81 buildings in Arlington, as of 2014, have solar features, combining to generate only 411 kW. "A fair majority of these are residential," he said.
This number is growing with the assistance of various non-profit organizations, including but not limited to Arlingtonians for a Clean Environment (ACE), Arlington Initiative to Rethink Energy (AIRE), and Virginia Sun, working together to increase awareness about environmental issues and providing solutions as well as encouraging, educating, and engaging residents towards sustainability.
Elenor Hodges, executive director of ACE for over 15 years, describes her organization as a portal and a facilitator for every Arlington resident to help them answer the question "What are the best actions to make a difference?" and to support their decisions accordingly. "It is a responsibility in making sure that every Arlingtonian has access to these resources," Hodges said.
To increase the number of solar homes and increase energy efficiency locally, Virginia Sun, with its partners AIRE and ACE, have developed a program called Solar Co-op for Arlington residents. Sutch described the program as "a community of neighbors going solar together." A total of 153 homeowners have been qualified within this program, and will be adding solar features to their homes within the next seven to nine months. This program allows local community members to install solar features to their home, through a single installer, and to interconnect the solar systems to the utility grid.
Within this program, a committee of 5 to 15 participants is formed who select the single installer and make all the major decisions for the group. The potential installers make open bids notifying the selection committee of the solar features they offer and the cost that they will charge.
According to Sutch, about to complete his first year at Virginia Sun in July, interconnecting with the utility grid allows the excess solar energy received by the solar panels — the energy not used by the house — to be sent through to the utility grid that allows the same electricity to be used by other households. This allows the homeowner to not buy the batteries, which would store the extra energy otherwise, that are more expensive and contain toxic chemicals that are harmful for the environment, according to Kelsch.

Sutch said that there are various advantages for the participants of this program. To overcome the two most important barriers, which are cost and not having the knowledge of the details of the process, Virginia Sun, a 501c non-profit organization, guides homeowners through the process. He added that this program saves each participant between 10 percent and 25 percent as the services provided by the installer are being bought in bulk.
Egenrieder said, "Other than the savings, the biggest perk has been knowing that we contributed to the evolution of the solar home installation industry. And when we recently learned the U.S. has more jobs in solar than in coal mining, I like to pretend we were part of making that possible."
There are other benefits of adding solar panels as well. As Kelsch installed the solar panels on top of her flat roof, they do not affect the appearance of her home and are barely noticeable. "One way you would notice that we have solar panels is by seeing that the electricity bills are way lower," she said.

Similar to Kelsch, Egenrieder also has the solar panels arranged on his home's roof is such a way that "it takes a sophisticated eye for passersby to notice the panels, and therefore no one really knows they're there."
Sklar says that he is never engaged in any power outage problems and believes it is more comfortable, mentally and physically, to be living in a green home. His home allows him to have lowest possible electric utility cost and an extremely clean electric power quality. He also says that he has "a strong feeling you are helping your children and grandchildren move to a healthier world."
But solar is not a viable option for everyone. Hodges, a resident of Arlington for 19 years, could not add solar panels or the solar water heating system to her home as her roof does not receive enough sunlight to be able to generate enough electricity. There is an oak tree that significantly blocks the path for the sunrays to reach her house. But Hodges is still optimistic. She says that her home receives a lot of shade and is more efficient.
Though Kelsch did not have any major complains about having solar features, one minor disappointment was that having solar energy does not allow the systems to continue running when the power goes out. Though she says this can be corrected simply by buying and installing batteries for storing the extra electricity, batteries are expensive and full of toxic chemicals.
Yet, Kelsch encourages other homeowners to add some solar features to their homes to make their homes more energy efficient. She also encourages homeowners to take the energy audit for their homes to reduce energy load as much as possible and to be the most energy efficient.
Egenrieder said, "Sometimes I feel bad for my neighbors Doug or Scott, who can see my panels from their upper windows. I'm guessing they spend a lot of time thinking, 'Man, that guy Jim is the coolest guy on the planet.' That kind of jealousy can take years off your life, and they're both great guys, so sometimes I worry about them while I sit on my porch sipping on a martini. Otherwise, I can think of no other disadvantages of a grid-tied solar home."
He also advised other homeowners to invest in solar features for their homes as he believes they are more inclined to receive more benefits through better technology. According to Egenrieder, "New systems allow for both grid-tied benefits plus options for on-site battery storage, even including backup generator options. Micro-inverter technology also provides for more flexibility."
Sklar encourages other homeowners, living in Arlington and its surrounding areas, to invest in converting their houses into solar homes, for it "would reduce utility bills, reduce pollution, and have absolute electric reliability." He also believes that solar systems will increase the re-sale value of the homes. Sklar has already created The Stella Group, a firm facilitating for a cleaner and greener environment through utilizing energy efficiency, fuel cells, heat engines, etc. He has also co-authored a book titled "Consumer Guide to Solar Energy" and published a paper on clean energy technologies in 2013 to promote the use of solar features in residences and public buildings.
Arlington Tech will initiate a new Engineering, Energy and Sustainable Technologies program for high school students in the 2016-2017 school year. Egenrieder said, "I believe it will greatly enhance options for young people wanting to learn about, participate in, or be employed in alternative energy."
If solar may not seem to be the best option for a home, AIRE and ACE have various other programs for residents of Arlington to go green. By joining ACE, residents would be added to a mailing list that encourages members of the community to participate in new programs and volunteer opportunities. Through this mailing list, Hodges is able to inform ACE's members about local companies involved in making financially viable options available for Arlington residents. ACE is adding an online directory by the end of next year, to allow all its members to have a list of all local companies and installers available.

To find more information on the Arlingtonians for a Clean Environment, visit its website http://www.arlingtonenvironment.org/. To find more information about Virginia Sun and the solar co-op, visit its website http://www.vasun.org/arlington-solar-co-op/.