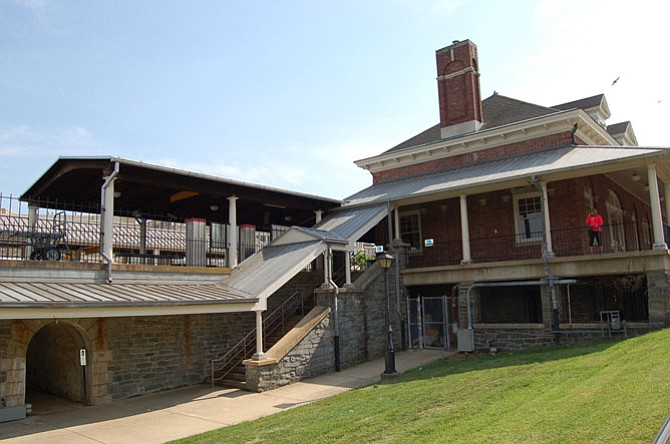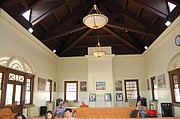 My dad loves steam trains. Maybe because his dad used to take him and his brother down to the Alexandria train station on King Street to watch the trains go by. Dad says he remembers seeing steam engines. I looked it up, and sure enough the last steam engines ran in Alexandria in the early 1950s, when Dad was a young kid.
My parents love to ride the Cass steam train in West Virginia. It's in the Cass Scenic Railroad State Park and runs 11 miles from the crossroads called Cass to Bald Knob. I bet it would be a big hit if we could find an old steam engine and offer rides from Alexandria. This is what happened in July of 1982 when the steam locomotive #2716 of the Southern Railway ran from Alexandria to Charlottesville, Va.
Alexandria has a great train station. It was built in 1905, a few years before the one built in Fredericksburg, to our south. I came across a detailed paper on Alexandria's station written by Al Cox in 1996. Al is an architect and Historic Preservation manager for the City of Alexandria. He wrote how the City of Alexandria commissioned Washington Southern Railway Company to build a station. They did, for $62,000. That company today is CSX. Alexandria's Union Station opened in September 1905. The station was renovated in 1882 and again in the 1996. The old ceiling was removed to expose beautiful wooden rafters and dormer windows. The station was owned by Amtrak and CSX from 1971 until the City of Alexandria bought it in 2001. I believe it was racially segregated originally. Renovations in 1929 combined separate waiting areas into one.
Dad says he remembers there used to be an artillery cannon which sat in front of the station, facing out towards the intersection of King Street and Russell Road. Eventually, the cannon was taken away. Dad wondered what happened to it. Thankfully, Al Cox writes that it was from World War I, and was taken to a Veterans of Foreign Wars museum in Huntington, W.Va. in the early '80s.
I have a plan for the Alexandria train station. Al writes that the parking lot was extended in the 1996 renovations. Most of the lot houses city vehicles today. There is a steep little slope between the tiny train station lot and the city lot. Every time I go to pick up Aunt Katey at the station, there is a traffic jam. Taxis wait out front. The parking spaces by the station seem to be permanently occupied. Getting in and out is a nightmare. In all that, I have to get my car turned around and up front for Aunt Katey's suitcase. I propose moving the city vehicles elsewhere, designating the whole lot to the station. The lot could be smoothed out and modernized with curbs and trees. A system of meters could be installed to make sure people don't park there permanently. A second entrance could be added, further up on Callahan drive for easier access.
Recently, I extended the family train watching tradition to my niece and nephew. Their parents were going to New York City for the weekend, so we all went to see them off. The conductor announced train number 90, also called the "Palmetto," arriving and ushered us all across the path to the far platform. We waited. The kids danced around. A double decker communter train, VRE, pulled in from the north. The kids thought that was very interesting. After about 10 minutes we heard a long deep roar. My four-year-old nephew jiggled with anticipation. The enormous steel shape loomed into view and groaned its way to a stop, heaving and grinding. A conductor emerged, opening a door as passengers gathered. We watched Mom and Dad disappear into the train, and emerge behind dark glass. A few minutes later, the train began to glide forward, noiselessly. We waved and waved. It was a big moment.
While waiting, the kids had been just aching to find out where the tunnel under the tracks went. As trains above came and went, we descended into the rounded ceiling, vault-like brick tunnel, and emerged at the front of the station. They were particularly impressed with the double decker train. "When can we ride on the top level?" asked the four year old. "Have you ever ridden a double decker?" asked the 8 year old. "Was it fun?" "What was it like?" Hopefully these kids will have trains as a part of their lives for a long time.