Long-time Alexandria resident Brooke Ross has been preparing meals for her family and friends for over 20 years. Recently, she decided to share these creative and simple recipes with the rest of the world by creating her own cookbook.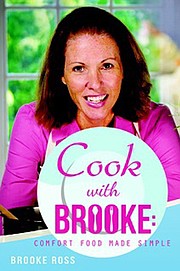 Launched on May 26, "Cook With Brooke: Comfort Food Made Simple" is a collection of 130 easy comfort food recipes that everyone from novice cooks to experienced cooks can enjoy.

Ross began the process five years ago when she decided to follow her family's and friends' suggestions that she follow her passion for cooking and publish a cookbook.
"As I was collecting the recipes, I thought about a niche out in the cooking industry that hasn't been reached. I noticed a lot of the cookbooks were long and complicated and not tailored to cooks of various abilities; children, teenagers, adults of various marital status with or without a family. I wanted to simplify recipes," she said.
For the next two years, she collected more than 300 recipes from her family and friends and some of her own favorite childhood recipes.
Ross' cookbook contains recipes she tried out on her family and friends. "In particular, the peanut butter chocolate squares were enjoyed by my family friends and fellow colleagues of all ages and the chicken and broccoli casserole is a very popular recipe for family-style dinners and dinner parties," she said.
After her research and taste testing, she faced another challenging task: narrowing down the 300 recipes to 130 recipes. Similar to the recipes in her book, her selection process was simple. She chose the recipes with the most favorable responses and the simplest recipes. Some of her favorite comfort food recipes include the Tex-Mex soup and chicken and broccoli casserole for colder seasons and Maurice salad for late spring and summer. "A perennial favorite is peach cobbler and peanut butter chocolate squares." She said.
"Cook With Brooke: Comfort Food Made Simple" contains six sections of recipes: Appetizers, soups/ salads, seafood, vegetables, poultry, meats, and desserts. Throughout the cookbook are tips on various aspects of cooking such as food presentation, serving sizes, how to enhance recipes, and which dishes would be perfect for special occasions or holidays. For example, the book features a pumpkin soup recipe that would be good for a Halloween party and also a cinnamon apple salad for Valentine's Day. In addition, the author adds suggestions for food gift ideas such as the walnut date muffins for a teacher's gift.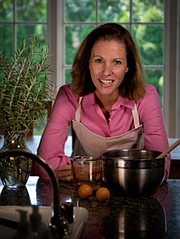 Unlike many cookbooks on the market, her cookbook also includes a "Tips for Storage" section that tells readers how to keep these ingredients fresh and prolong their shelf life and a "Well Stocked Kitchen" section which provides readers with a list of essential items needed in every kitchen.

Some of her fondest culinary memories are from preparing various dishes for her extended family and friends during the Christmas season. Two of her holiday favorites are the bourbon balls and shortbread recipes.
Moreover, she hopes this cookbook will remind readers that "serving meals to family and friends is a way to re-connect with one another in this busy world of social media in which we live today."
"Cook With Brooke" is available through the author's website cookwithbrooke.tateauthor.com, Amazon.com, barnesandnoble.com and bookstores nationwide.
Since the book's release, Ross has been busy setting up various marketing and fundraising events. Currently, she is doing pre-sales of the cookbook out of the trunk of her car along with selling her "Cook With Brooke" salad shaker. Her salad shaker will also be featured along with her cookbook at various weekend markets this fall.
"My goal is to keep it simple and fun. It is all so exciting and I've really had a great response to it from my neighbors and friends and even friends of friends," she said.
In addition, she also wants to use the book to give back to the local community. This spring, she will be auctioning off a "Deluxe Cook's Package" for one elementary school and a baseball and lacrosse team in Alexandria. The package will include a copy of "Cook With Brooke," one of her salad shakers and she will cook a meal for a family of four.
Ross has lived in the Alexandria area for 30 years. Prior to becoming an author, she worked as an assistant press secretary on the Hill and for an association management firm. She also has a bachelor's degree in English and communications.