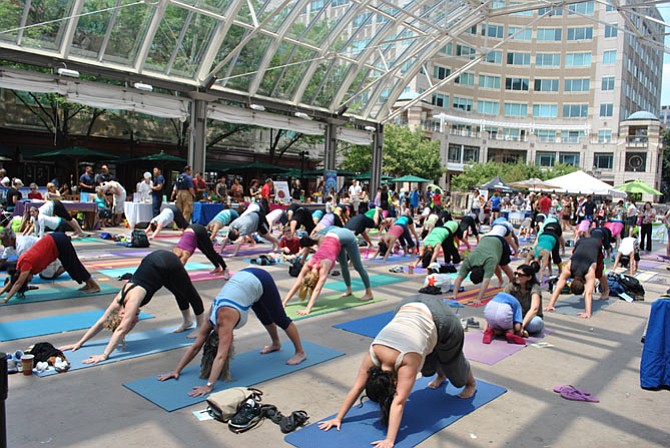 Friday/June 12
Kingstowne Farmers Market. 4-7 p.m. Fridays, May 1-Oct. 30. Giant Parking Lot, 5955 Kingstowne Towne Center, Alexandria. Vendors products include fresh organic honey and hand held pies and rolls. www.fairfaxcounty.gov/parks/farmersmarkets/kingstownemkt.htm
Herndon Friday Night Live. 6:30 p.m. 777 Lynn Street, Herndon. Listen to great music on Friday nights during the summer. herndonrocks.com/schedule.php.
The Marriage of Figaro. 7:30 p.m. Wolf Trap, The Barns, 1645 Trap Road, Vienna. Sung in Italian with English supertitles. Tickets: $32-$88. www.wolftrap.org.
Playdate Cafe. 10 a.m. Great Falls Library, 9830 Georgetown Pike, Great Falls. Toys and play space for children. Coffee and conversation for grownups.
Drop-in Chess and Board Games. 3:30 p.m. Great Falls Library, 9830 Georgetown Pike, Great Falls. Drop-in and play chess and assorted board games. All skill levels and ages welcome.
Pokemon League. 3 p.m. Patrick Henry Library, 10304 Lynnhaven Place, Oakton. Drop-in and play Pokemon with your friends.
Great Decisions Foreign Policy Series. 1 p.m. 9830 Georgetown Pike, Great Falls. Foreign Policy Association's Great Decisions program: Russia and the Near Abroad.
Open Kitchen's Summer Pies and Tarts. 11 a.m.- 2 p.m. Open Kitchen, 7115 Leesburg Pike #107, Falls Church. In this hands-on class, Chef Quientina will guide you through the creation of three seasonal pies and tarts as you master the perfect flaky piecCrust, whip up fresh pastry cream, toast homemade meringue frosting and more. Each guest will also receive nine-inch fluted tart pan to take home from the class. $79. http://openkitchen-dcmetro.com.
Kayak Tour- Sunset over Riverbend. 5 p.m. Riverbend Park, 8700 Potomac Hills Street, Great Falls. Experience the end of the day with an upper Potomac River tour. Get started with the basics and in a short time you will be maneuvering through the water. Kayaks provided, one and two person kayaks available. Download waiver from http://1.usa.gov/1aubG3L and bring to tour.
Saturday/June 13
Father-Daughter Dance. 6-9 p.m. Sherwood Center, 3740 Old Lee Highway, Fairfax. Girls (ages 3—11) dress in their beautiful gowns and dads dress to impress. There will be special fairytale guests joining that evening so don't miss out. Girls celebrate Father's Day with your dads, grandads, big brothers, godfathers and family members. There will be lots of dancing, games, prizes and good food.
Creative Writers Club. 2 p.m. Burke Centre Library, 5935 Freds Oak Road, Burke. Do you enjoy writing fiction, poetry, non-fiction and/or memoirs? Join us for sharing, discussion and feedback of works in progress. Teen volunteer facilitates. Age 13-18.
Lorton Junior Chess Club. 2 p.m. Lorton Library, 9520 Richmond Highway, Lorton. Practice chess and learn new moves. Age 8-12.
Taste of Annandale. 10 a.m. - 8 p.m. Tom Davis Drive in central Annandale, between Columbia Pike and John Marr Drive. The first-ever Taste of Annandale will showcase local restaurants during a daylong family-friendly celebration aimed at building community spirit, engaging young people, and promoting local businesses. Other activities include a 5K "Diamond Dash" Fun Run; multicultural music, dance, and other live entertainment; a chili cook-off pitting Fairfax County police officers against firefighters; and a children's corner with performances, storytelling, and other activities.
Burke Farmers Market. 8 a.m.-noon. Saturdays, May 2-Nov. 21. 5671 Roberts Parkway, Burke.
Springfield Farmers Market. 10 a.m.-2 p.m. Springfield Town Center, 6699 Spring Mall Drive, Springfield.
Friends of the Kingstowne Library Book Sale. 10 a.m.- 3 p.m. 6500 Landsdowne Centre, Alexandria. All ages.
Legos Kids Club. 10:30 a.m. Thousands of legos await. 6450 Sydenstricker Road
, Burke.
Lorton Junior Chess Club. 2 p.m. 9520 Richmond Highway, Lorton. Practice chess and learn new moves. Ages 8-12.
George Mason Day. 10 a.m. - 4 p.m. Gunston Hall, 10709 Gunston Road, Mason Neck. Join Gunston Hall for a historic event and celebrate the ratification of the Virginia Declaration of Right. Enjoy a parade on the grounds, sample food from the hearth kitchen, and converse with historic characters about life in the 18th century.
Reston Concerts on the Town. 7:30-10 p.m. Reston Town Center. Bring lawn chairs or picnic blankets and enjoy live music in the Pavilion Saturday nights. Free. Rain or shine. Presented by Reston Town Center and Reston Town Center Association. 703-912-4062. www.restontowncenter.com/concerts
Aria Jukebox. 3 p.m. Wolf Trap, 1645 Trap Road, Vienna. The 2015 artists sing your favorite opera highlights, with Kim Pensinger Witman at the piano. Ticket price includes wine and cheese reception at 2 p.m. www.wolftrap.org.
Plant Clinic. 10 a.m. 10304 Lynnhaven Place, Oakton. Master gardeners will answer plant questions. 703-793-3077. http://www.fairfaxcounty.gov/library/branches/ok/.
Dance for Everyone. 7-11:30 p.m. Colvin Run Dance Hall, 10201 Colvin Run Road, Great Falls. Dancing to a DJ'd mix music mix including Latin, ballroom, swing (West & East Coast), hustle, country and more. Pre-dance classes taught by Adam King. Beginner salsa 7-7:45 p.m. Beginner Bachata 7:45-8:30 p.m. $15 includes dance, optional classes, and refreshments.
Cars & Coffee. 6-9 a.m. 776 Walker Road, Great Falls. Early on Saturday mornings you'll find an amazing gathering of cool cars at Katie's Coffee House. Antique, custom, hotrods, exotic, sports cars, they're all here.
National Get Outdoors Day. 10 a.m. - 4 p.m. Great Falls National Park, 9200 Old Dominion Drive, McLean.National Get Outdoor Day event will offer opportunities for families to experience traditional and nontraditional types of outdoor activities. GODay event will offer a mix of information centers and "active fun" areas for the entire family. Kayaking for Girl Scouts. 9 a.m. Riverbend Park, 8700 Potomac Hills Street, Great Falls. Work on your water badge and learn to yayak on this kayak trip from Algonkian Park to Riverbend. Explore an island and have a picnic lunch. Drop off at Algonkian Park, pickup at Riverbend. Kayaks and all safety equipment provided.
4 Artists Spring Show. The Frame Factory Gallery, 212 Dominion Road, NE, Vienna. 703-281-2350. www.theframefactory1.com.
A Concert Under the Stars. Each year, Lets Give Back continues to expand their mission of giving back to families that find themselves in the Pediatric Intensive Care Unit. Their "Mini Wolf Trap" will benefit LetsGiveBack.org and their mission to support families in the Pediatric Intensive Care Unit.Two artists will play a private concert. Bring a chair or blanket, sit back and relax to the smooth sounds of Natalie York and Raye Zaragoza. RSVP to kate@letsgiveback.org.
Car Show. 9 a.m. - 1 p.m. Northwest Federal, 200 Spring Street, Herndon. The latest models from Northwest Federal's network of area auto dealers will be on display, and a car wholesaler will provide no-obligation quotes on buyers' current vehicles. The Credit Union will also offer members onsite financing. Non-members are welcome to attend and can apply for membership that day if they meet membership eligibility requirements.
Creative and Musical Writing Workshop. 3-4 p.m. ArtSpace Herndon, 750 Center Street, Herndon. A workshop with singer, writer and poet Andrew McKnight. This workshop explores how to express one's interest in a subject through words and/or music through use of writing exercises, examples and interactive discussion. Simple structure of songs, and the basics of melody and meter will be explored. Participants do a variety of exercises building towards development of original works collectively or individually during the session. Ages 10+. Tickets: $15. www.artspaceherndon.org.
Music of the Shenandoah. 6:30 p.m. ArtSpace Herndon, 750 Center Street, Herndon. The Herndon Foundation for the Cultural Arts' three concert series celebrates the contribution of Virginia's string bands to the foundation of modern American music, connecting Herndon to Virginia's roots music.Tickets $15. http://www.artspaceherndon.com/dominion-notes-concert-series/
Bushels of Beetles. 11 a.m. - Noon. Walker Nature Center, 11450 Glade Drive, Reston. All ages. Beetles are the largest group of insects, and they come in a dazzling array of sizes, shapes and colors. Meet live beetles and decorate your own bug box to take home. Go on a short hike to discover the different places that beetles live. Reservations required by June 10. Fee: $6/person RA members, $8/person Non-members. naturecenter@reston.org. 703-476-9689.
Dog Tales. 10:30 a.m. 768 Center Street, Herndon. Read aloud to a trained therapy dog for 15 minutes; bring your own book or choose a book from the library. Ages 5-12. Call 703-437-8855 or sign up at http://www.fairfaxcounty.gov/library/branches/he/.
Saturday-Sunday/June 12-13
2nd Annual Lake Anne Chalk on the Water Festival. 11 a.m.-5 p.m. Lake Anne Plaza Waterfront, 1609 Washington Plaza, Reston. If you ever wanted to paint the bricks without getting in trouble, all ages are welcome to paint Lake Anne Plaza in a technicolor hue as participants turns the plaza into a chalk art gallery. $5-$15. Register at www.chalkonthewater.com for more.
Sunday/June 14
Love Your Body Yoga Festival. 10 a.m. - 5 p.m. Reston Town Center, 11900 Market Street, Reston. Yoga studios and wellness centers of Northern Virginia will be offering classes, services, and information on ways to care for your body, along with live entertainment and activities for children. Donations to participate in classes benefit Cornerstones. www.belovedyoga.com.
Lake Anne Summer Film Festival: My Big Fat Greek Wedding. 8 p.m. Lake Anne Plaza, 1609 Washington Plaza, Reston. The free outdoor festival will take place each month on selected Sunday's and will feature some great flicks from classic to comedy. Grab a date, the family or a group of friends, bring the lawn chairs and a picnic and enjoy flicks under the stars.
"Inter-Play" Meet the Artist. 2-4 p.m. Reston Art Gallery & Studios, 11400 Washington Plaza, Reston. A show of a new series of oil and acrylic paintings by Claudia Samper on exhibit from June 5 until July 2. According to Samper: "Inter-Play explores the world of opposites and of dreams where the unimaginable becomes tangible. Objects are de-contextualized and re-arranged in an attempt to perceive a new reality."
Native Plants as Herbal Remedies. 1:30 - 3 p.m. Walker Nature Center, 11450 Glade Drive, Reston. Adults. Many native plants have been recognized for therapeutic properties. Explore some traditional uses as well as some modern day research. There will be a presentation followed by a native plant walk. Reservations required by June 11. Fee: $6/person RA members, $8/person Non-members. naturecenter@reston.org. 703-476-9689.
Sunday Afternoon Dance. 2:30-4:30 p.m. Reston Community Center, 2310 Colts Neck Road, Reston. Dancers of all skill levels are welcome to foxtrot, swing, cha-cha, and waltz during these fun afternoon dances. Music selection ranges from golden oldies to today's more modern dance selections. Door prizes and light refreshments add to the fun; partners are not required. Tickets: $5-$10.
Great Falls Concerts on the Green. Great Falls Village Centre Green. Come out on Sundays and listen to some live music. Full schedule here: http://www.celebrategreatfalls.org/concerts-on-the-green/.
Vienna Sustainable Home and Garden Tour. 1-4 p.m. Vienna Community Center, 120 Cherry Street SE, Vienna. Your neighbors are opening their homes and gardens to you to show and discuss modifications that they have made. Visit all or some of them to learn more about using reclaimed items in your renovation, energy efficiency, geothermal heating and cooling, native plants and gardening with deer. Parking is available at the Vienna Community Center; participants are encouraged to walk or bike the route. http://www.viennava.gov/index.aspx?nid=955.
Falls Walk. 12:30-1 p.m. Great Falls National Park, 9200 Old Dominion Drive, McLean. Join a ranger for a fun 30 minute stroll along the stunning vistas of Great Falls. Explore the natural and historical features that make this a timeless wonder.
Stars on Sunday Concert Series. 3 p.m. Workhouse Arts Center, 9518 Workhouse Way, Lorton. Featuring a lineup of performances that showcase the diversity of talent and culture in Northern Virginia. Concerts are free to attend and are perfect for families, a special date or a relaxing afternoon of music and dance.
Model Train Show. 1-4 p.m. Fairfax Station Railroad Museum, 11200 Fairfax Station Road, Fairfax Station. The Northern Virginia NTRAK members will hold a N gauge T-TRAK model train show. Museum members, free; adults 16 and over, $4; children 5-15, $2; under 4, free.