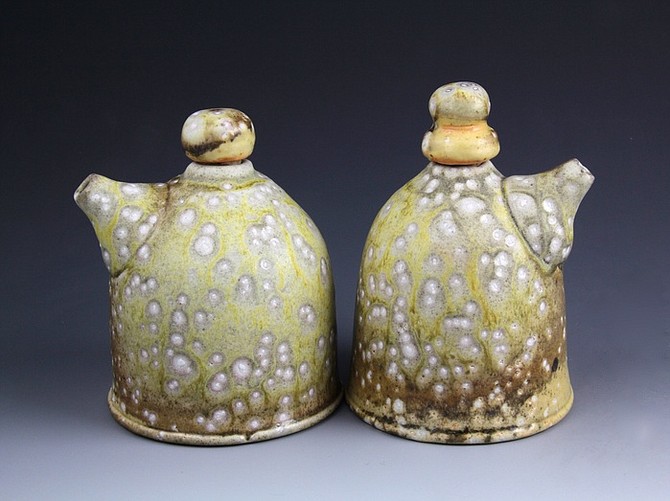 Ongoing
"Paintings of the Potomac Valley Watercolorists." Through June 28, 9 a.m.-4:30 p.m. Monday-Saturday, 12-4:30 p.m. on Sunday at Green Spring Gardens, 4603 Green Spring Road. Find watermedia floral and landscape paintings. Free to visit gallery. www.fairfaxcounty.gov/parks/greenspring.
"Building Bridges." Through June 28 during gallery hours at Del Ray Artisans Gallery, 2701 Mount Vernon Ave. The gallery will unveil an exhibit that is the result of a partnership with Six Degrees Consortium. Free to attend. Visit www.thedelrayartisans.org.
Cat Adoption Promotion. The Animal Welfare League of Alexandria, 4101 Eisenhower Ave. The Animal Welfare League will be holding a "Class of 2015" Cat Adoption promotion. Select cats (typically, cats who have been at the shelter longer than four months, senior cats, etc.), will have fees waived for the month of June. Email clindsey@alexandriaanimals.org or call 703-746-4774.
"Art Uniting People" Exhibit. Through July 9, Monday-Friday, 9 a.m.-5 p.m. on the 2nd floor hallway at Alexandria City Hall, 301 King St. The exhibit is designed to raise awareness about the stigma faced by those with mental illness, substance use disorders, and intellectual disabilities. Admission is free. Visit www.alexandriava.gov.
"Saturate." Through July 19 during gallery hours at the Athenaeum, 201 Prince St. Six artists use different mediums to convey moisture. Free. Visit www.nvfaa.org.
"Boundaries & Borders." During gallery hours through July at the Target Gallery at the Torpedo Factory, 105 N. Union St. Artists were inspired the "outsider's perspective" for this exhibit. Free. Visit www.torpedofactory.org.
"Magical, Mystical Animals."Through July 25, 10 a.m.-5 p.m. daily at The Potomac Fiber Arts Gallery at the Torpedo Factory, 105 N. Union St. Studio 18. Artists will display art inspired by childhood stories and mythical creatures. Admission is free. Visit www.potomacfiberartsgallery.com.
Mt. Vernon Recreation Center Art Class Exhibit. Through July 28, Monday-Friday 6 a.m.-10 p.m.; Saturday 7 a.m.-10 p.m.; Sunday 7 a.m.-6 p.m. at Saint Elmo's Coffee Pub, 2300 Mt. Vernon Ave. View drawings and paintings done by the senior art class. Free. Visit http://stelmoscoffeepub.com.
Friday/June 19
Annual Golf Classic. 7 a.m. and tee-times beginning at 9 a.m. at the Fort Belvoir Golf Course, 8450 Beulah St. #2920, Fort Belvoir. All proceeds go to the Military Order of the Purple Heart as we support our fellow wounded veterans and their families. Open to all. Contact 703-283-9698 or mophgolf@jsheainc.com.
"Under a Summer Sun" Art Exhibit Reception and Artist Talk. 12-7 p.m. at the Vola Lawson Animal Shelter, 4101 Eisenhower Ave. Enjoy a reception and "Three Minutes with Three Artists" with the artists of the "Under a Summer Sun" exhibit. Also visit the animals at the Animal Welfare League of Alexandria. Visit www.TheDelRayArtisans.org/GWW for more.
Third Friday Community Dance. 7:30-9:30 p.m. at Hollin Hall Senior Center, 1500 Shenandoah Road. This community dance will feature the Mount Vernon Swing Band Live, conducted by Owen Hammett. $4 at the door. Open to the public. Call 703-765-4573 for more.
Saturday/June 20
Container Gardening and Composting in Small Spaces Program. 10:30 a.m.-12 p.m. at Barrett Branch Library, 717 Queen St. Master Gardeners of Northern Virginia (Arlington/Alexandria) will present a program on container gardening and composting in small spaces. The segment on container gardening will focus on how to select the right pots and plants, prepare for planting, and keep plants healthy and happy. The program is free and open to the public. Sign up online at mgnv.org.
Soroptimist Event. 11:30 a.m. at Waterford at Springfield, 6715 Commerce St., Springfield. Soroptimist International of Alexandria is hosting a lunch, tea, and fashion show event. Art by Suhail Mir will also be on sale. Proceeds will benefit the organization's scholarship funds. Tickets are $36. Contact Norma Gyovai at ngyovai@moving.org.
Sherry Tasting Party.4-6 p.m. at Green Spring Gardens, 4603 Green Spring Road. The Spanish wines will be paired with cold tapas dishes. Admission is $44 per person. Visit www.fairfaxcounty.gov/parks/greenspring.
Wine on the Water. 6 p.m. in front of the seaport center, Thompson's Alley. Join the Alexandria Seaport Foundation for its annual wine tasting event. Held on the Old Town waterfront, this event is a casual, but lively event, featuring steel drums, a silent auction and wine and food. The event will be held in front of the floating Seaport Center, between the Chart House and Founders Park. Tour the Seaport Center and see where the apprentices work to change their lives through the Alexandria Seaport Foundation's programs. Tickets are $55 before June 15 and $65 after that. See http:// www.brownpapertickets.com/ event/1664140.
Sunday/June 21
Father's Day Museum Tours. 1-5 p.m. at Gadsby's Tavern Museum, 134 N Royal St. Fathers gain free access to some of Alexandria's most prominent museums. Free for fathers only. Visit www.visitalexandriava.com/things-to-do/summer-in-alexandria/.