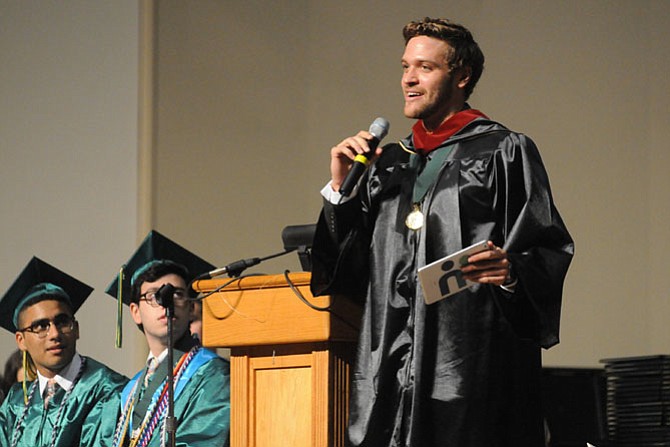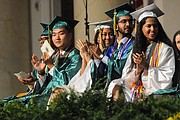 Filled to capacity, DAR Constitution Hall in Washington, D.C. accommodated the nearly 500 Langley High School graduates, their friends and family members on June 16 for the most-anticipated event of the school year: graduation.
To applause and laughter, senior class vice president Abdullah Jamil wielded a selfie stick and took a picture onstage against the backdrop of a sea of green-and-white, cap-and-gown clad students after welcoming them along with family, friends, faculty and staff to the ceremony.
"I couldn't be more excited," said Carina Sturm, who will attend NYU in the fall. "Langley's been great, but it's time to move on to bigger and better things."
"I'm excited," said Afham Chotani, who will become a pre-med student at George Mason University in the fall. "It feels really surreal."
Students couldn't walk across the stage without first receiving remarks from keynote speaker, Chuck Katis, who graduated from Langley in 2011 and, during his time, founded a nonprofit that performs and teaches magic tricks to children with cancer.
"The first thing you say before a magic trick is 'are you watching closely?'" said Katis. "Not everything is the way it appears. You can accomplish whatever you want."

Dressed in a dark gray Tom Ford suit that he said he dreamed of giving a speech in, he encouraged the Langley grads to always chase after their dreams and, in the midst of it all, to ask themselves "am I watching closely?" as their lives unfold.
He described growing up in a single parent household and the different struggles he faced, but always maintaining site of his academic and personal goals. He attended Harvard and graduated from the University of California, Berkeley in 2015.
Senior class president, Shakir "Fuffi" Naji, addressed the grads and called his last four years at Langley a privilege. Shout-outs were made to students for their accomplishments in academics and sports.
"We're a Saxon Family," he said.
The Faculty Award, which recognizes a student at Langley for leadership, their ability to motivate others and participation in school activities, was presented to Harris LaTeef, who plans to attend the University of St. Andrews in Scotland. The Principal's Award was awarded to vice president of the senior class, Abdullah Jamil, for service including founding a club to help the less fortunate.
In just under 40 minutes, close to 500 names were called and diplomas presented to the newest members of Langley's graduating class.
"I wish I could relive the moment," said graduating senior Sabir Hathiramani who had immediate plans to celebrate with family and friends. "It's been a great day."