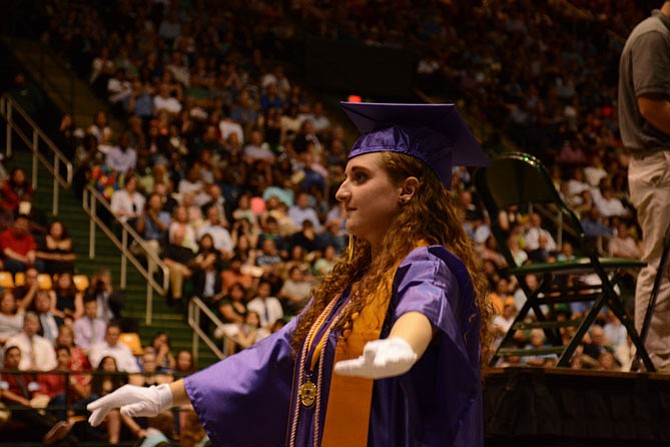 Photo Gallery
Lake Braddock Graduation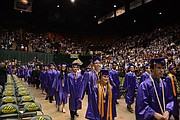 Click Photo for Flash
Purple robes flooded the floor of the George Mason University Patriot Center basketball arena as Lake Braddock Secondary School graduates processed to their seats.
In his acknowledgements, Principal Dave Thomas recognized 114 students who received the Civic Seal, 24 who are planning to serve in the military, 10 who are receiving Reserve Officer Training Corps scholarships and three who have appointments to the major service academies.
"I'm extremely grateful for your dedication to community and school," Thomas said.
Speaking to the class as a whole, he referenced President Abraham Lincoln's thoughts that each person has three names: One is inherited, one is given by parents and one is what you make for yourself.
"Reflect on the type of person you want to be," said Thomas, "and go for it."
Senior class president Nathan Zelalem drew from a more modern source in his remarks: "As the great philosopher and poet Katy Perry once said, 'Baby you're a firework, come on show 'em what you're worth.'"
In her speech, Honor Graduate Liana Quiñones spoke about the "absent awards," intangible achievements like overcoming the awkward, painful and wonderful high school experience that the graduating class can list among their other certificates and honors.
"These are the absent awards and they are infinite," she said. "These achievements can't be captured by cords alone. There's no way for diplomas to capture what it has meant to us individually."
Lake Braddock's keynote speaker was former athletic director Mark Martino. "Raise your hand if you'd rather be looking at your phone than looking at me," he said.
Among his pieces of advice, Martino stressed that while "technology is the crux" of the world the students are graduating into, it's important to learn to pick your head up from the screen once in a while. He encouraged them to take a public speaking course in college.
"It's inevitable you'll have to hold an intelligent conversation with someone," he said, "without looking at your phone."
After Martino's speech, senior class executive board member Madison Shock explained the class gift of a new flagpole for Lake Braddock's football field.